Man-lion friendship; feline love, human compassion
Man-lion friendship; feline love, human compassion ...
en.mehrnews.com
27/07/2015 Nature
Keywords:#2015, #Bakhtiari, #Chaharmahal, #Chaharmahal_and_Bakhtiari, #Culture, #En.mehrnews.com, #Iran, #Iranian, #Isfahan, #Kermanshah, #MNA, #Mehr_News, #Mousavi, #News, #Pahlavani

News ID: 2867895 - Mon 27 July 2015 - 13:18
Culture
SHAHREKORD, Jul. 27 (MNA) – The friendship of a lioness and a local pahlavan has provided the material for Mehr News local correspondent to report on human compassion and feline love.
Esfandiar Yarmohammadi tells us that the lioness has been fostered by him since she was a cub; as he calls her 'Zeigham,' this octogenarian, who was born in Kermanshah (famous for its pahlavans as well) narrates the story of the lioness and the human-feline friendship, which is to come to an end in near future as Yarmohammadi tells Mehr New local correspondent.
Esfandiar was born in Kermanshah. He is a pahlavan; historically the term is related to Pahlavani sports and culture of hero worship in Iranian traditions; however, part of the members of pahlavani culture make a living by practicing the body strength and stamina in a peripatetic manner, moving from city to city and displaying their pahlavani movements, which per chance, would be accompanied by display of animals, wild or tamed. Esfandiar's part of this feature is a lioness he says he had purchased from Isfahan when she was a cub; now, Esfandiar has been living in Boroujen, a county of Chaharmahal and Bakhtiari, a west-central mountain province of Iran for 17 years.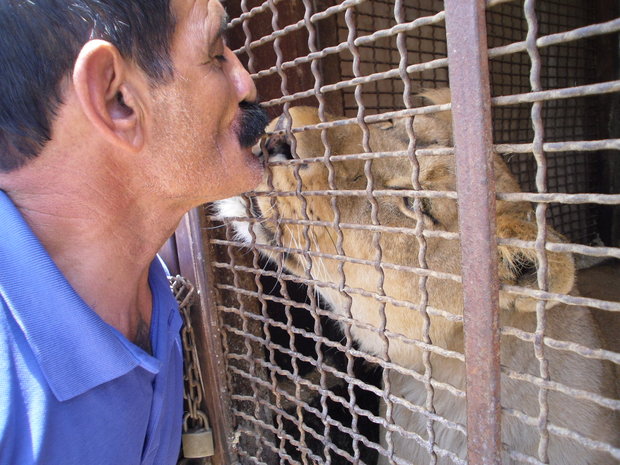 We find Esfandiar the pahlavan with his lioness caged well-housed on a truck Esfandiar says has procured to house the lioness and has got the necessary permits from the health authorities so that the lioness would not face difficulties of the travel; Zeigham communicate well with her patron and friend as Esfandiar approaches the cage; she plays with Esfandiar in clear indication that she would not drink water he has offered her. The space is utterly electric, and the lioness lies silently as Esfandiar enters the cage to fondle the large feline creature he says he has strong emotional bonds with; pahlavan however says that the costs of keeping a lioness is drastic; "she eats up to 8 kilograms of meat; I love her more than I do my children," he utters in a space more sorrowful and pathetic.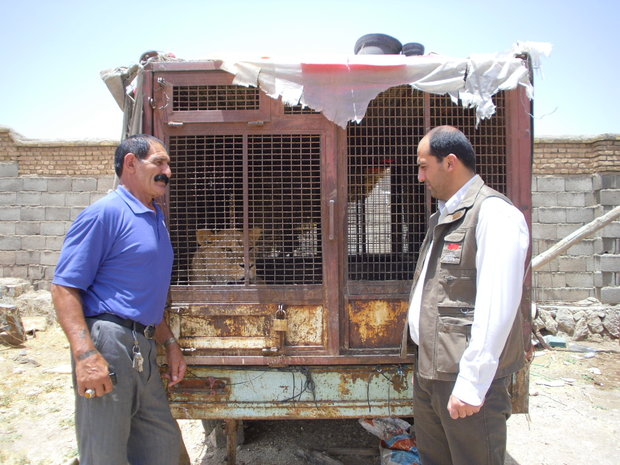 In days of yore, Esfandiar's father has been a champion of one of pahlavani fields, lifting heavy mill. The profession has been crucial to Esfandiar, since he has been living on the income earned in his travels around the country, in all of which Zeigham, the lioness, has been a close company; "Zeigham would not live alone; she is emotionally dependent on me; I have tried to provide the best and most standard living conditions for her as a large cat; even I purchased the truck to ease her travels along mine," Esfandiar tells Mehr News. "By law, I should hand in her to zoo and would not have her company in my travels; my concerns have been doubled; the lioness would not bear the consequences of being left alone; she has been a great help in earning a living; without her, I would abandon the profession once and for all," he laments; "perhaps it is a heavenly predestination for us to say adieu," Esfandiar sinks into depths of melancholy, "I would stay for a week with the lioness, lest she would not feel dejected and stressed, and to leave her forever," he says with his eyes still pinned on the lioness.
For moments, Esfandiar is engulfed by silence. A deep sorrow has bestridden the whole scene where the pahlavan and his beloved lioness are in a seeming finish line of their long years of cooperation and mutual friendship. The last words with even more despair: "I love this lioness more than I do my children."
Report by: Seyed Mohammad Reza Mousavi
------
...

Related articles based on keyword density
Sheikh Alikhan; Zagros breathtaking waterfall ...
en.mehrnews.com 20/01/2015 Nature
Sheikh Alikhan; Zagros breathtaking waterfall SHAHR-E KORD, Jan. 20 (MNA) – Chaharmahal and Bakhtiari Province located at the center of Zagros Mountai...View Details»

Iran's volleyball snares historic Olympic berth after 52 years ...
en.mehrnews.com 05/06/2016 Sports
News ID: 3676230 - Sat 4 June 2016 - 16:02 Sports TEHRAN, Jun. 04 (MNA) – Iran national volleyball team beat Poland at the 2016 Olympic men's volleyb...View Details»

Iran's longest arch bridge opens ...
en.mehrnews.com 17/06/2015 News
News ID: 2780688 - Wed 17 June 2015 - 00:15 Technology SHAHREKORD, Jun. 16 (MNA) – Country's longest arched bridge Karun 4 opened today in Shahrekord...View Details»

Iran, Turkey agree not to seal fuel tanks of transit trucks ...
en.mehrnews.com 10/12/2014 Auto
Iran, Turkey agree not to seal fuel tanks of transit trucks URMIA, Dec. 10 (MNA) – Deputy of transportation office of West Azerbaijan province announc...View Details»

70+ countries join Tehran Intl. Animation Fest. ...
en.mehrnews.com 10/12/2014 Fun
70+ countries join Tehran Intl. Animation Fest. TEHRAN, Dec. 10 (MNA) – 73 countries are participating in the 9th International Biennial Animation Fes...View Details»

---
EOF