Persian Cheetahs defeat Macedonia 3-1 in friendly match
Persian Cheetahs defeat Macedonia 3-1 in friendly match ...
en.mehrnews.com
04/06/2016 Sports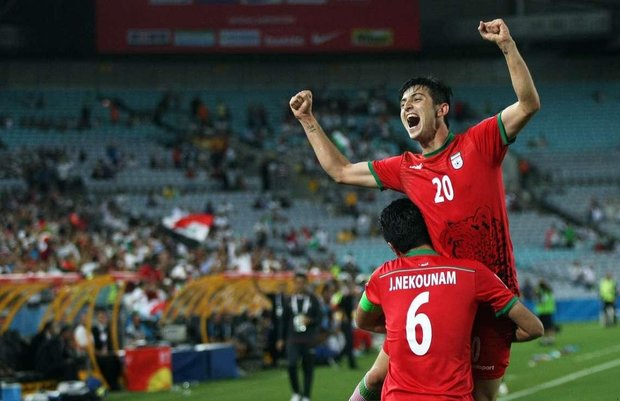 Keywords:#AFC, #Alireza_Beyranvand, #Alireza_Jahanbakhsh, #Ashkan_Dejagah, #Carlos_Queiroz, #En.mehrnews.com, #FIFA, #Iran, #Iran_national_football_team, #Iranian, #Italian, #Kyrgyzstan, #MNA, #Macedonia, #Morteza_Pourali_Ganji, #News, #Pejman_Montazeri, #Persian, #Persian_Cheetahs, #Queiroz, #Ramin_Rezaeian, #Republic_of_Macedonia, #Russian, #Saeid_Ezzatollahi, #Sardar_Azmoun, #Skopje, #Sports, #Team_Melli, #Tehran, #Vahid_Amiri, #World_Cup

News ID: 3675794 - Fri 3 June 2016 - 21:34
Sports
TEHRAN, Jun. 03 (MNA) – With Sardar Azmoun's hat-trick, Iran national football team won Macedonia 3-1 in a friendly match in Macedonian capital city of Skopje on Thursday.
Iranian football players of national team defeated Macedonia 3-1 in a friendly match at National Arena Philip II stadium of Macedonia in Skopje, Republic of Macedonia on Thursday.
Team Melli's manager, Carlos Queiroz, initially fielded Alireza Beyranvand, Ramin Rezaeian, Pejman Montazeri, Morteza Pourali Ganji, Ehsan Hajsafi, Saeid Ezzatollahi, Ashkan Dejagah, Darioush Shojaiean, Vahid Amiri, Sardar Azmoun, Alireza Jahanbakhsh.
Sardar Azmoun opened the scoring against Macedonia very early at the eight minute of the event but his opener was equalized by the hosts two minutes later when the 23-year-old Aleksandar Trajkovski, who plays for Italian club Palermo, scored the sole goal of Macedonians.
Ten minutes later at the 20th minute of the match, Sardar Azmoun grabbed a ball from Macedonian defender and in a one-on-one situation scored his and Iran's second goal.
The last goal of the game was again scored by Azmoun at the 60th minute of the match to mark a brilliant day of hat-trick for the striker of the Russian FC Rostov.
Persian Cheetahs are scheduled to return to Tehran to prepare for another friendly in next week this time against Kyrgyzstan.
The event was scheduled as part of preparations for the next round of the AFC matches for the 2018 FIFA World Cup qualification.
--- ---
...

Related articles based on keyword density
Queiroz names squad for FIFA World Cup qualifier ...
en.mehrnews.com 28/08/2016 Sports
News ID: 3753840 - Sun 28 August 2016 - 09:15 Sports TEHRAN, Aug. 28 (MNA) – The manager of Iran's national football team called up 25 players for th...View Details»

Iran's volleyball snares historic Olympic berth after 52 years ...
en.mehrnews.com 05/06/2016 Sports
News ID: 3676230 - Sat 4 June 2016 - 16:02 Sports TEHRAN, Jun. 04 (MNA) – Iran national volleyball team beat Poland at the 2016 Olympic men's volleyb...View Details»

Carlos Queiroz calls up 38 cheetahs for Armenia camp...
en.mehrnews.com 11/06/2016 Sports
News ID: 3681924 - Fri 10 June 2016 - 10:23 Sports TEHRAN, Jun. 10 (MNA) – The head coach of Iran's national football team, Carlos Queiroz, named 38...View Details»

Persian Cheetahs jump 2 spots in FIFA Rankings ...
en.mehrnews.com 17/09/2016 Sports
News ID: 3770865 - Fri 16 September 2016 - 20:55 Sports TEHRAN, Sep. 16 (MNA) – The latest FIFA rankings released on Thursday still credits the natio...View Details»

Carlos Queiroz Announces Iran Squad for World Cup Qualifiers ...
tasnimnews.com 03/10/2016 Sports
TEHRAN (Tasnim) - Iranian national team head coach has named his 25-players for the 2018 World Cup qualifiers against Uzbekistan and South Korea. Ira...View Details»

---
EOF