National volleyball team off to Rio
National volleyball team off to Rio ...
en.mehrnews.com
13/06/2016 Sports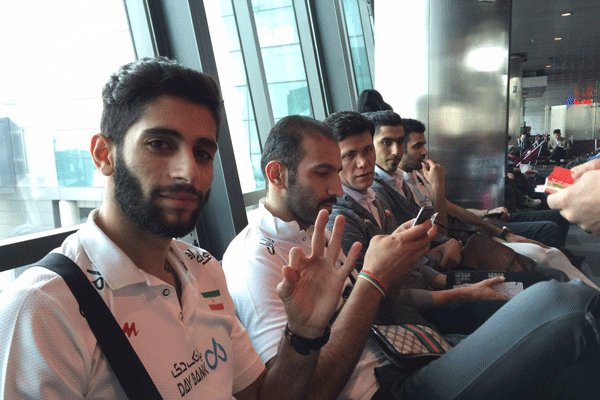 Keywords:#Adel_Gholami, #Alireza_Mobasheri, #Armin_Tashakori, #Brazil, #Doha, #En.mehrnews.com, #FIVB, #Farhad, #Farhad_Zarif, #Hamzeh_Zarrini, #Iran, #Iranian, #Japan, #MNA, #Mahdi_Mahdavi, #Mahdi_Marandi, #Milad_Ebadipour, #Mohammad_Javad_Manavinejad, #Mohammad_Mousavi, #Mojtaba_Mirzajanpour, #Mostafa_Sharifat, #Mousavi, #News, #Olympic, #Qatar, #Rio, #Rio_de_Janeiro, #Saeid_Marouf, #Seyyed, #Shahram_Mahmoudi, #Sports, #Tehran, #Volleyball, #World_League

News ID: 3684574 - Mon 13 June 2016 - 11:30
Sports
TEHRAN, Jun. 13 (MNA) – Iranian national volleyball players left Tehran for Rio de Janeiro to compete the first week of FIVB Volleyball World League 2016.
Iran's national volleyball team, which recently snared an Olympic berth at the 2016 Olympic men's volleyball qualifier in Japan, left Iran for Brazil to start matches at the 2016 FIVB Volleyball World League.
The Iranian outfit comprises Saeid Marouf, Seyyed Mohammad Mousavi, Adel Gholami, Shahram Mahmoudi, Farhad Zarif, Mahdi Marandi, Mojtaba Mirzajanpour, Mahdi Mahdavi, Armin Tashakori, Mostafa Sharifat, Mohammad Javad Manavinejad, Alireza Mobasheri, Hamzeh Zarrini as well as Milad Ebadipour.
National athletes will have a short layover in Doha of Qatar before heading Rio de Janeiro where they will face Brazil on Thursday at 09:40 p.m. Tehran local time.
--- ---
...

Related articles based on keyword density
Iran's volleyball snares historic Olympic berth after 52 years ...
en.mehrnews.com 05/06/2016 Sports
News ID: 3676230 - Sat 4 June 2016 - 16:02 Sports TEHRAN, Jun. 04 (MNA) – Iran national volleyball team beat Poland at the 2016 Olympic men's volleyb...View Details»

Volleyball: Winning Egypt advances Iran to Rio Olympics quarterfinals ...
en.mehrnews.com 13/08/2016 Sports
News ID: 3740292 - Sat 13 August 2016 - 21:17 Sports RIO DE JANEIRO, Aug. 13 (MNA) – Iran's volleyball national squad has defeated Egypt in Rio to se...View Details»

Iran strikes sweet victory against Canada ...
en.mehrnews.com 29/05/2016 Sports
News ID: 3670670 - Sun 29 May 2016 - 09:06 Sports TEHRAN, May 29 (MNA) – Iran's national volleyball team took the tie-break win 3-2 against Canada on...View Details»

2017 FIVB Volleyball World League: Iran suffers loss against Italy ...
en.mehrnews.com 03/06/2017 Sports
News ID: 3995056 - Sat 3 June 2017 - 09:39 Sports TEHRAN, Jun. 03 (MNA) – Iranian volleyball players opened their 2017 FIVB Volleyball World League w...View Details»

2014 FIVB Men's World Championship: Three Iranian Volleyballers Named ...
english.farsnews.com 08/09/2014 News
TEHRAN (FNA)- Three Iranian volleyball athletes were selected as the best blocker, the best setter, the best receiver at the end of the first round of...View Details»

---
EOF