Official announces new measures to save dried lake
Official announces new measures to save dried lake ...
en.mehrnews.com
14/07/2016 Nature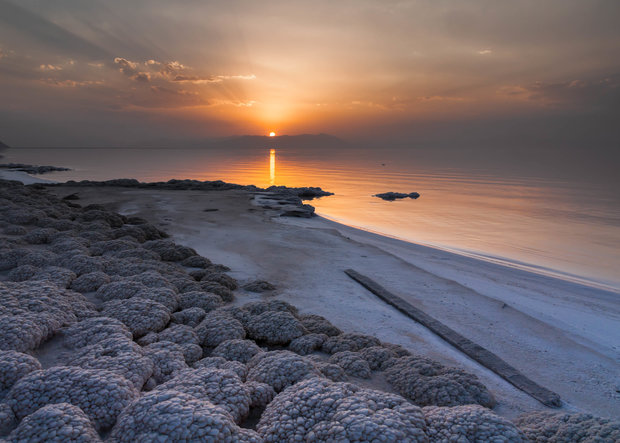 Keywords:#2015, #En.mehrnews.com, #Farhad, #Lake_Urmia, #MNA, #Tabriz, #Total, #Urmia

News ID: 3711889 - Tue 12 July 2016 - 21:43
Culture
URMIA, Jul. 12 (MNA) – Provincial head of Lake Urmia Saving Headquarters has announced new solutions to be taken in 2016 remaining months in efforts to revive the dried Lake Urmia.
Farhad Sarkhosh told reporters during his official visit to a project meant to fill part of the lake with treated wastewater product (agricultural water fitting irrigation) on Tuesday that an estimated 50 million cubic meters of treated wastewater would enter the lake; "by 2021, the estimated amount of water should exceed 300 million cubic meters," he added.
Mr. Sarkhosh said that the attempt was part of a master plan to channel treated waters of great metropolitan cities of Tabriz and Urmia to fill the lake by 2020; connecting Zarrinehroud to Siminehroud, opening dam floodgates to allow water flow in the lake, and curbing illegal subterranean water usage along with dredging of rivers are among the measures to be taken in future years to meet the challenge of filling the lake," he detailed.
"Major part of the project will start on October which we hope to raise the water level in the lake; cutting agricultural usage of water through modern practices of irrigation also would provide a solution," Sarkhosh told the press.
In July 10, Lake Urmia level was 1270.90 meters above the free seas, which has improved 60 centimeters compared to that in the same time last year; this is also an 82-meter improvement compared to that in September 22 2015. Lake Urmia is world's second endorheic lake which had largely been desiccated during last two decades due to mismanagement of water resources and general drought. Only 10 per cent of its huge surface area of 5700 square kilometers still exist; despite initially hope-inspiring precipitations of 2016, the lake still experiences critical conditions. Total sum of water of the lake was estimated to be 32 billion cubic meters. With an ecological level of 1274.1 meters above free sees, Lake Urmia is estimated to have only 14 billion cubic meters of water.
--- ---
...

Related articles based on keyword density
70+ countries join Tehran Intl. Animation Fest. ...
en.mehrnews.com 10/12/2014 Fun
70+ countries join Tehran Intl. Animation Fest. TEHRAN, Dec. 10 (MNA) – 73 countries are participating in the 9th International Biennial Animation Fes...View Details»

Current govt. made 80% of Iran's overall strategic weapons ...
en.mehrnews.com 12/07/2017 Politics
News ID: 4028066 - Tue 11 July 2017 - 15:12 Politics TEHRAN, Jul. 11 (MNA) – Iranian President Hassan Rouhani said according to the Defense Minister ...View Details»

New scenario to save Lake Urmia ...
en.mehrnews.com 16/08/2015 Nature
News ID: 2884438 - Sun 16 August 2015 - 12:09 Culture TEHRAN, Aug. 16 (MNA) – Iran's deputy Energy Minister announced the implementation of a water t...View Details»

Parliament allocates $ 17m to save Lake Urmia ...
en.mehrnews.com 18/01/2014 Nature
TEHRAN, Jan. 15 (MNA) – Parliament environmentalist faction spokesman has said Parliament allocates $ 17m to save Lake Urmia. Moayyed Hosseini Sadr t...View Details»

2 new fungi discovered at Lake Urmia, Meighan ...
en.mehrnews.com 18/10/2016 Nature
News ID: 3798195 - Mon 17 October 2016 - 19:29 Technology TEHRAN, Oct. 17 (MNA) – Researchers at Iranian Biological Research Center have discovered t...View Details»

---
EOF