Azerbaijan, Iran, Russia sign Baku Declaration
Azerbaijan, Iran, Russia sign Baku Declaration ...
en.mehrnews.com
09/08/2016 News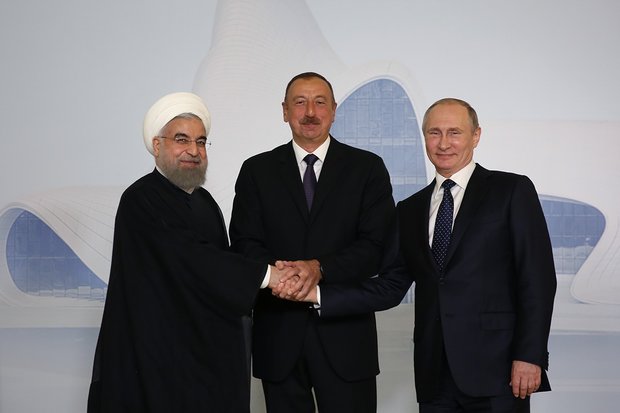 Keywords:#Azerbaijan, #Baku, #Dmitry_Rogozin, #En.mehrnews.com, #Hassan_Rouhani, #ISIL, #Ilham_Aliyev, #Iran, #MNA, #Politics, #President, #President_of_Iran, #Prime_Minister, #Rouhani, #Russia, #Russian, #Syria, #Vladimir_Putin

News ID: 3735984 - Tue 9 August 2016 - 08:36
Politics
BAKU, Aug. 09 (MNA) –The presidents of Azerbaijan, Iran and Russia signed the Baku joint statement and expressed a strong commitment to the fight against terrorism and to the promotion of multilateral cooperation for these countries' benefit.
The final document of the summit was signed on Monday by the President of Azerbaijan Ilham Aliyev, the President of Russia Vladimir Putin and the President of Iran Hassan Rouhani.
The presidents signed a commitment to fight terrorism, transnational organized crime, arms smuggling and drug trafficking in the region.
They also endorsed the will to join efforts in fighting human trafficking, as well as fighting the crimes in the field of communications.
According to the text, which was released by the end of the meeting, the sides acknowledged that the unsolved regional conflicts represent a serious obstacle to cooperation. They also called for a solution of the disputes on the basis of the principles of international law.
They also agreed on deepening cooperation in different economic sectors. The Russian President Putin highlighted in particular the importance of conducting this type of meetings that allow a better coordination of work.
Hassan Rouhani, meanwhile, proposed that the next tripartite summit should be held in Iran, although the date is yet to be defined.
At the beginning of the meeting, the Russian President considered that the meeting has opened a new page in the history of the relations among these countries.
Putin said that the three countries face similar problems and challenges arising from the global economic crisis. He underlined that Azerbaijan and Iran are 'good neighbors and important partners for Russia'.
The Deputy Prime Minister of Russia, Dmitry Rogozin, said that the presidents have also discussed the situation in Syria and the danger posed by the ISIL and other terrorist organizations.
--- ---
...

Related articles based on keyword density
IRAN NUCLEAR TALKS STUMBLE, EXTENDED UNTIL JULY ...
hosted.ap.org 24/11/2014 News
BY MATTHEW LEE AND GEORGE JAHN ASSOCIATED PRESS VIENNA (AP) -- Still facing significant differences between the U.S. and Iran, negotiators gave up on...View Details»

Iran, Russia map out rival to Suez Canal ...
presstv.ir 09/08/2016 Politics
*** The International North-South Transport Corridor, shown in bold green dots, will significantly reduce costs and travel time. A major project to fo...View Details»

Russia's Iranian Energy Deal Killed Four Birds with One Stone ...
orientalreview.org 09/11/2017 Politics
Russia's gargantuan $30 billion energy deal with Iran simultaneously accomplished four objectives that are central to the grand strategic goals behind...View Details»

Putin-Rouhani meeting round-up ...
en.mehrnews.com 30/03/2017 History
News ID: 3940813 - Wed 29 March 2017 - 15:58 Politics MOSCOW, Mar. 29 (MNA) – Russian President Vladimir Putin and Iranian President Hassan Rouhani ...View Details»

Rouhani, Aliyev meeting focuses on Caspian Sea energy ...
en.mehrnews.com 25/02/2016 People
News ID: 3564222 - Tue 23 February 2016 - 15:54 Politics TEHRAN, Feb. 23 (MNA) – President Hassan Rouhani of Iran and President Ilham Aliyev of Repub...View Details»

---
EOF