Persian Cheetahs jump 2 spots in FIFA Rankings
Persian Cheetahs jump 2 spots in FIFA Rankings ...
en.mehrnews.com
17/09/2016 Sports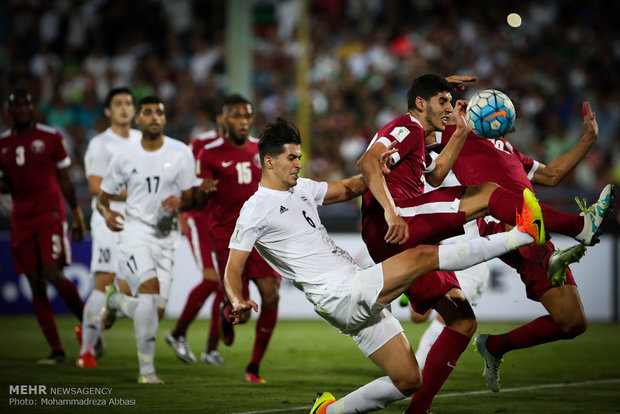 Keywords:#Argentina, #Asia, #Belgium, #Carlos_Queiroz, #China, #Colombia, #En.mehrnews.com, #FIFA, #Fédération, #Iran, #Iranian, #Japanese, #MNA, #News, #Persian, #Persian_Cheetahs, #Qatar, #Queiroz, #Samurai, #Sports, #Team_Melli, #Tokyo, #World_Cup

News ID: 3770865 - Fri 16 September 2016 - 20:55
Sports
TEHRAN, Sep. 16 (MNA) – The latest FIFA rankings released on Thursday still credits the national men's football team of Iran as the best squad in Asia.
The national Iranian football team has risen in the latest FIFA (the Fédération Internationale de Football Association) rankings after the win over Qatar and draw against China in the World Cup qualifiers earlier this month.
Collecting 720 points, Team Melli has climbed three places to the 37th spot in the September edition of the world rankings improving its former month's score of 674 points. The Carlos Queiroz's men are still the best in Asia.
Other Asian teams included Australians, which climbed twelve places to sit in the 45th slot with 643 points, followed by the South Koreans, Uzbeks, Saudis and Japanese, who claimed the 47th, 49th, 52nd, and 56rd spots respectively with 634, 621, 588 and 574 points. Now the Australians have overtaken South Koreans in Asia to sit in the second slot of the continent.
Emiratis, who defeated Samurai Blue in Tokyo on September 01, have moved up 8 places to sit in the 66th slot with 504 points in the latest monthly rankings released by the world football's governing body.
Argentina and Belgium remain first and second in the September ranking of FIFA but Germans, overtaking Colombia, are now sitting in the third above Colombians who share the fourth place with Brazilians.
--- ---
...

Related articles based on keyword density
Iran's volleyball snares historic Olympic berth after 52 years ...
en.mehrnews.com 05/06/2016 Sports
News ID: 3676230 - Sat 4 June 2016 - 16:02 Sports TEHRAN, Jun. 04 (MNA) – Iran national volleyball team beat Poland at the 2016 Olympic men's volleyb...View Details»

Queiroz names squad for FIFA World Cup qualifier ...
en.mehrnews.com 28/08/2016 Sports
News ID: 3753840 - Sun 28 August 2016 - 09:15 Sports TEHRAN, Aug. 28 (MNA) – The manager of Iran's national football team called up 25 players for th...View Details»

Persian Cheetahs defeat Macedonia 3-1 in friendly match ...
en.mehrnews.com 04/06/2016 Sports
News ID: 3675794 - Fri 3 June 2016 - 21:34 Sports TEHRAN, Jun. 03 (MNA) – With Sardar Azmoun's hat-trick, Iran national football team won Macedonia 3...View Details»

Iran moves up five spots in latest FIFA rankings ...
presstv.ir 09/04/2017 History
*** Iran men's national soccer team, Iran ascends five places in latest FIFA rankings The Iran men's national soccer team, domestically known as Team ...View Details»

Qouchannejad and Nekounam: Iranian Footballers among Asia's Top Ten Pl...
english.farsnews.com 30/12/2013 Sports
TEHRAN (FNA)- Two key players of the Iranian football squad, Reza Qouchannejad and Javad Nekounam were selected by the US-based sport channel ESPN to ...View Details»

---
EOF