Italian navy ship docks in Iran
Italian navy ship docks in Iran ...
wtop.com
24/09/2016 Military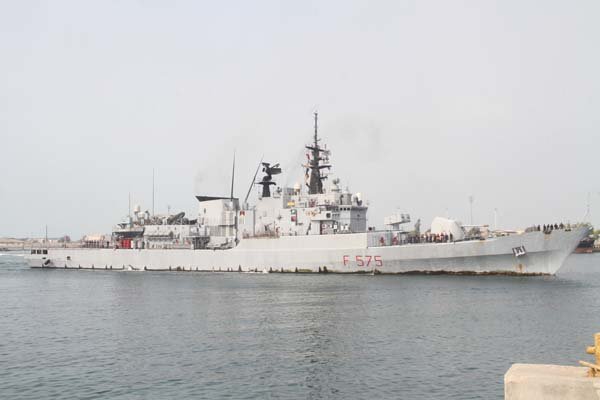 Keywords:#AP, #Azad, #Bandar_Abbas, #Bandar-Abbas, #Euro, #First_Naval_Zone, #Hossein_Azad, #ISNA, #Iran, #Iranian, #Islamic, #Islamic_Republic, #Islamic_Republic_of_Iran, #Italian, #Italy, #January, #MNA, #News, #Persian, #Persian_Gulf, #Politics, #Saturday, #Tehran, #Twitter, #Western
TEHRAN, Iran (AP) — Iranian media says an Italian navy ship has docked in the first official visit by a Western naval boat in years.
The semi-official ISNA news agency on Saturday says the frigate Euro will visit other Iranian islands in the Persian Gulf. The visit comes two weeks after an Italian navy delegation visited the capital, Tehran.
The Italian navy posted a picture on its Twitter account Saturday showing an Iranian girl handing flowers to an Italian officer in the southern port of Bandar Abbas. It says this is the first Italian military ship to visit Iran in 15 years.
Iranian forces have had a series of tense encounters with U.S. naval vessels over the past year. Iran briefly detained 10 U.S. sailors in January after their boats drifted into Iranian waters.
http://en.mehrnews.com/news/119972/Italy-s-Euro-warship-docks-at-Bandar-Abbas
Italy's 'Euro' warship docks at Bandar Abbas

* * * News ID: 3777394 - Sat 24 September 2016 - 14:12
Politics
BANDAR ABBAS, Sep. 24 (MNA) – 'Euro' warship dispatched from Italy docked on Sat. morning at the First Naval Zone of the Islamic Republic of Iran's Navy at the Persian Gulf port of Bandar Abbas.
"Due to the international aspect of all naval forces in the world, each year military naval units comprising warships and air units are dispatched to other countries in the form of a fleet," Rear Admiral Hossein Azad, Commander of the First Naval Zone, with HQ at the Persian Gulf port of Bandar Abbas, told reporters during the welcoming ceremony on Saturday.
He went on to add that the voyages aim at establishing international maritime interactions and at times, for conducting joint naval exercises or staging joint drills with two or several other countries.
"Iran's Navy has an active presence in international naval communities and attends various naval meetings and conferences, and makes various voyages; at the same time, it is host to many dispatched fleets from other countries each year," he said.
"Since the enemy always seeks to damage the reputation of Iran and makes efforts to spread anti-Iranian sentiments throughout the world, our own efforts to prove the high level of security in our country will make neighboring, regional and other countries in the world willing to travel to Iran and participate in our joint programs," Commander Azad said.
He added that the Italian warship has sailed to Iran for political, cultural and military purposes.
At the end of the welcoming ceremony, the commander of 'Euro' warship, together with Italian ambassador to Iran and the country's military attaché, held a meeting with Commander Azad.
--- ---
...

Related articles based on keyword density
Iran's water crisis the product of decades of bad planning - The Washi...
washingtonpost.com 03/07/2014 Nature
By Jason Rezaian July 2 at 7:00 AM Follow @jrezaian TEHRAN — Iran is headed for a water shortage of epic proportions, and little is being done to re...View Details»

Iran, Italy launch joint marine drill ...
en.mehrnews.com 27/09/2016 Military
News ID: 3780516 - Tue 27 September 2016 - 13:29 Politics BANDAR ABBAS, Sep. 27 (MNA) – An Army Navy commander has said Italian warship 'Euro' has jo...View Details»

Iran, India launch joint naval drill ...
en.mehrnews.com 28/05/2016 Military
News ID: 3669254 - Fri 27 May 2016 - 13:44 Politics BANDAR ABBAS, May 27 (MNA) – Iran-India joint naval drill is currently underway on the waters of ...View Details»

IRAN NUCLEAR TALKS STUMBLE, EXTENDED UNTIL JULY ...
hosted.ap.org 24/11/2014 News
BY MATTHEW LEE AND GEORGE JAHN ASSOCIATED PRESS VIENNA (AP) -- Still facing significant differences between the U.S. and Iran, negotiators gave up on...View Details»

Media Scam? Iran and America Join Hands in Waging "The Global War on T...
globalresearch.ca 01/07/2014 Politics
By Prof Michel Chossudovsky Global Research, June 21, 2014 Following the incursion of jihadist rebels of the Islamic State of Iraq and the Levant (IS...View Details»

---
EOF