Maersk Line resumes service to import-hungry Iran
Maersk Line resumes service to import-hungry Iran...
joc.com
21/10/2016 Import-Export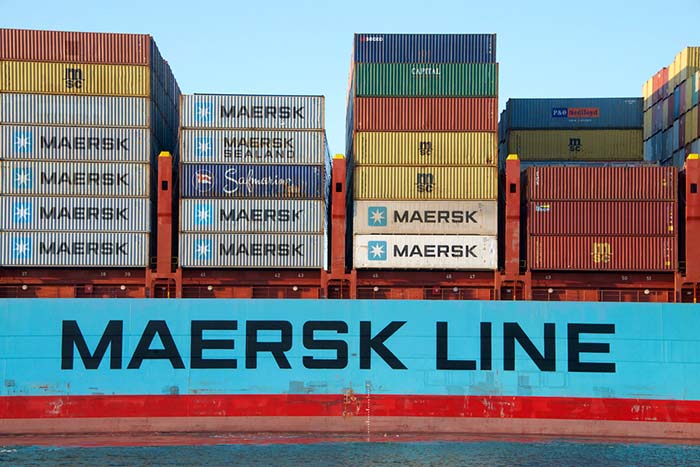 Keywords:#2015, #Arab, #Asia, #CMA, #CMA_CGM, #China, #Christian, #Emirates, #Europe, #GDP, #Hanjin, #IRISL, #Iran, #Iran_Shipping_Lines, #Iranian, #Iraq, #Islamic, #Islamic_Republic, #Islamic_Republic_of_Iran, #Islamic_Republic_of_Iran_Shipping_Lines, #Joc.com, #Korea, #Maersk, #Mediterranean, #Middle_East, #Pacific, #September, #South_Korea, #Turkey, #UAE, #United_Arab_Emirates
Dustin Braden, Assistant Web Editor, JOC.com | Oct 20, 2016 5:29PM EDT
By resuming service to Iran, Maersk Line is joining its 2M Alliance partner Mediterranean Shipping Co. in trying to capitalize on the end of international sanctions against the country.

* * * Maersk Line has resumed calls to Iran after a five-year hiatus and hopes that access to a new, rapidly growing market will help it through the current downturn.
The resumption of service to Iran comes nearly a year after Maersk's 2M Alliance partner Mediterranean Shipping Co. once again began sailing to the second-largest country in the Middle East.
"Global container trade has matured over the past years and is growing at a slower pace. Iran has the potential to be the market which stands out with faster growth," said Christian Juul-Nyholm, managing director, United Arab Emirates cluster, Maersk Line.
The Iranian market represents around 700,000 forty-foot-equivalent units, said Marcus Connolly, head of sales, UAE Cluster.
Iran's largest trading partners are China, the UAE, Iraq, Turkey, and South Korea, according to Global Trade Atlas, a sister product of JOC.com within IHS. Ties between Iran and South Korea have warmed up after the sanctions were lifted, and Islamic Republic of Iran Shipping Lines over the summer launched a new service between the two countries.
China and the UAE in 2015 were by far the largest trading partners with Iran, amounting to 24.7 percent and 17.2 percent, respectively, of Iran's international trade volumes, according to GTA. Iraq represented 7.6 percent, Turkey, 6.4 percent, and South Korea, 5.8 percent.
Those shares have shifted thus far in 2016 as Iran reestablishes trade ties that were cut off by the sanctions. China so far this year amounted to 22.2 percent of Iran's international trade, while the UAE shrank to 15.6 percent, Iraq rose to 8.3 percent, Turkey increase to 8 percent, and South Korea rose to 6.9 percent, according to GTA.
The opening of Iran presents opportunities on two fronts for Maersk Line parent Maersk Group, which recently split itself into two units, Transport & Logistics and Energy, to better weather the down market.
Container lines, not just Maersk, have been struggling since the 2010 financial crisis, when the GDP multiplier, which refers to the rate of growth in container shipping as it relates to global GDP growth, evaporated. The multiplier from 2000 to 2008 was 2.2x with x being global GDP growth, which had averaged around 4 percent. The multiplier since 2010 has shrunk to 1.1x while GDP growth fell to an average of 2.9 percent.
That slower rate of growth dovetailed with a surge of mega-ship newbuilds that have created an enormous capacity surplus and the conditions that led to Hanjin Shipping's abrupt collapse. That capacity glut is so large however, that Hanjin's failure did little to resolve the issue, as spot rates on the trans-Pacific and Asia-Europe trades showed in the month of September.
Spot rates on the trans-Pacific spiked in the days after Hanjin's failure, but remained flat through September, rising again only last week ahead of a general rate increase. Asia-Europe, where Hanjin's bankruptcy vaporized 150,000 twenty-foot-equivalent units of capacity overnight, also failed to make any serious gains. While Asia-Europe spot rates did rise in the aftermath, they returned to pre-Hanjin levels not long after before making an unexpected gain last week.
Given these difficult conditions, other container lines have also looked to Iran for volume growth. CMA CGM, for example, teamed up with IRISL to share vessel capacity, and jointly operate routes and marine container terminals.
---Maersk Line has resumed calls to Iran after a five-year hiatus. ---
...

Related articles based on keyword density
ISIS: The Spoils of the "Great Loot" in the Middle East - FPIF...
fpif.org 02/07/2014 Politics
Adding yet more warfare to the current crisis in the Middle East will perpetuate exactly what the imperial powers set out to do: tear an entire region...View Details»

Container Ships Prepare to Steam into Iran - WSJ...
wsj.com 06/01/2016 Economy
*** A Mediterranean Shipping Co. container ship moves through a U.S. port in 2014. One of the company's ships called at the port of Bandar Abbas in I...View Details»

Iran's container trade forecast to grow 25 percent annually | JOC.com...
joc.com 02/11/2015 Import-Export
By Turloch Mooney, Senior Editor, Global Ports | Nov 02, 2015 9:59AM EST Container throughput at Iran's ports should grow by up to 25 percent annuall...View Details»

The Human Costs of the Iran Sanctions - By Joy Gordon | The Middle Eas...
mideast.foreignpolicy.com 22/10/2013 News
Posted By Joy Gordon Friday, October 18, 2013 - 11:09 AM In June of last year, an American college student walked into the Apple store in Alpharetta...View Details»

Iran's water crisis the product of decades of bad planning - The Washi...
washingtonpost.com 03/07/2014 Nature
By Jason Rezaian July 2 at 7:00 AM Follow @jrezaian TEHRAN — Iran is headed for a water shortage of epic proportions, and little is being done to re...View Details»

---
EOF