Foreign states pay $13bn of debt to Iran
Foreign states pay $13bn of debt to Iran ...
en.mehrnews.com
01/11/2016 Economy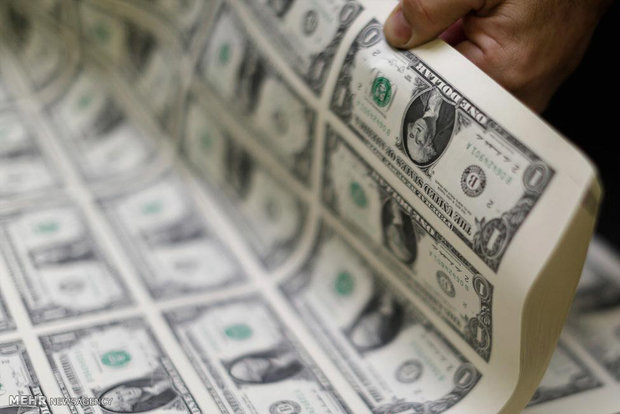 Keywords:#Arab, #Britain, #Economy, #Emirates, #En.mehrnews.com, #Free_Zone, #India, #Iran, #Iranian, #Islamic, #JCPOA, #Joint_Comprehensive_Plan_of_Action, #Kish, #Kish_Free_Zone, #MNA, #Middle_East, #News, #Resistance_Economy, #Shell, #UAE, #UK, #United_Arab_Emirates, #United_Kingdom

News ID: 3811925 - Tue 1 November 2016 - 09:55
Economy
TEHRAN, Nov. 01 (MNA) – An official announced that the UAE, Britain's Shell and India have respectively paid off five, two and six billion dollars of their debts to Iran.
Managing Director of Kish Free Zone Organization Ali Asghar Mounesan also noted that a total of four thousand Lines of Credit (LCs) have been opened for Iran since the Joint Comprehensive Plan of Action (JCPOA) was implemented.
"The United Arab Emirates (UAE), Shell oil company of the United Kingdom (UK) as well as India have cleared a sum of 13 billion dollars of their debts to Iran," stressed the official stating that "a total of three billion dollars of foreign investment has also been attracted to the country."
Mounesan stressed that Iran's economy is now following the path of growth and development; "in a year when the global economic growth suffered a decline due to certain political tensions, Iran is experiencing a growth of almost five per cent though the figure is expected to hit eight per cent."
"Over the recent years, sanctions against Iran's oil exports reduced arrival of foreign revenues for 30 per cent by the end of the year 2012 as oil exports fell from 2.5 million barrels per day to less than one million barrels," underlined the official adding "when the incumbent government took office, the country's economy was revitalized and the inflation rate was cut from 45 per cent to 16.3 per cent not to mention the steep rise in crude exports."
Ali Asghar Mounesan went on to recall that Iran attracted 22 cases of foreign investment worth 4.5 billion dollars in the first quarter of 2016 though the figure is estimated to reach eight billion dollars; "these developments improved Iran's ranking from 14th to 3rd in the Middle East as regards attraction of foreign investment."
"On the other hand, these investments enjoy the feature of continuity since several projects have been in the form of finance or Build–Operate–Transfer (BOT) contracts and will be expired after three or four year," underlined the official.
The official went on to maintain that the country's political stability and investment incentives in oil and gas areas seem to guarantee a continuous economic growth while other sectors also need to take advantage of the positive trade and business atmosphere and create and motivate foreign investors.
"Given that the county's banking system has been founded upon Islamic banking regulations, venues for market prosperity through financial resources need to be in line with similar structures."
The number of Islamic banks rose from 176 in 1997 to 267 in 2004 indicating that Islamic regulation are would not hinder development of Islamic banks or expansion of the market; "reforming the banking system of the country by correct approaches could lead to higher efficiency of the banking system which in turn will bring about economic growth," he continued.
"Free Trade Zones (FTZs) can turn into excellent paragons for international relations," asserted the managing director of Kish Free Zone Organization concluding "in line with policies of Resistance Economy defined by the Leader, priorities of Iranian FTZs in the long run include technology transfer, development and facilitation of production, exports of goods and services as well as supplying of financial resources."
--- ---
...

Related articles based on keyword density
ISIS: The Spoils of the "Great Loot" in the Middle East - FPIF...
fpif.org 02/07/2014 Politics
Adding yet more warfare to the current crisis in the Middle East will perpetuate exactly what the imperial powers set out to do: tear an entire region...View Details»

Iran's water crisis the product of decades of bad planning - The Washi...
washingtonpost.com 03/07/2014 Nature
By Jason Rezaian July 2 at 7:00 AM Follow @jrezaian TEHRAN — Iran is headed for a water shortage of epic proportions, and little is being done to re...View Details»

Iran's tourism industry flourishing ...
en.mehrnews.com 22/09/2017 Fun
News ID: 4093358 - Fri 22 September 2017 - 10:21 Culture TEHRAN, Sep. 22 (MNA) – Statistics shows that Iran is currently ranked 15th in terms of tour...View Details»

'Nothing left' if Iran hit Saudi facility: FM Zarif ...
aljazeera.com 23/09/2019 Politics
War of words over Saudi oil attacks with the US continues as Iranian leaders arrive for the UN General Assembly. 23 Sep 2019 18:01 GMT Tensions in the...View Details»

Iran-US ties: Past, present, future...
irna.ir 18/08/2016 History
Tehran, Aug 18, IRNA – An Iranian expert on the US affairs believes that Tehran and Washington share certain interests and concerns despite their conf...View Details»

---
EOF