Book Review: The Saffron Tales Recipes from the Persian Kitchen
Book Review: The Saffron Tales Recipes from the Persian Kitchen ...
dnaindia.com
20/11/2016 Cuisine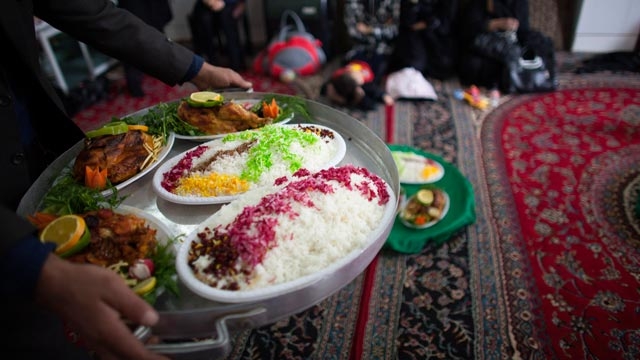 Keywords:#Apricot, #Bloomsbury, #DNA, #Dnaindia.com, #Farsi, #Ghormeh, #Gilan, #Greek, #Iran, #Iranian, #Khan, #Kitchen, #London, #Marisha_Karwa, #Middle_Eastern, #Mumbai, #Persia, #Persian, #Persian_Kitchen, #Saffron, #Shahrzad, #Sunflower, #Yasmin_Khan
Marisha Karwa | Sun, 20 Nov 2016-08:30am , Mumbai , DNA
Move over kabobs and baklavas. Saffron, pomegranate, rose water, dates and nuts star in meaty roles on the sofreh (table cloth). Marisha Karwa navigates the terrain and tastes of Iranian fare through Yasmin Khan's book
Book: The Saffron Tales Recipes from the Persian Kitchen
Author: Yasmin Khan
Publisher: Bloomsbury
Pages: 240
Price: Rs 799
"Noosh-e-jan" (Let your soul be nourished by what you are eating)
Wishing readers thus, London-based writer and cook Yasmin Khan dives straight off into the veritable pantry of Persian cuisine to introduce its humble and revered ingredients — where bread and dried limes find place alongside golpar (angelica seeds), kashk (a pungent seasoning made from fermented whey), date and pomegranate molasses and (of course) saffron — and the role each essays in the cuisine.
The introduction doesn't stop here. Khan acquaints the uninitiated with threads of history, strings of spirituality and religion, travelogues from her 3,000-km traipses through the country's landscape, codes of rituals and traditions and interactions with the local shekamoo (Farsi for those who love food and eat plenty of it). These are amply peppered with anecdotes from childhood summers spent hauling oversized watermelons for picnics at her grandparents' farm in Iran's northern Gilan province. The Saffron Tales is an almost anthropological narrative of a culture's people and their food.
Six sections compartment the recipes into breakfast, mezze & sides, salads, soups, mains and desserts. Khan commences each with a succinct essay on the role of that particular dish and its constituents. For instance, for soups, she writes: "Such is the centrality of aash in Iranian cooking that the Farsi word for cook is aashpaz, which means 'soup-maker', and the term for kitchen is aashpazi khaneh, which means 'soup-house'. In many northern parts of the country, a meal always begins with a bowl of soup."
Each of the 79 recipes has a brief introduction and Khan, perhaps gifted with intuition, offers ample notes and suggestions on getting the tricky aspects right, including how to get the perfect tahdig (crusty base) while cooking Persian rice. Just as thoughtfully, she suggests substitutes for ingredients that readers may be unable to get their hands on — be it for Middle Eastern-pickled cucumbers (use low-sugar gherkins or instead) or for the Persian flatbread lavaash (opt for tortillas). And yet she recommends getting the right ingredients — even if it means having to track down Middle Eastern stores, especially for golpar — for the perfect blend of sour and sweet that defines Iranian fare.
Accompanied with mouth-watering photographs by Shahrzad Darafsheh and Matt Russell, Khan's recipes have such evocative names such as Baalaaloot (saffron and cardamom vericelli with fried egg), Zetoon parvandeh (olives marinated with walnuts and pomegranates), Aash-e-mast (hot yoghurt and chickpea soup) and Ghormeh sabzi (lamb and mixed herb stew) that there is little excuse for not heading into the kitchen inspired.
The Saffron Tales is a treasure trove that brings the delights from Iran's aashkhaane into ours. It is a pity that for a civilization that is among the oldest on earth, food from Iran or Persia — and Khan uses the words interchangeably after explaining at the very outset that the latter was the nomenclature given to Iran by the ancient Greeks — isn't half as popular around the world as it ought to be. The loss is entirely ours.
Recipe for Hot yoghurt and chickpea soup (Aash-e mast)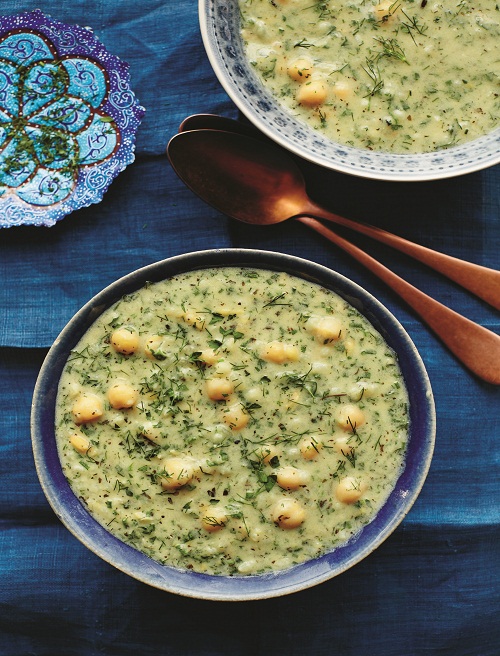 Photo: Matt Russel
Ingredients:
30g butterflies
2tbsp sunflower oil
2medium onions, finely chopped
3garlic cloves,crushed
400g tin of chickpeas,drained and rinsed
1.25litres good-quality chicken or vegetable stock
75g pudding rice (or white rice)
500g Greek yoghurt
15g bunch chives,finely chopped
15g bunch dill,finely chopped,plus extra for garnishing
20g bunch parsley,finely chopped
1tbsp cornflour,mixed into a paste with 2tbsp col water
1tsp sea salt
½ tsp black pepper
Method: Melt the butter with the sunflower oil in large heavy-based pan. Add the onions and fry over a low heat for around 15-20 minutes,until soft and golden. Don't rush this bit, as the caramelized onions create the base of the soup's flavour.
Add the garlic and fry for a few minutes before adding the chickpeas, stock and rice. Cook for 10minutes more.
Spoon the yoghurt into a large bowl,add a couple of ladles of hot soup and stir to warm through. Take the pan off the heat and slowly add the yoghurt, one ladle at a time, so that it doesn't split. Add fresh and dried herbs,cornflour paste,salt and pepper.
Place the soup back on the hob and simmer over a low heat for 15 minutes,stirring occasionally. Taste for seasoning an serve with a little extra dill sprinkled on top.
Serves 4
Recipe for Apricot and prune chicken stew (Aloo mosamaa)


Photo: Matt Russel
Ingredients:
Sunflower oil,
3 medium onions,finely chopped
¾ tsp cumin seed,
¾ tsp coriander seeds
800g skinless chicken thighs, off the bone
1 ½ tsp ground cinnamon
1 ½ tsp turmeric
1tsp sea salt
½ tsp black pepper
500ml good-quality chicken stock
16dried apricots
16prunes
¼ tsp saffron strands
A pinch of sugar
2 tbsp freshly boiled water
2tbsp lemon juice
Method: Heat 3 tablespoons of oil in a large saucepan with a lid and gently fry the onions over a low heat,stirring occasionally,until golden brown and caramelized (around 25 minutes).
Meanwhile, toast the cumin and coriander seeds in a dry frying pan for a minute or two and then grind them into a fine powder with a pestle and mortar or spice grinder.
Once the onions are ready,add the chicken thighs to the saucepan,along with the ground cumin and coriander,the cinnamon,turmeric,salt and pepper. Cook with the lid off over a high heat for a few minutes until the chicken is sealed on all the sides and then add the stock. Cover and cook over a low to medium heat for 40 minutes.
Meanwhile, heat a tablespoon of oil in a frying pan and lightly fry the apricots and prunes for 2-3 minutes until they start to plump up.
Grind the saffron with a pinch of sugar in the pestle and mortar and then transfer to a cup and leave to steep in the boiled water for 2 minutes.
When the chicken is ready, add the fried fruit, along with the lemon juice and the saffron liquid. Cook for a final 5-10 minutes with the lid off,until the sauce has thickened to your liking. Adjust the seasoning with a touch more salt, pepper or lemon juice.
--- ---
...

Related articles based on keyword density
Make the most of in-season pomegranate with festive recipes from Yasmi...
news.nationalpost.com 14/12/2016 Cuisine
By Laura Brehaut | December 13, 2016 12:41 PM ET More from Laura Brehaut | @newedist *** Fesenjoon is my favourite recipe in the book. In Iran, that d...View Details»

Persian Inventions...
defence.pk 25/07/2014 History
SYSTEMS AND WAY OF LIFE • Protocol and Etiquette- rules of respect, cultured civilization, of order and harmony of everyday life. • Human Rights – 576...View Details»

'People think Iran is all bombs and chador-clad women: it's not': Putt...
cambridge-news.co.uk 02/06/2016 Cuisine
Human rights campaigner-turned-food-writer Yasmin Khan is on a mission to change perceptions of Iran - and she's starting in the kitchen. Yasmin Khan...View Details»

Perfect Persian food ...
expressandstar.com 25/05/2016 Cuisine
Yasmin Khan is taking Iran's image to task. A former human rights campaigner-turned-cookery writer, Khan spent much of her childhood in Birmingham, wh...View Details»

Iran's water crisis the product of decades of bad planning - The Washi...
washingtonpost.com 03/07/2014 Nature
By Jason Rezaian July 2 at 7:00 AM Follow @jrezaian TEHRAN — Iran is headed for a water shortage of epic proportions, and little is being done to re...View Details»

---
EOF