Iran Qualifies CNPC to Total for Bidding on Energy Projects
Iran Qualifies CNPC to Total for Bidding on Energy Projects ...
bloombergquint.com
03/01/2017 Economy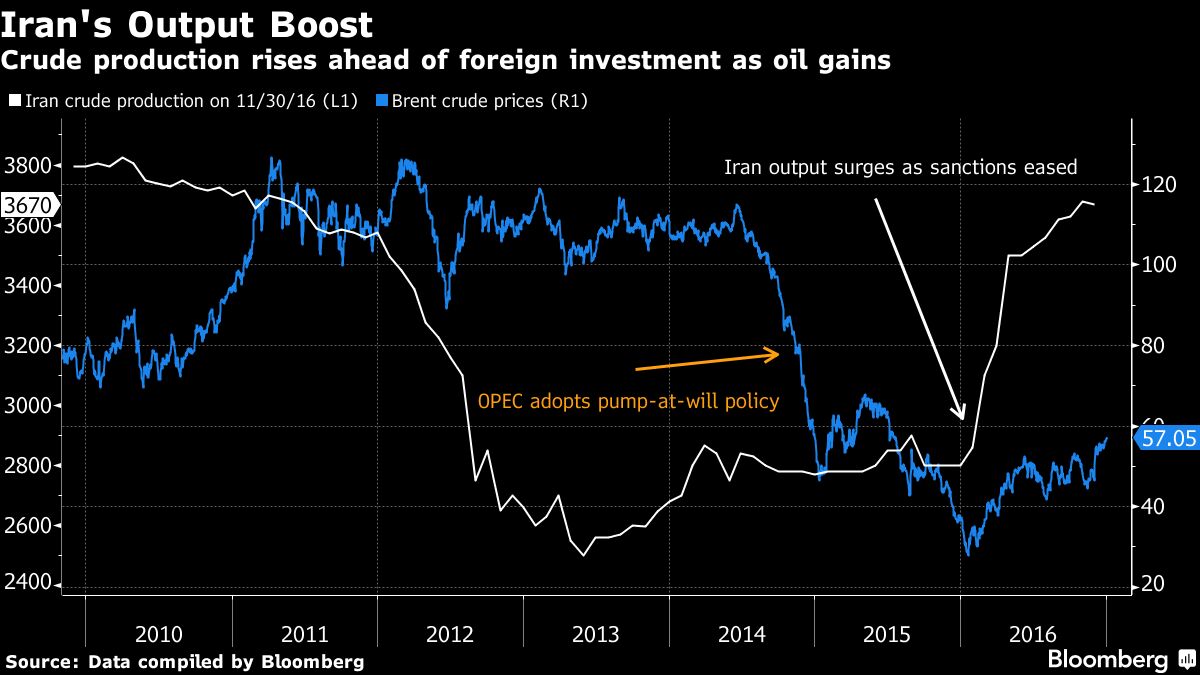 Keywords:#2015, #American, #Bijan_Namdar_Zanganeh, #Bloomberg, #Brent, #China, #Dubai, #Dutch, #Gazprom, #India, #Iran, #Iranian, #Italy, #January, #Japan, #NIOC, #National_Iranian_Oil_Co, #Oil_Minister, #Persian, #Persian_Gulf, #Royal_Dutch_Shell, #Schlumberger, #Shell, #Spain, #Tehran, #Total, #Total_SA
By Anthony DiPaola
(Bloomberg) -- Iran qualified 29 international oil companies to bid in upcoming tenders for crude and natural gas development projects as the Persian Gulf state seeks investment in energy.
China National Petroleum Corp., Royal Dutch Shell Plc and Total SA are among the companies that will be invited to bid in tenders, according to a list published Monday on the website of state producer National Iranian Oil Co. Total, along with Lukoil PJSC and the oil unit of Gazprom PJSC, are some of the companies on the list that have already signed preliminary agreements with Iran to study oil fields for potential future development.
Iran aims to attract more than $100 billion in foreign investment to speed growth in its energy industry after sanctions cut international companies' involvement in developing the world's fourth-largest oil reserves. Since sanctions eased in January, the Persian Gulf producer has doubled exports as crude prices rallied. Brent crude gained 52 percent last year and traded at $57.08 a barrel at 11:48 a.m. in Dubai.
The country boosted oil production last year by 870,000 barrels a day to 3.67 million by November, according to data compiled by Bloomberg. While the country has reached several preliminary agreements with international companies, it has yet to sign any concrete deals to boost crude production since Oil Minister Bijan Namdar Zanganeh outlined more than 50 potential projects at a Tehran conference in November 2015. Zanganeh said at the time the country was targeting about 5.7 million barrels a day of crude and condensate production early in the next decade.
Companies from Italy, Spain, Japan and India also made the list. U.S. oil services provider Schlumberger Ltd. was among those identified, according to the NIOC website. U.S. sanctions legislation prevents companies based in that country from investing in Iran's energy industry, while foreign subsidiaries of American entities are allowed to operate in the Persian Gulf country.
Bloomberg
--- ---
...

Related articles based on keyword density
Iran Plans Higher Fees for Riskier Oil Fields in New Accords Iran Plan...
bloomberg.com 25/02/2014 Economy
By Golnar Motevalli and Anthony DiPaola Feb 24, 2014 Iran will offer foreign partners incentives to find and pump more crude and natural gas and will...View Details»

Iran Reserves Again Coveted by Big Oil After Decades of Conflict - Blo...
bloomberg.com 29/03/2015 History
by Javier Blas 3:31 AM IRDT March 30, 2015 Part of an oil and methanol installation is seen on Kharg Island in the Persian Gulf off the coast of Iran...View Details»

Iran Lures Investors Seeing Nuclear Deal Ending Sanctions-Bloomberg Ne...
businessweek.com 18/08/2014 Economy
By Jeremy Kahn August 17, 2014 On a May afternoon in Tehran, a Russian in a dark suit sits in the crowded lobby cafe of the Espinas Persian Gulf Inter...View Details»

The Woman Shaping Iran's Oil Future - Bloomberg Business...
bloomberg.com 14/01/2016 People
Can Elham Hassanzadeh get Iran's oil flowing again? By Peter Waldman *** Elham Hassanzadeh, in Tehran.Photographer: Fatemeh Behboudi for Bloomberg B...View Details»

European Oil Companies Steal a March on U.S. Peers in Iran - WSJ...
wsj.com 20/10/2015 Economy
European Oil Companies Steal a March on U.S. Peers in Iran Americans look on as Europeans compete to snag best oil and gas fields *** Iran is looking ...View Details»

---
EOF