Kuwait after rebuilding Iran-Persian Gulf Arabs relations
Kuwait after rebuilding Iran-Persian Gulf Arabs relations ...
en.mehrnews.com
27/01/2017 Politics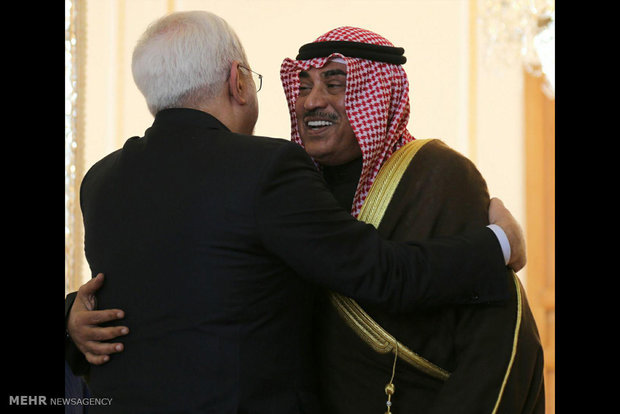 Keywords:#Arab, #Arabia, #Bahrain, #En.mehrnews.com, #Foreign_Affairs, #Foreign_Minister, #Hassan_Rouhani, #Iran, #Iranian, #Islamic, #Islamic_Republic, #Islamic_Republic_of_Iran, #January, #Kuwait, #MNA, #News, #Obama, #Obama_administration, #Persian, #Persian_Gulf, #Politics, #President, #Rouhani, #Saudi, #Saudi_Arabia, #Sheikh, #Tehran

News ID: 3888663 - Fri 27 January 2017 - 13:07
Politics
TEHRAN, Jan. 27 (MNA) – Kuwaiti Under Secretary for Foreign Affairs Khaled al-Jarallah welcomed the results garnered in Kuwaiti FM's visit to Tehran and asserted that Iranians gave yes to call for boosting bilateral cooperation.
"After visiting Tehran and delivering the message of the Kuwaiti Emir to the President Hassan Rouhani of Iran, the Kuwaiti Foreign Minister received a good response which is a good and positive sign for creating a regional solidarity," said Kuwaiti Deputy Foreign Minister Khalid Sulaiman Al-Jarallah, at a presser on Friday, evaluating on the results of Tehran visit of Kuwaiti Foreign Minister Sheikh Sabah al-Khalid al-Hamad al-Sabah who also serves as the deputy prime minister of Kuwait.
Mr. Jarallah articulated that with readiness of the Islamic Republic of Iran, there would be some positive steps undertaken in easing the tensions between Iran and the six Arab states of the [Persian] Gulf Cooperation Council ([P]GCC) in order to bolster solidarity in the region.
"The Iranian officials, after receiving the message of Kuwaiti Emir, voiced their readiness for interaction," affirmed the Kuwaiti diplomat. "The proposal offered by Kuwaiti Emir is based on exchange of ideas in the frame of international standards."
He also noted that reaching an agreed solution for having more talks in the future and expanding relations is an important issue of concern. "However," said the undersecretary, "the two sides have not agreed upon a time to initiate joint talks."
"It is too early to talk about to return of [P]GCC ambassadors and the re-establishment of diplomatic ties between Iran on one side and Saudi Arabia and Bahrain on the other side, but the message of Kuwaiti Emir outlines the ways to have mutual relations and rebuild ties with Iran," maintained Mr. Jarallah.
He rejected any connection between the inauguration of Trump's administration and the message of Kuwaiti Emir, saying that the efforts to negotiate re-establishment of ties had already started in the era of Obama administration.
--- ---
...

Related articles based on keyword density
Media Scam? Iran and America Join Hands in Waging "The Global War on T...
globalresearch.ca 01/07/2014 Politics
By Prof Michel Chossudovsky Global Research, June 21, 2014 Following the incursion of jihadist rebels of the Islamic State of Iraq and the Levant (IS...View Details»

ISIS: The Spoils of the "Great Loot" in the Middle East - FPIF...
fpif.org 02/07/2014 Politics
Adding yet more warfare to the current crisis in the Middle East will perpetuate exactly what the imperial powers set out to do: tear an entire region...View Details»

'Nothing left' if Iran hit Saudi facility: FM Zarif ...
aljazeera.com 23/09/2019 Politics
War of words over Saudi oil attacks with the US continues as Iranian leaders arrive for the UN General Assembly. 23 Sep 2019 18:01 GMT Tensions in the...View Details»

IRAN NUCLEAR TALKS STUMBLE, EXTENDED UNTIL JULY ...
hosted.ap.org 24/11/2014 News
BY MATTHEW LEE AND GEORGE JAHN ASSOCIATED PRESS VIENNA (AP) -- Still facing significant differences between the U.S. and Iran, negotiators gave up on...View Details»

Saudi Arabia Wants to Roll Back Iran ...
nationalinterest.org 05/09/2016 Politics
*** Containment is no longer good enough. Arash Reisinezhad September 4, 2016 On July 9, Prince Turki bin Faisal, former Saudi intelligence head, unpr...View Details»

---
EOF