Plates of Persia ...
dnaindia.com
12/02/2017 Cuisine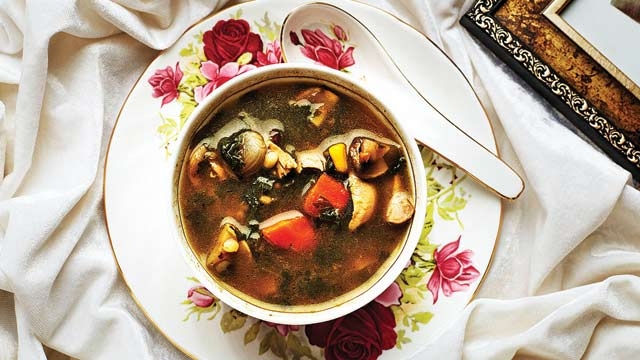 Keywords:#Baghali, #DNA, #Dnaindia.com, #India, #Iran, #Irani, #Laboo, #Mumbai, #Parsis, #Persia, #Persian, #Plates_of_Persia, #Salad
Anaida's Magic Soup, a coriander chicken broth

* * * By Pooja Bhula | Sun, 12 Feb 2017-07:20am , Mumbai , DNA
On its third birthday, SodaBottleOpenerWala gets singer Anaida to curate a Persian food pop-up with dishes from the heart of Iran that are rarely found in India. Pooja Bhula goes tasting
Much as we love Mumbai's Persian fare at Irani cafes – born out of an intermingling of cultures and business acumen of Parsis and Iranis – you're not likely to find it in Iran. Likewise, typical meals found there are tough to find here, except at few expat-run restaurants or some Irani homes.
It's the very reason, SodaBottleOpenerWala got Anaida on board. A surprise pick considering she's never been known, at least publicly, for her culinary skills. "Anaida's an old friend. She's originally from Iran and a wonderful cook, so our brand head Mohit developed the relationship," says restauranter AD Singh.
What ensued is Chef Hemant Sonar, head of the Thane outlet, making visits to her Pune house, familiarsing himself with the ingredients, flavours and techniques as she cooked. The result – a lovely menu of 12 traditional Persian dishes, including Fesenjan, an old recipe of chicken slow-cooked in walnut and pomegranate puree; Khoresht e Bamiye, lady fingers cooked in a mildly spiced tomato gravy garnished with shallow-fried eggplant and crispy potatoes; Baghali Polo, dil flavoured rice with fava beans, recommended with Khorak e Goosht gravy that has lamb shank slow-cooked in onion, chickpeas and flavoured with mild spices and black lemons.
"This is my party spread. Vegetarian dishes were difficult to think of; an aunt living in Iran helped me out," says Anaida.
The menu also has some of her own inventions like Soop e Jadooi (coriander chicken broth with pearl barley, mixed sprouts, turnip, mushroom, carrots and roasted vermicelli) and Salad – e – Salamat (cucumber, celery, pomegranate and carrot) that resulted from her need to eat healthy in her early days as a pop artist, 20 years ago. "Back then, you didn't have so many eat-out options, especially healthy ones. So I created quick recipes that are nutritious, delicious and filling," says the multi-talented woman whose restaurant-selection criteria is "happy kitchens". Vibes, she believes, find their way in food.
And happiness is served at dessert. The Persian halwa (that's like sheera) is good, but the saffron-flavoured, festive dessert, Shole Zard (similar to firni; eaten both hot and cold) steals the show.
"It's the quality of saffron," Chef Sonar tells me and admits, "I used to think Kashmiri and Spanish varieties are the best".
For people to experience the real thing, they've imported the tomato paste, kashk (balls of sundried yogurt), dry mint powder (far stronger than ours) and black lemons from Iran. "We dried and tried Indian ones, but the juice turns bitter," he shares. While the dishes seem homely and familiar, you also sense that there's something more. To tie up the entire experience beautifuly, SBOW uses golden-rimmed Persian crockery with floral motifs.
Served a-la-carte, this menu is available till 25th February at SBOW's Thane outlet.
Recipe Burani-e-Laboo
Ingredients
1 beetroot
1 packet (hung curd)
3 tsp organic sugar
Sea salt as per taste
Method: In four cups of water, add sugar, salt and beetroot (halved) and boil. Once the water evaporates, if the beetroot has cooked (it should be crisp), remove, skin and chop into small cubes. Add to it hung yogurt, mix and garnish with rose petals.
--- ---
...

Related articles based on keyword density
Centre for teaching Persian language starts in Muscat ...
timesofoman.com 27/04/2014 Culture
by Elham Pourmohammadi | April 27, 2014 Muscat: In a significant step to strengthen cultural ties between Iran and Oman, a centre for teaching ...View Details»

A Taste of Persia in Los Angeles ...
blogs.barrons.com 08/06/2016 Cuisine
By Lauren R. Rublin Persian cuisine is among the most savory of Iran's exports, and one of the best places to sample its herb-and fruit-laced dishes i...View Details»

The foodie traveller … on a Persian cafe revival in Mumbai | Travel | ...
theguardian.com 16/10/2015 Cuisine
Mumbai's Persian-style cafes were a dying breed until this week when filmmaker Mansoor Showghi Yezdi opened the first new one in the city in 30 years,...View Details»

Book Review: The Saffron Tales Recipes from the Persian Kitchen ...
dnaindia.com 20/11/2016 Cuisine
Marisha Karwa | Sun, 20 Nov 2016-08:30am , Mumbai , DNA Move over kabobs and baklavas. Saffron, pomegranate, rose water, dates and nuts star in meaty...View Details»

The Tale of Mumbai's Irani Cafes - India Real Time - WSJ...
blogs.wsj.com 12/10/2013 News
By Shweta Desai Shweta Desai for The Wall Street Journal Mansoor Yezdi, maker of the documentary "Cafe Irani Chai," at Cafe Koolar and Compan...View Details»

---
EOF