Iranian Navy Successfully Test-Fires New Homegrown Torpedo
Iranian Navy Successfully Test-Fires New Homegrown Torpedo ...
tasnimnews.com
28/02/2017 Military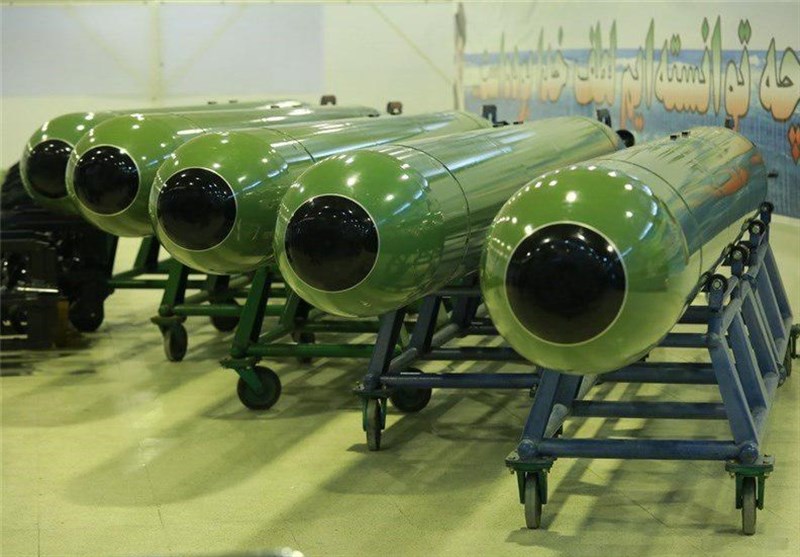 Keywords:#Bab, #Ghadir, #Gulf_of_Oman, #Hormuz, #Indian_Ocean, #Iranian, #Iranian_Navy, #Makran, #Oman, #Oman_Sea, #Strait_of_Hormuz, #Tasnim, #Tasnimnews.com, #Torpedo
TEHRAN (Tasnim) – The Iranian Navy for the first time test-fired a domestically-made smart torpedo dubbed "Valfajr" in large-scale military exercises south of the country and the torpedo successfully hit the target.
During the final day of the Navy's war game codenamed "Velayat 95", submarines deployed to waters 100 kilometers from the coast hit their floating targets using their advanced detection and tracking systems.
During the drills on Tuesday, the Valfajr torpedo was fired from the homegrown Ghadir Submarine and successfully destroyed a floating target.
Anti-submarine helicopters of the Navy also participated in the military exercises, and fired and hit subsurface targets with state-of-the-art torpedoes.
The last phase of the Velayat 95 war game, which began on Sunday in a vast maritime zone, continued on Tuesday.
The drills cover an area of 2 million square kilometers, stretching from the Strait of Hormuz and Oman Sea to the north of the Indian Ocean and Bab al-Mandab Strait.
A range of naval equipment is utilized in the drills, including homegrown submarines and helicopters. The previous phases of the war game were held in 2016.
In addition, Iranian Navy commando units are carrying out special operations in the Makran region located in the southeast of the country, along the coasts of the Gulf of Oman.
--- ---
...

Related articles based on keyword density
Iran says it rescued 44 sailors after 2 tankers were 'reportedly attac...
rt.com 13/06/2019 News
Iran rescued dozens of sailors from oil tankers that were reportedly attacked in the Gulf of Oman off the UAE coast, according to IRNA. One of the ves...View Details»

Iran fire cruise missile from deep water for first time amid tension w...
rt.com 24/02/2019 Military
An Iranian submarine successfully carried out its first cruise missile deep-sea launch during a naval drill in the nation's southern waters. The mane...View Details»

Iran's Aid Ship en Route to Yemen ...
tasnimnews.com 13/05/2015 News
May 12, 2015 - 18:40 TEHRAN (Tasnim) – An Iranian cargo ship filled with humanitarian supplies for Yemen is sailing in the international waters south...View Details»

Bridgeton Incident: US supertanker collides with mines laid by IRGC ...
en.wikipedia.org 24/07/1987 History
The Bridgeton incident was the mining of the supertanker SS Bridgeton near Farsi Island in the Persian Gulf on July 24, 1987. The ship was sailing in ...View Details»

Iran Fast Tracks Development Of Huge West Karoun Oil Field ...
oilprice.com 31/08/2020 News
Aug 26, 2020 One of the three key priorities for Iran – along with completing all of the phases on its supergiant South Pars natural gas field and exp...View Details»

---
EOF