TehRUN marathon breaks barriers by building bridges
TehRUN marathon breaks barriers by building bridges ...
en.mehrnews.com
08/04/2017 Sports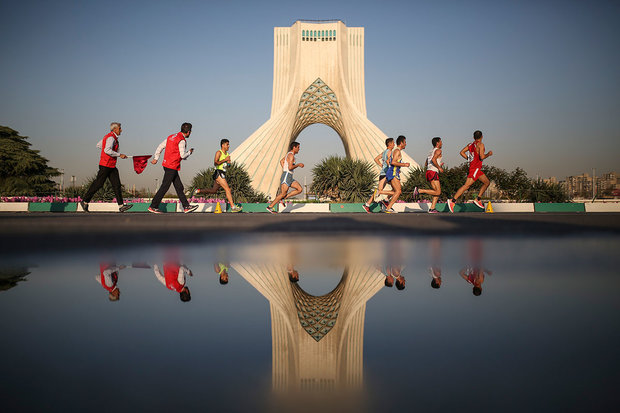 Keywords:#Amateur, #Amsterdam, #Athens, #Azadi, #Azadi_Tower, #Cultural_Heritage, #En.mehrnews.com, #Ferdowsi, #Ferdowsi_Square, #I_run_Iran, #Iran, #Iranian, #Islamic, #Islamic_Revolution, #MNA, #Marathon, #Marvdasht, #Middle_East, #News, #Organizer, #Persepolis, #Persian, #Revolution, #Sebastiaan_Straten, #Sport, #Sports, #TehRUN, #Tehran, #Tehrani, #Valiasr

News ID: 3947192 - Sat 8 April 2017 - 11:28
Sports
TEHRAN, Apr. 08 (MNA) – Sebastiaan Straten, Organizer of First Tehran International Persian Run also dubbed TehRUN, expressed hope that the event would cross bridges and break barriers between nations.
The 1st Tehran International Marathon convened in the Iranian capital on Friday 7th of April 2017 with participation of over 350 runners from more than 42 countries. TehRUN 2017 aimed at building bridges and breaking barriers.
The full marathon started at Azadi (Freedom) Stadium, and passed by the iconic Azadi Tower, a prominent structure during rallies in the 1979 Islamic Revolution. Other landmarks along the route included Ferdowsi Square, built in honour of the famous Persian poet, and the Tehran City Theatre along Valiasr Street, one of the longest avenues in the Middle East.
Organizer of the sportive event Sebastiaan Straten issued a press release on Friday the full text of which follows:
Two years ago, I came up with the idea of organizing a marathon in Iran. Mostly because of my experience with street running in Amsterdam and Athens. Running creates a positive energy. It inspires and unites people. The interaction between runners and supporters along the road is unique. So why would this not be possible in Iran…
At the First International Iran Marathon near Persepolis on April 9th 2016, the people of Marvdasht displayed their hospitality towards 150 runners from 30 different countries. They proved that running goes beyond borders. It can cross bridges and break barriers between nations.
After this first successful edition of 'I run Iran' an even more challenging idea came up. Why not organize a second one in Tehran? The idea of the First Tehran International Persian Run also dubbed TehRUN was born. And what would be nicer than to have runners rounding the Azadi monument, proud symbol of 2500 years of Persian culture and history. Supported by thousands of Tehrani along the way. Inspiring street running to a young and dynamic population. A start needs a finish. Also, when the road is unclear and full of obstacles. Organizing a marathon in Iran has proven to be a tedious task. Convincing local authorities, getting permits and local support, promoting the event, runners' registration, international payment limitations, travel assistance, street traffic control, securing the streets, etc. Constrained by a very limited budget, no financial sponsoring, a small taskforce and a challenging political climate.
I run Iran would not be possible without the support of the Iranian Ministry of Sport and Youth Affairs, Tehran Mayor Office, the Amateur Athletic Federation of Iran (IRIAAF), Maral tours, Cultural Heritage and Tourism organization and many others.
Today, 7th of April 2017 at 7 AM (Tehran Local Time) the most international Iran sport event in many years will start. With hundreds of runners from over 42 different countries. Despite all shortcomings of this first TehRUN I hope we can make steps towards a brighter future.
From Start to Finish!
Sebastiaan Straten
--- ---
...

Related articles based on keyword density
Iran's volleyball snares historic Olympic berth after 52 years ...
en.mehrnews.com 05/06/2016 Sports
News ID: 3676230 - Sat 4 June 2016 - 16:02 Sports TEHRAN, Jun. 04 (MNA) – Iran national volleyball team beat Poland at the 2016 Olympic men's volleyb...View Details»

Street in Tehran named after Nelson Mandela ...
en.mehrnews.com 10/12/2014 Culture
Street in Tehran named after Nelson Mandela TEHRAN, Dec. 10 (MNA) – Africa Street in northern Tehran has been renamed after Nelson Mandela during a ce...View Details»

Iran's water crisis the product of decades of bad planning - The Washi...
washingtonpost.com 03/07/2014 Nature
By Jason Rezaian July 2 at 7:00 AM Follow @jrezaian TEHRAN — Iran is headed for a water shortage of epic proportions, and little is being done to re...View Details»

'I Run Iran' to mark Iran's 1st marathon ...
en.mehrnews.com 28/11/2015 Sports
News ID: 2981630 - Sat 28 November 2015 - 17:04 Sports TEHRAN, Nov. 28 (MNA) – Iran Silk Road Travel Agency will organize the first marathon of Iran ...View Details»

Travel black book: Iran's many fabled sights, AsiaOne Asia News...
news.asiaone.com 02/12/2014 Fun
Lydia VaskoThe Straits TimesTuesday, Dec 02, 2014 Who: Chang Theng Hwee, 50, is managing director of Country Holidays travel agency Favourite destinat...View Details»

---
EOF