Russia and Iran request an 'unbiased investigation' into Syrian chemical attack
Russia and Iran request an 'unbiased investigation' into Syrian chemical attack ...
independent.co.uk
10/04/2017 Politics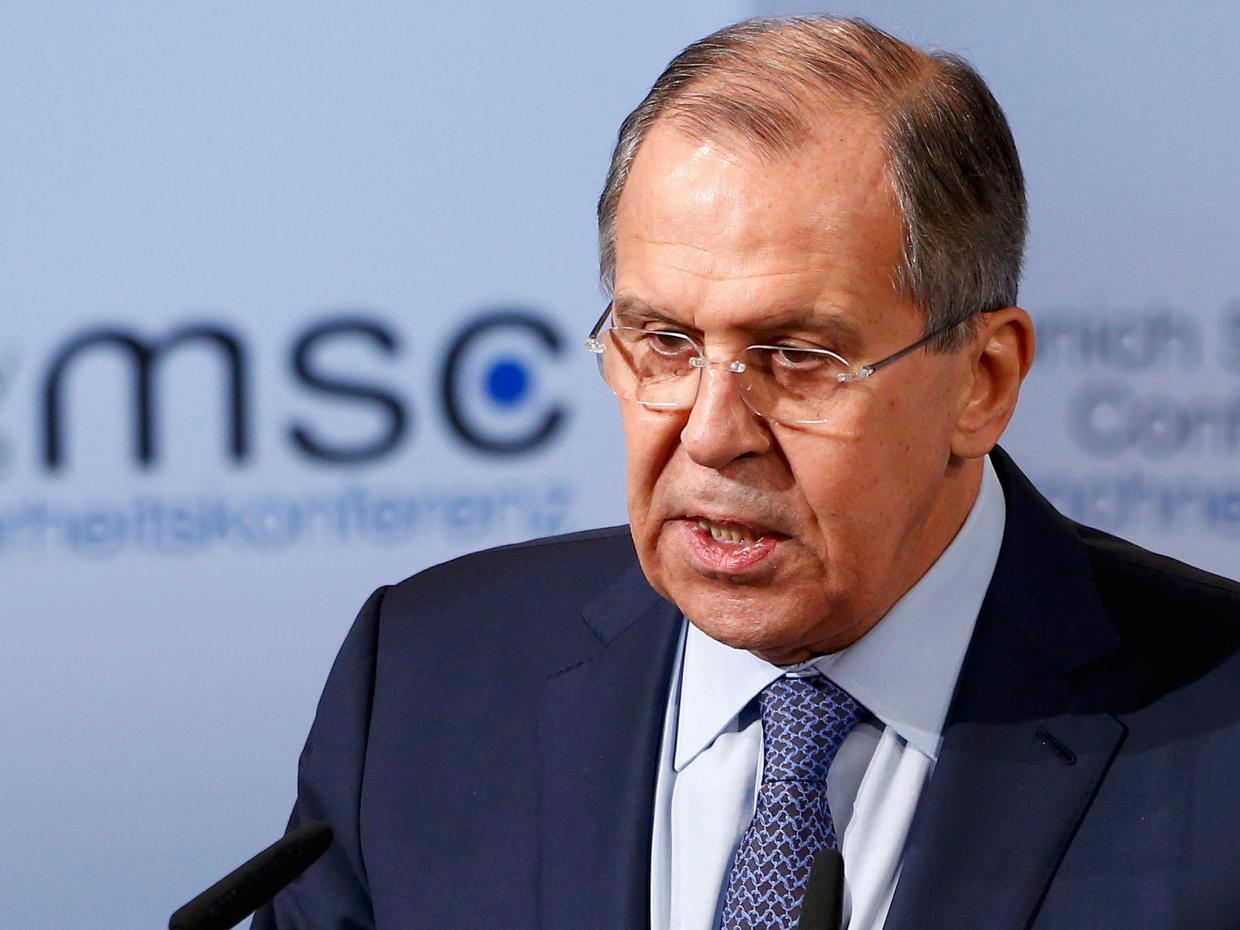 Keywords:#Bashar_Assad, #Boris_Johnson, #Donald_Trump, #Foreign_Minister, #Foreign_Ministry, #Foreign_Secretary, #G7, #Homs, #Independent.co.uk, #Iran, #Iranian, #Italy, #Javad_Zarif, #Khan, #Mohammad_Javad_Zarif, #Moscow, #President, #Reuters, #Rex, #Rex_Tillerson, #Russia, #Russian, #Sergei_Lavrov, #Syria, #Syrian, #Tomahawk, #Trump, #UK, #UN_Charter, #US

Their call came as the US and UK meet other G7 nations to demand a stronger approach to Russia
Joe Watts Political Editor
Russian Foreign Minister Sergei Lavrov called his Iranian counterpart today Reuters

* * * Russia and Iran have issued a joint call for an "unbiased investigation" into the chemical weapons incident which provoked Donald Trump to launch missiles at an airbase in Syria.
Foreign Minister Sergei Lavrov and his Iranian counterpart Mohammad Javad Zarif agreed to make the call on Monday while denouncing the US attack on the Syrian airbase as "an act of aggression against a sovereign nation".
It comes as the UK and US prepare to lobby allies at the G7 in Italy for a tough statement against the Assad regime in Syria and Russia's backing for it.
Since Mr Trump ordered the launch of 59 Tomahawk missiles at the airfield in Syria's Homs province, the US and UK on one side, and Russia and Iran on the other, have made reciprocal threats of further military action.
A spokesman from the Russian Foreign Ministry told the country's state news agency Tass that the country's chief diplomat spoke with his Iranian opposite number on the phone on Monday.
He said: "Lavrov and Zarif called for carrying out a thorough and unbiased investigation into the incident in the Syrian province of Idlib that has led to numerous deaths among the civilian population.
"(They) discussed the situation in Syria after the US launched a missile strike on the airbase in that country."
He added: "Both sides emphasised that such aggressive actions against a sovereign independent country are a flagrant violation of international law, above all, the UN Charter, create threats for regional security and impair the fight against international terrorism."
The two ministers agreed to maintain close contacts "with a view to further coordinating cooperation on the pressing bilateral and international issues."
There was outrage across the world after dozens of civilians were killed in what is believed by the West to have been a chemical weapons attack on the Syrian village of Khan Sheikhoun by the regime of Bashar Assad.
Russia has argued that the event took place after the Syrian air force undertook an attack on the outskirts of the village in a bid to destroy militant facilities used to produce chemical bombs, though the claim has been dismissed by the US as "simply not credible".
The incident, and in particular pictures of children killed or injured by toxic gas, led President Trump to launch a missile attack on the airfield from which the chemical weapons are believed to have originated.
In the wake of the strike, both US and UK diplomats and politicians warned that Mr Trump is willing to take action again if the circumstances merit it.
Meanwhile, Russia and Iran have also warned the US that they will 'respond with force' if red lines are crossed in Syria again.
With US Secretary of State Rex Tillerson heading to Moscow later this week, he and Foreign Secretary Boris Johnson went to Italy on Monday to gather support from G7 nations for a tougher statement of intent on Syria, with new sanctions on Russia a possibility.
--- ---
...

Related articles based on keyword density
IRAN NUCLEAR TALKS STUMBLE, EXTENDED UNTIL JULY ...
hosted.ap.org 24/11/2014 News
BY MATTHEW LEE AND GEORGE JAHN ASSOCIATED PRESS VIENNA (AP) -- Still facing significant differences between the U.S. and Iran, negotiators gave up on...View Details»

'Nothing left' if Iran hit Saudi facility: FM Zarif ...
aljazeera.com 23/09/2019 Politics
War of words over Saudi oil attacks with the US continues as Iranian leaders arrive for the UN General Assembly. 23 Sep 2019 18:01 GMT Tensions in the...View Details»

Kashmir, Korea, Venezuela, Iran: hot, cold, hybrid war ...
asiatimes.com 02/03/2019 Military
The hottest border in Asia is now the Line of Control, but talk of regime change centers on other states By Pepe Escobar Turning and turning in a wide...View Details»

Russia, China, Iran, Syria and Cuba Support Each Other in Fight Agains...
newsweek.com 07/09/2019 Economy
By Tom O'Connor On 9/6/19 at 1:30 PM EDT Russia, China, Iran, Syria and Cuba are among the nations that have come out against the United States' use ...View Details»

Lavrov Sure Iran Part of Efforts to Settle Syria Crisis ...
voiceofrussia.com 17/01/2014 Politics
The upcoming Geneva-2 international conference on Syria will last more than one day and will include several rounds of direct negotiations between the...View Details»

---
EOF