Iran declares 'the end of Isis' in live state TV broadcast
Iran declares 'the end of Isis' in live state TV broadcast ...
independent.co.uk
22/11/2017 Military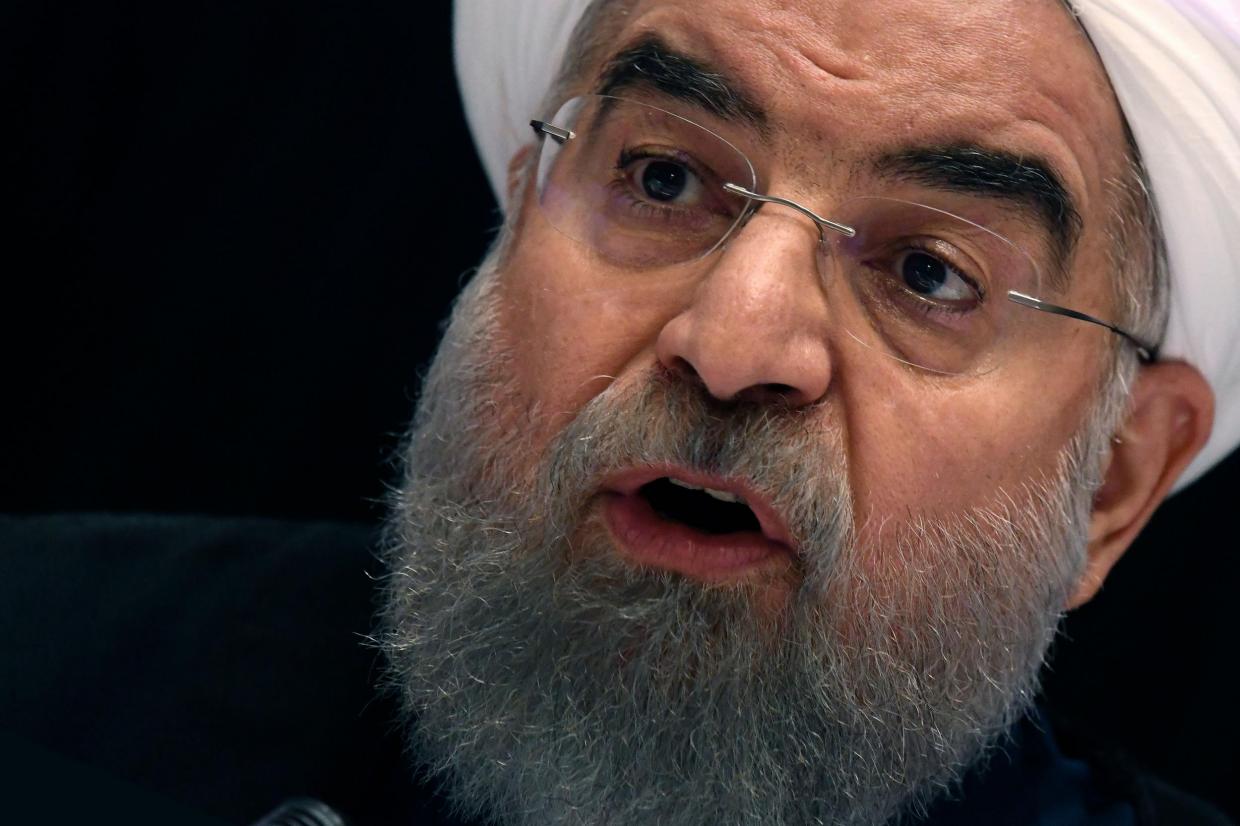 Keywords:#AFP, #Afghan, #Arab, #Arab_League, #Arabia, #Baghdad, #Bashar_al-Assad, #Beirut, #Cairo, #GMT, #Getty, #Getty_Images, #Hassan_Nasrallah, #Hassan_Rouhani, #Hezbollah, #Houthi, #Houthis, #Independent.co.uk, #Iran, #Iranian, #Iraq, #Iraqi, #Lebanese, #Lebanon, #Middle_East, #Mosul, #News, #President, #President_Rouhani, #Prime_Minister, #Qassem_Soleimani, #Recep_Tayyip_Erdogan, #Revolutionary_Guards, #Riyadh, #Rouhani, #Russian, #Saudi, #Saudi_Arabia, #Sepah, #Shia, #Sunni, #Syria, #Syrian, #Tehran, #Turkish, #US, #Vladimir_Putin, #Yemen

Iranian leader's comments come in wake of Arab League meeting in which Saudi Arabia called on region to unite against Iran's 'destabilising' role
Bethan McKernan Beirut
@mck_beth
Tuesday 21 November 2017 09:04 GMT
The Revolutionary Guards, Iran's most powerful military force, has been fighting in support of Syrian President Bashar al-Assad and the central government in Baghdad for several years AFP/Getty Images

* * * Iranian President Hassan Rouhani has declared the end of Isis in an address broadcast live on state TV.
A senior commander of Iran's Revolutionary Guards, Major General Qassem Soleimani, also declared the end of the jihadist group operating in Syria and Iraq in a message published on Tuesday on Sepah News, the Guards' news site.
The Revolutionary Guards' statement also thanked its ally, Lebanese militant group Hezbollah, for its "decisive" role in the fight.
Iranian militias have helped shore up Syrian President Bashar al-Assad's rule since 2014 against both moderate opposition and extremists in the civil war. At least 1,000 Iranian fighters, some of them Afghan refugee recruits, are thought to have died in the fighting.
Across the border in Iraq, Iranian-funded Shia militias form part of the US-backed Iraqi coalition which drove Isis out of its de facto Iraqi capital of Mosul in June and has almost succeeded in eliminating Isis as a land-holding force in the country.
In a televised speech from Beirut on Monday night, Hezbollah leader Hassan Nasrallah said that the group was ready to withdraw its troops from Iraq once the central government declares a decisive victory.
Both Rouhani and Nasrallah's comments come in the wake of an Arab League meeting in Cairo on Sunday in which Saudi Arabia called on the region to unite against Iran, its regional rival, over its "destabilising" role in the Middle East's many conflicts.
Tensions between Riyadh and Tehran are running high following a 4 November Houthi rebel ballistic missile fired from Yemen towards Saudi Arabia and the shock resignation of Lebanon's Sunni Prime Minister Saad Hariri, a move widely believed to have been orchestrated by the Saudi authorities.
President Rouhani said that the Houthis had launched the attack in response to "so much bombing" by the Saudi-led Arab coalition propping up Yemen's exiled government. He also called the regional organisation "old, worn-out, exhausted and ineffective."
President Rouhani will travel to the Russian city of Sochi on Wednesday to meet with with Russian President Vladimir Putin and Turkish President Recep Tayyip Erdogan for further talks on reducing violence in Syria through de-escalation zones, a strategy agreed earlier this year.
--- ---
...

Related articles based on keyword density
Media Scam? Iran and America Join Hands in Waging "The Global War on T...
globalresearch.ca 01/07/2014 Politics
By Prof Michel Chossudovsky Global Research, June 21, 2014 Following the incursion of jihadist rebels of the Islamic State of Iraq and the Levant (IS...View Details»

ISIS: The Spoils of the "Great Loot" in the Middle East - FPIF...
fpif.org 02/07/2014 Politics
Adding yet more warfare to the current crisis in the Middle East will perpetuate exactly what the imperial powers set out to do: tear an entire region...View Details»

'Nothing left' if Iran hit Saudi facility: FM Zarif ...
aljazeera.com 23/09/2019 Politics
War of words over Saudi oil attacks with the US continues as Iranian leaders arrive for the UN General Assembly. 23 Sep 2019 18:01 GMT Tensions in the...View Details»

Iran Begins Building Road to Syria Through Iraq ...
msn.com 07/02/2019 News
By Tom O'Connor Iran has begun building a road slated to eventually connect the country to Syria through neighboring Iraq, a move signaling its extens...View Details»

Terror Bombing in Brussels and Paris: Europe's "Islamist Legionnaires"...
globalresearch.ca 09/04/2016 History
By Prof. James Petras Global Research, April 08, 2016 *** Osama bin Laden with President Carter's National Security Advisor Zbigniew Brzezinzki The...View Details»

---
EOF