Heavy air pollution shuts schools in Iran
Heavy air pollution shuts schools in Iran ...
thejakartapost.com
18/12/2017 News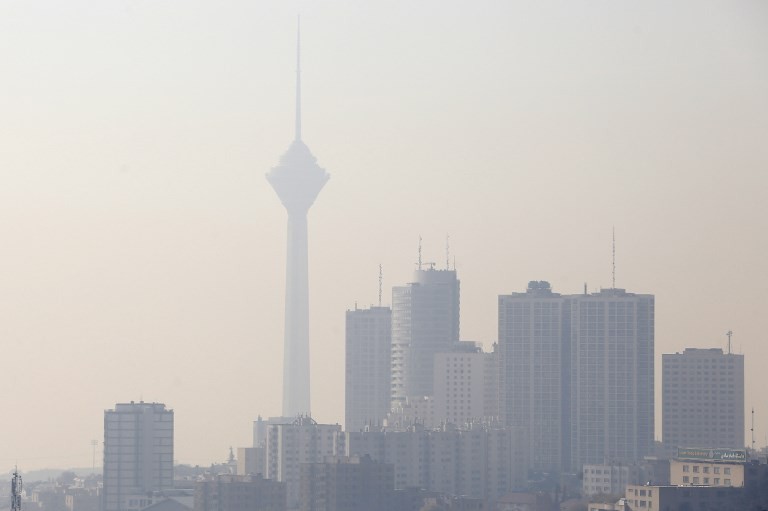 Keywords:#AFP, #Agence_France-Presse, #Fatemeh, #France, #Health, #Iran, #Persian, #Saturday, #Tehran, #Thejakartapost.com, #World_Health_Organization

Siavoz Ghazi
Agence France-Presse
Tehran, Iran | Sun, December 17, 2017 | 08:04 pm
A general view shows the Milad telecommunications tower in the distant behind a blanket of smog as winter's heavy pollution has hit new highs in Tehran, on Dec. 17, 2017. (Agence France -Presse/Atta Kenare)

* * * Iran shut primary schools in Tehran and other parts of the country on Sunday as thick smog blanketed the capital despite curbs on road traffic and industrial activity.
Local authorities late Saturday announced the closure of all primary schools in the province of Tehran, which is home to 14 million residents, except in two towns.
On Sunday, smog enveloped Tehran and shielded from view the mountains to the north of the capital.
Every year, Tehran suffers some of the worst pollution in the world when cool temperatures cause an effect known as "temperature inversion".
The phenomenon creates a layer of warm air above the city that traps pollution from its more than eight million cars and motorbikes.
"Tehran is suffocating (but) hundreds of thousands of cars are built each year," said Hossein, a man in his sixties who did not give his surname.
"They're building in the mountains, they're destroying our forests. We don't want any more oil, we don't want any more petrol," he added.
"We need clean air for our children's future."
Airborne concentration of fine particles (PM2.5) hit 185 microgrammes per cubic metre in the south of Tehran and 174 in its centre on Sunday morning, local authorities said.
That is far above the World Health Organization recommended maximum of 25 microgrammes per m3 over a 24-hour period.
The microscopic particles lodge deep in the lungs and are harmful to human health.
Authorities ordered mines and cement factories in Tehran province to close and reinforced regular traffic restrictions in the capital's centre.
They called on the elderly, children, pregnant women and people with heart problems to stay indoors.
Residents who ventured out wore face masks while others chose to remain at home.
Ali Ebrahimian, a retiree, told AFP he only stepped outside to sort out "an urgent matter".
Fatemeh Assadi, a woman in her sixties, accused the authorities of failing to prevent the pollution.
"The government's not doing anything," she said.
Iran is expected to produce 1.5 million new vehicles by the end of this Persian year which ends in March, according to official figures, in a country where some 20 million cars and trucks are already on the roads.
--- ---
...

Related articles based on keyword density
Iran's volleyball snares historic Olympic berth after 52 years ...
en.mehrnews.com 05/06/2016 Sports
News ID: 3676230 - Sat 4 June 2016 - 16:02 Sports TEHRAN, Jun. 04 (MNA) – Iran national volleyball team beat Poland at the 2016 Olympic men's volleyb...View Details»

Centre for teaching Persian language starts in Muscat ...
timesofoman.com 27/04/2014 Culture
by Elham Pourmohammadi | April 27, 2014 Muscat: In a significant step to strengthen cultural ties between Iran and Oman, a centre for teaching ...View Details»

Iran's water crisis the product of decades of bad planning - The Washi...
washingtonpost.com 03/07/2014 Nature
By Jason Rezaian July 2 at 7:00 AM Follow @jrezaian TEHRAN — Iran is headed for a water shortage of epic proportions, and little is being done to re...View Details»

Bahrain: Thousands of protesters gathering in Pearl Roundabout ...
en.wikipedia.org 14/03/2011 History
The Bahraini protests of 2011 was a series of demonstrations, amounting to a sustained campaign of civil and violent resistance in the Persian Gulf co...View Details»

China's EXIM inks Iran's $1.5bn high-speed rail deal ...
presstv.ir 26/07/2017 Economy
*** China's CMC has undertaken to electrify the 926-km line between Tehran to Mashhad. The Export-Import Bank of China (EXIM) signs a $1.5 billion dea...View Details»

---
EOF