Iran bans English in primary schools after calls to end Western 'cultural invasion' ...
rt.com
08/01/2018 Culture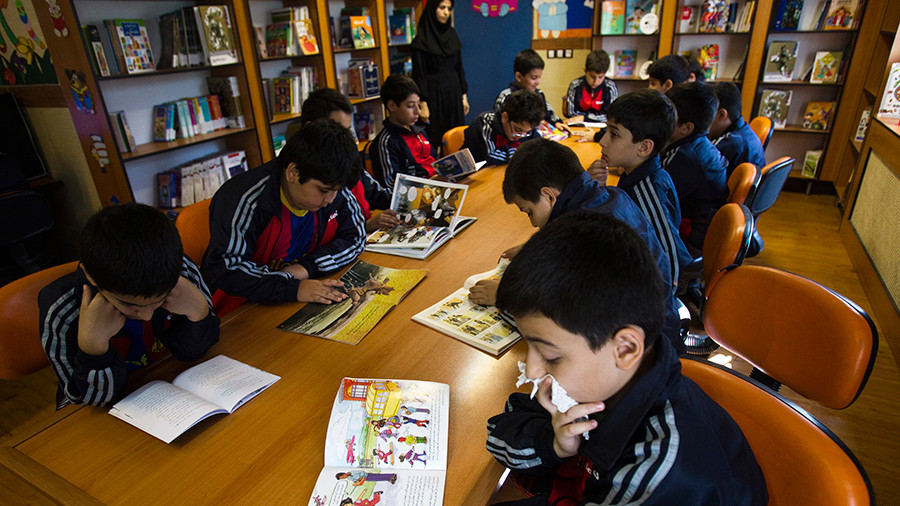 Keywords:#Fars, #Iran, #Iranian, #Islamic, #Islamic_Republic, #Navid, #Rt.com, #Saturday, #Tehran, #Twitter, #Western
Iran has banned teaching English in primary schools, a top education official says. The move comes amid repeated calls from Tehran to put an end to the Western "cultural invasion" of the Islamic Republic.
"Teaching English in government and non-government primary schools in the official curriculum is against laws and regulations," Mehdi Navid-Adham, head of the state-run High Education Council, said on state TV on Saturday. "This is because the assumption is that, in primary education, the groundwork for the Iranian culture of the students is laid."
The authorities may also ban non-curriculum English classes, the official said. The video, featuring Navid-Adham speaking about the ban, was posted on Twitter by Fars.
...

Related articles based on keyword density
Media Scam? Iran and America Join Hands in Waging "The Global War on T...
globalresearch.ca 01/07/2014 Politics
By Prof Michel Chossudovsky Global Research, June 21, 2014 Following the incursion of jihadist rebels of the Islamic State of Iraq and the Levant (IS...View Details»

IRAN NUCLEAR TALKS STUMBLE, EXTENDED UNTIL JULY ...
hosted.ap.org 24/11/2014 News
BY MATTHEW LEE AND GEORGE JAHN ASSOCIATED PRESS VIENNA (AP) -- Still facing significant differences between the U.S. and Iran, negotiators gave up on...View Details»

GLOBAL TOP 1000 WEBSITES 2016 – Ratak IT...
ratak.ir 16/03/2017 News
Ratak introduces global Top Websites of 2016 Data for table Top201702 1 1host2u.ir 1host2u.ir,Abarkooh,Armenia,Bahram 2,Bahram 3,Britain,Caesar,Carus,...View Details»

Iran's Policy to Stem Currency Decline Backfires ...
bloomberg.com 02/07/2018 Economy
By Golnar Motevalli July 2, 2018, 1:53 PM GMT+4:30 Traders exploiting gap between official, black market rates Importers hoarding merchandise ...View Details»

Misleading AP tales can't damage 'Teflon Iran' — RT Op-Edge...
rt.com 23/08/2015 Politics
*** IAEA headquarters since 1979, Vienna, Austria By Sharmine Narwani, a commentator and analyst of Middle East geopolitics. She is a former senior as...View Details»

---
EOF