Russia Gets Another Market for its Wheat After Deal With Iran
Russia Gets Another Market for its Wheat After Deal With Iran ...
bloomberg.com
08/03/2018 Import-Export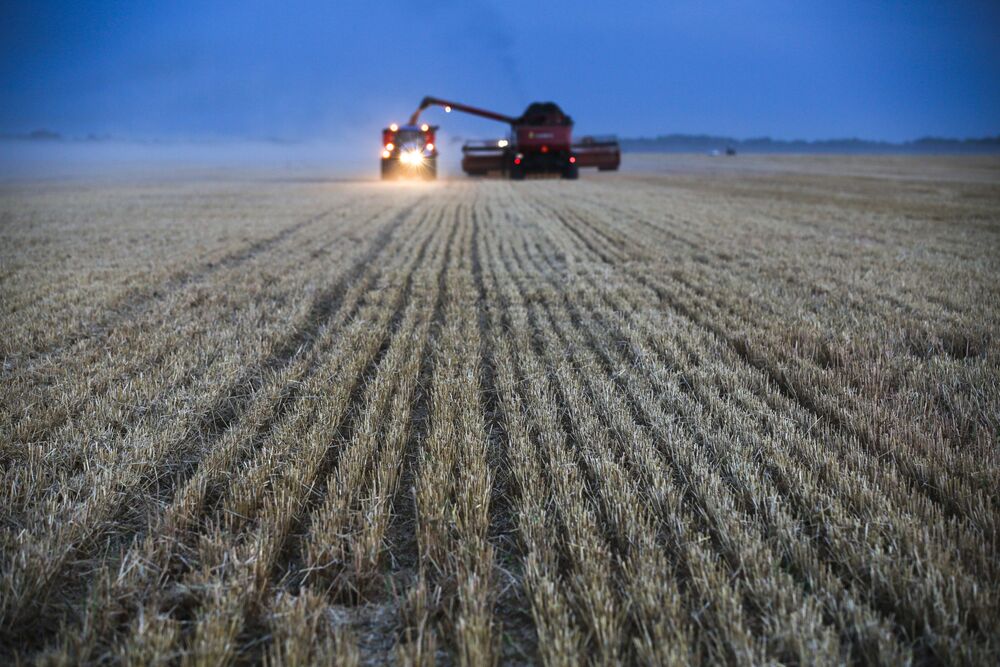 Keywords:#Afghanistan, #Arabia, #Bloomberg, #Bloomberg.com, #Europe, #GMT, #Iran, #Iranian, #Iraq, #Kazakhstan, #Moscow, #Persian, #Persian_Gulf, #Russia, #Russian, #Saudi, #Saudi_Arabia, #Tehran, #Tehran_Chamber_of_Commerce, #Turkey
By Anatoly Medetsky
March 7, 2018, 2:05 PM GMT+3:30
Iran agrees to buy wheat from Russia, Kazakhstan over 5 years
Imports are only allowed for wheat to be re-exported as flour
A combine harvester operates as night falls during the wheat harvest in Novoalexandrovsk, Russia. Photographer: Andrey Rudakov/Bloomberg
Iran is giving Russia another market to offload its massive wheat harvest.
The Persian Gulf nation has agreed to buy the grain from Russia and Kazakhstan, and total shipments may reach as much as 1 million metric tons a year over the next five years, according to the Tehran Chamber of Commerce. The wheat can only be used to make flour for exporting, and a ban imposed in 2016 on wheat imports for domestic consumption remains in place.
"There is unused capacity at Iran's flour mills," Kaveh Zargaran, chairman of the agriculture committee at the Iranian trade organization, said in an interview in Moscow. Shipments may start at the end of next month if Iran's private millers can obtain loans to buy the grain, he said.
Russia has been shipping out wheat at a record pace this season as the world's top exporter offloads its biggest ever harvest. Attractive prices for the grain have helped the country grab market share from places like the U.S. and Europe, while Moscow has also been eyeing up new destinations such as Iran and Saudi Arabia. Russian Energy Minister Alexander Novak, who oversees trade with Iran, on Tuesday said he expects sales to Iran to reach 1.5 million tons a year.
Read more: Russia is exporting more wheat than any country in 25 years
Iran signed a memorandum of understanding with Russia and Kazakhstan on March 4 that laid out some details of the trade, Zargaran said. The agreement leaves in place a ban on imports of wheat for domestic use, which is designed to support local farmers, he said.
Iran has been encouraging flour exports, with the government amending some market rules last year, and is targeting more sales to places like Iraq and Afghanistan. Turkey, the second-biggest buyer of Russian wheat, now dominates Iraq's market, Zargaran said.
— With assistance by Elena Mazneva
--- ---
...

Related articles based on keyword density
Iran's water crisis the product of decades of bad planning - The Washi...
washingtonpost.com 03/07/2014 Nature
By Jason Rezaian July 2 at 7:00 AM Follow @jrezaian TEHRAN — Iran is headed for a water shortage of epic proportions, and little is being done to re...View Details»

ISIS: The Spoils of the "Great Loot" in the Middle East - FPIF...
fpif.org 02/07/2014 Politics
Adding yet more warfare to the current crisis in the Middle East will perpetuate exactly what the imperial powers set out to do: tear an entire region...View Details»

Media Scam? Iran and America Join Hands in Waging "The Global War on T...
globalresearch.ca 01/07/2014 Politics
By Prof Michel Chossudovsky Global Research, June 21, 2014 Following the incursion of jihadist rebels of the Islamic State of Iraq and the Levant (IS...View Details»

'Nothing left' if Iran hit Saudi facility: FM Zarif ...
aljazeera.com 23/09/2019 Politics
War of words over Saudi oil attacks with the US continues as Iranian leaders arrive for the UN General Assembly. 23 Sep 2019 18:01 GMT Tensions in the...View Details»

Iran Plans Higher Fees for Riskier Oil Fields in New Accords Iran Plan...
bloomberg.com 25/02/2014 Economy
By Golnar Motevalli and Anthony DiPaola Feb 24, 2014 Iran will offer foreign partners incentives to find and pump more crude and natural gas and will...View Details»

---
EOF