Strike on Syrian airbase aimed to curb 'Iranian entrenchment' – ex-Israeli intelligence chief
Strike on Syrian airbase aimed to curb 'Iranian entrenchment' – ex-Israeli intelligence chief ...
rt.com
10/04/2018 Military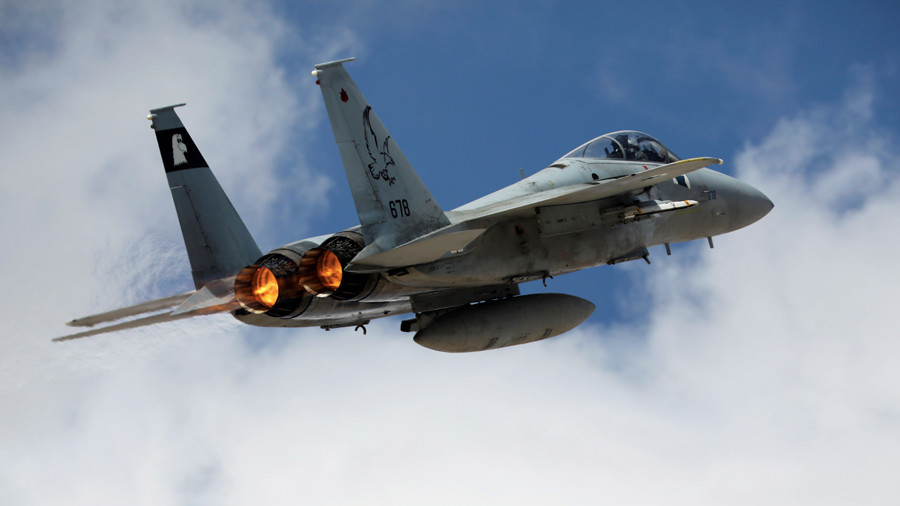 Keywords:#Amos, #Donald_Trump, #Homs, #Iran, #Iranian, #Israel, #Israeli, #Military, #President, #Rt.com, #Russia, #Russian, #Syria, #Syrian, #Syrian_government, #Trump, #Twitter, #US
The attack on the Syria's T-4 airbase in Homs province, which Russian military has linked to Israel, targeted Iran because Tel-Aviv wants to prevent its reinforcement in Syria, retired major general Amos Yadlin believes.
The incident was "part of the two colliding vectors: Iranian determination to entrench itself in Syria and Israeli resolve to prevent it," Amos Yadlin, who headed the IDF's Military Intelligence Directorate, wrote on Twitter. The major general published a series of social media posts after Sunday's strike on a Syrian airfield in Homs. The Russian military said on Monday that two Israeli F-15s were involved in the attack, while the Israeli military has refused to comment.
The attack occurred after reports, including those from the jihadist-linked sources, blamed the Syrian authorities of orchestrating a chlorine attack in the militant-held town of Douma. The claim was firmly denied by both Russian and Syrian military, as well as specialists on the site of the alleged incident.
"The US has denied responsibility [for the strike on the airbase], while the target hit is connected to Iran and not to CW [chemical weapons]," the former intelligence chief said. He added that the move "may well serve two purposes… preventing Iranian entrenchment in Syria with advanced weaponry, and sending a moral message that using CW to commit mass murder is not acceptable."
The strike on the T-4 airfield was the first reported incident of this kind since February, when the IDF struck the same military site after it claimed that an Iranian drone had crossed into Israeli airspace from Syria. In the course of the the cross-border escalation, Israel lost an F-16 fighter jet to enemy fire for the first time in 35 years.
Russia has been calling for a thorough investigation into the alleged chemical attack in Douma, while the US has already threatened consequences for the Syrian government. "We have a lot of options militarily, and we'll be letting you know pretty soon," US President Donald Trump said on Monday.
Meanwhile, Yaldin also refused to rule out "a US strike on regime targets," which may include Syrian Army "helicopters and airplanes, enabling CW delivery, as well as Syrian air defenses, whose destruction will remind Assad of his vulnerability."
--- ---
...

Related articles based on keyword density
Hagel: US knows Iran, Russia aiding Iraq in fight against ISIS | TheHi...
thehill.com 11/07/2014 Politics
By Kristina Wong - 07/11/14 05:34 PM EDT Defense Secretary Chuck Hagel said Friday that Iran and Russia were helping Iraq battle a Sunni extremist in...View Details»

ISIS: The Spoils of the "Great Loot" in the Middle East - FPIF...
fpif.org 02/07/2014 Politics
Adding yet more warfare to the current crisis in the Middle East will perpetuate exactly what the imperial powers set out to do: tear an entire region...View Details»

IRAN NUCLEAR TALKS STUMBLE, EXTENDED UNTIL JULY ...
hosted.ap.org 24/11/2014 News
BY MATTHEW LEE AND GEORGE JAHN ASSOCIATED PRESS VIENNA (AP) -- Still facing significant differences between the U.S. and Iran, negotiators gave up on...View Details»

Russia, China, Iran, Syria and Cuba Support Each Other in Fight Agains...
newsweek.com 07/09/2019 Economy
By Tom O'Connor On 9/6/19 at 1:30 PM EDT Russia, China, Iran, Syria and Cuba are among the nations that have come out against the United States' use ...View Details»

US-led anti-Iran circus in Warsaw unravels as farce ...
rt.com 15/02/2019 Politics
A conference in Warsaw this week was billed as reinstating the US' lead role in diplomacy for the Mideast. The absence of Russia and other European l...View Details»

---
EOF