'US not economic gendarme of planet': France suggests EU may compensate firms hit by US sanctions
'US not economic gendarme of planet': France suggests EU may compensate firms hit by US sanctions ...
rt.com
20/05/2018 Economy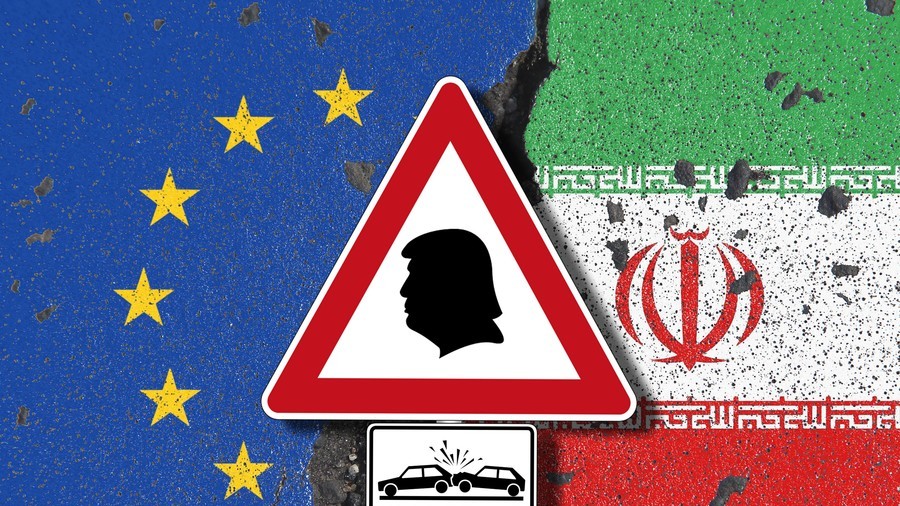 Keywords:#2015, #Airbus, #Brussels, #Cuba, #Donald_Trump, #EU, #Europe, #European, #European_Commission, #European_Union, #France, #French, #Germany, #IAEA, #International_Atomic_Energy_Agency, #Iran, #Nations, #Peugeot, #Plane, #President, #Renault, #Rt.com, #Security_Council, #Tehran, #Total, #Trump, #US, #USA, #United_Nations, #United_Nations_Security_Council, #United_States, #Washington
France's economy minister has suggested that the EU may compensate European companies affected by US sanctions on Iran, stressing that the bloc should not accept Washington as "the economic gendarme of the planet."
Bruno Le Maire referred to a series of countermeasures that the EU adopted in 1996 in response to US extraterritorial economic sanctions against Cuba. Back then, Brussels argued that those sanctions benefited Washington's foreign policy interests at the expense of EU sovereignty. The regulation aimed "to protect the economic and/or financial interests of natural or legal persons against the effects of the extraterritorial application of legislation."
Iran : "Est-ce que nous acceptons que les USA soient le gendarme économique de la planète ? La réponse européenne doit être clairement non", affirme @BrunoLeMaire#GrandRDV@Europe1@CNEWS@LesEchospic.twitter.com/U8JTRik3sy
— Europe 1 (@Europe1) May 20, 2018
"The reinforcement of the 1996 regulation would allow us to bear the costs of sanctions paid by [EU] companies and which could be paid by the European Union. We have a European budget which can help to protect our businesses," Le Maire said, speaking to Europe 1 radio station on Sunday.
The minister once again hit out at the US, which pulled out of a milestone 2015 deal earlier in May. The accord sought to curb Iran's nuclear program in exchange for lifting decades-long sanctions and wider economic cooperation. The move was coupled with renewed restrictions targeting trade with Iran. "Are we going to allow the United States to be the economic policeman of the world? The answer is no," Le Maire stated.
This is not the first tirade that the French economy minister has leveled against Washington after it ditched the much-discussed deal. He once urged Europe to stop acting like "US vassals" and branded Trump's decision "an error" from an economic point of view, unrelated to international security.
Le Maire earlier revealed that he had called his US counterpart Steven Mnuchin and asked him "about either exemptions for a number of our companies, or longer deadlines [to comply with renewed sanctions]." Plane-maker Airbus, oil giant Total, as well as Renault and Peugeot car manufacturers could be among the French companies affected the most.
Donald Trump withdrew the US from the accord despite the International Atomic Energy Agency (IAEA) confirming Tehran's compliance with the deal on numerous occasions, and attempts by France, Germany and other EU nations to talk him out of the decision.
On Friday, President of the European Commission Jean-Claude Juncker stressed that the union would protect the interests of its companies that were investing in Iran as part of the EU's continued commitment to the deal. "As long as the Iranians respect their commitments, the EU will of course stick to the agreement of which it was an architect – an agreement that was unanimously ratified by the United Nations Security Council and which is essential for preserving peace in the region and the world," Juncker said.
http://europa.eu/rapid/press-release_IP-18-3861_en.htm
--- ---
...

Related articles based on keyword density
Middle East - Security Council debates ending UN sanctions on Iran ...
france24.com 13/03/2015 News
Major world powers have begun talks about a UN Security Council resolution to lift UN sanctions on Iran if a nuclear agreement is struck with Tehran, ...View Details»

Iran and 6 Powers Agree on Terms for Nuclear Talks...
nytimes.com 21/02/2014 Politics
By STEVEN ERLANGERFEB. 20, 2014 VIENNA — In what officials described as a serious, workmanlike and conversational atmosphere, Iran and six world pow...View Details»

EU: US has no right to terminate Iran accord ...
politico.eu 14/10/2017 Politics
EU: US has no right to terminate Iran accord In sharp rebuke to Trump, EU's foreign policy chief says deal will stay in place. By David M. Herszenhorn...View Details»

ISIS: The Spoils of the "Great Loot" in the Middle East - FPIF...
fpif.org 02/07/2014 Politics
Adding yet more warfare to the current crisis in the Middle East will perpetuate exactly what the imperial powers set out to do: tear an entire region...View Details»

Europeans plan new Iran push but may be nearing end of diplomatic road...
msn.com 19/06/2019 Politics
By John Irish and Robin Emmott and Arshad Mohammed Britain, France and Germany plan a new push to keep Iran in the 2015 nuclear deal despite Tehran's...View Details»

---
EOF