How Carlos Queiroz took Iran to the World Cup
How Carlos Queiroz took Iran to the World Cup ...
gq-magazine.co.uk
13/06/2018 Sports
Keywords:#2014_World_Cup, #Africa, #African, #Alex_Ferguson, #Argentina, #Asia, #Asian_Cup, #Brazil, #British, #Carlos_Queiroz, #Champions_League, #DNA, #Dublin, #Ethiopia, #Europe, #European, #Ferrari, #Greece, #Iran, #Iranian, #January, #Japan, #Lionel_Messi, #Lithuania, #Madrid, #Manchester, #Manchester_United, #Maradona, #Morocco, #Moscow, #Nike, #Portugal, #Portuguese, #Queiroz, #Real_Madrid, #Russia, #Sanctions, #Spain, #Steven_Beitashour, #Team_Melli, #Tehran, #United_States, #World_Cup
In an exclusive interview, former Real Madrid coach Carlos Queiroz reveals how he took Iran on a 22-match unbeaten run and became the first team to qualify for the World Cup
BY ANDY MITTEN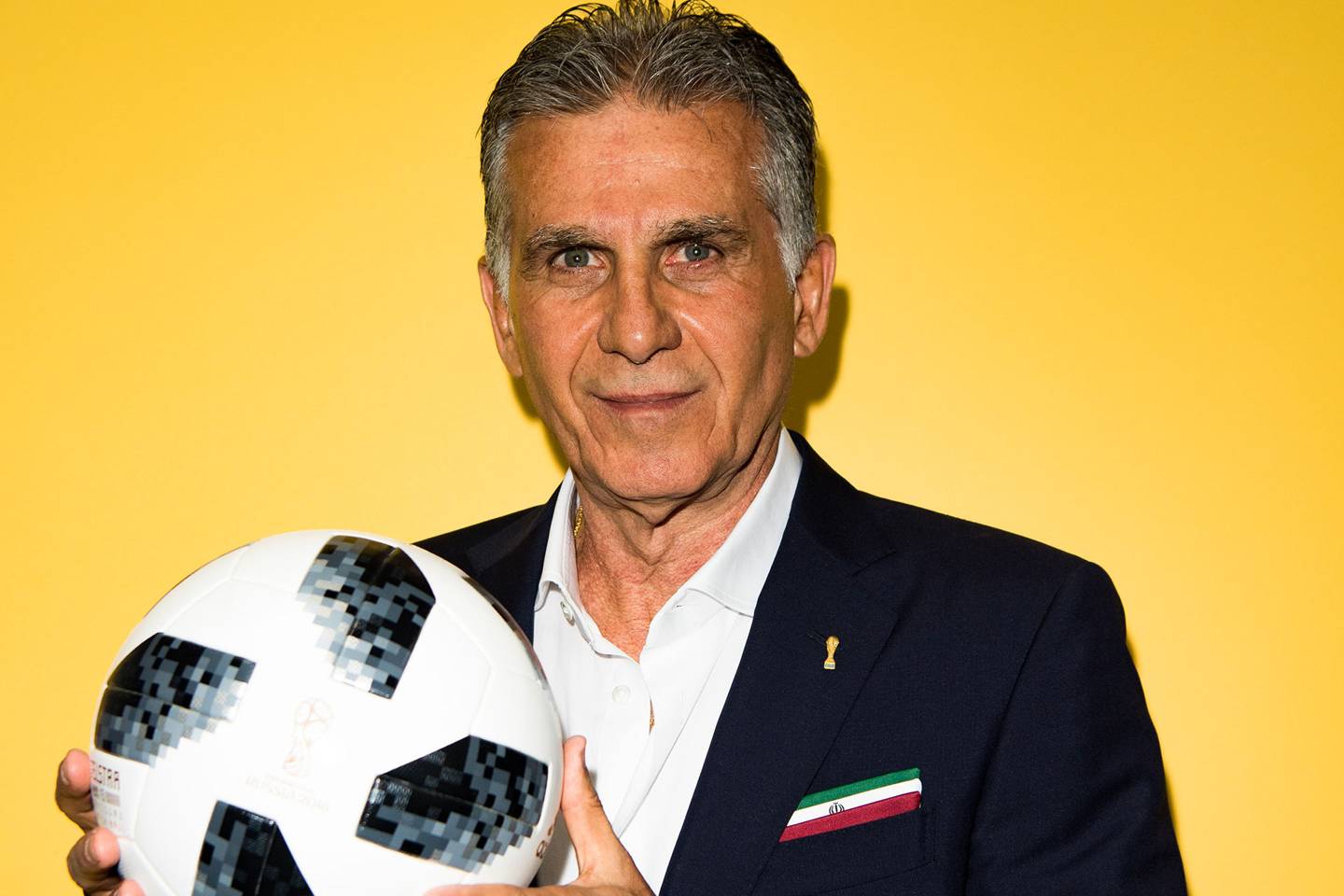 Belo Horizonte, Brazil, 2014. Argentina vs Iran. Iran make only 114 passes in the whole match, the lowest amount for 50 years in a World Cup, but after 90 minutes they're holding football's finest attack to a goalless draw. Far from fade as expected, they create better chances in the second half.
The 38,000 travelling Argentina fans, spread all around the stadium in blue and white, have finally been quietened by a team shunned by much of the international football community, one which had struggled to arrange friendlies because countries didn't want to play Iran. Cheeky Brazilians sing, "Ole, Ole, Ole, Iran, Iran." Two thousand Iranians, who have overcome travel restrictions, can't believe what they're seeing.
Then Lionel Messi strikes, with a goal befitting his status as the world's greatest player. The watching Maradona applauds him as the one genuine successor to his crown. Iran's players fall to the floor in anguish: they're going out of the World Cup.
"That hurt," said substitute Steven Beitashour. "That really hurt... and I was only on the bench."
Iran's Portuguese coach Carlos Queiroz, who managed at Real Madrid and was twice Sir Alex Ferguson's assistant at Manchester United, is incandescent, chiefly because the referee had failed to give a clear penalty to his team. Queiroz does the media to which he's contracted, then walks through the mixed zone, furious and not speaking.


"Carlos, a word please," this journalist asks. I wasn't a stranger, I'd been to see him in Tehran three months previous – a process that took five months and several rejections to arrange and involved a flight to Dublin and a three-day wait for a £350 visa, which started out as a £90 visa. Queiroz pauses, stops and unloads his strong opinions. It's gold. Someone from Fifa's own media team snidely sidles up and sticks out a microphone to pick up the quotes. Bad news – they'll put them out straightaway and kill my story.
"F**k off!" shouts a British tabloid journalist to the Fifa official. "He didn't stop to speak to you." The Fifa official mumbles an excuse, and then goes to get her boss.
Queiroz had worked wonders to get Iran to Brazil. Team Melli were Asia's seventh-ranked team when he took over in 2011, 54th in the world. Within three years they were the first. Iran had no dedicated scouting staff, salaries were poor and securing money for the team hotels and travel expenses was a struggle.
Queiroz, who relied on an international network of contacts garnered throughout a 40-year career in professional football, objected to his players flying economy and airport transfers, which could take six hours early on in his tenure. He won some concessions, but it remained a struggle against far better resourced opponents. In 2014, Fifa retained Iran's World Cup qualification money because the banks are not allowed to transfer it into the country. Without that money, their players weren't paid for their achievement of reaching the World Cup finals.
Queiroz has not only done the same for Russia 2018, he's done better. Iran didn't lose a single one of their ten games in qualifying and conceded only twice. They were the first team to qualify for Russia and the first team to arrive and take advantage of superior training facilities to the ones they have back home, plus a friendly against Lithuania. But has Queiroz calmed down from Belo Horizonte? This is the first question I put to him when I spoke to him this week in Moscow.
"I was shocked and surprised," he laughs. "We played very well against Argentina, but two people changed that game: Messi with a magical goal, and the referee, who didn't see a scandalous penalty. That could have been 1-0 for us and a red card for Zabaleta. But it's history, it has passed. I just hope that my young team now will be able to perform with the same maturity and commitment that we showed in that game against Argentina. This is a very different team now. We have young players playing in Europe, fresh blood. We have more attacking potential, we're more adventurous and, while I was disappointed by our lack of goals in qualification, we were still the first team in Asia to qualify."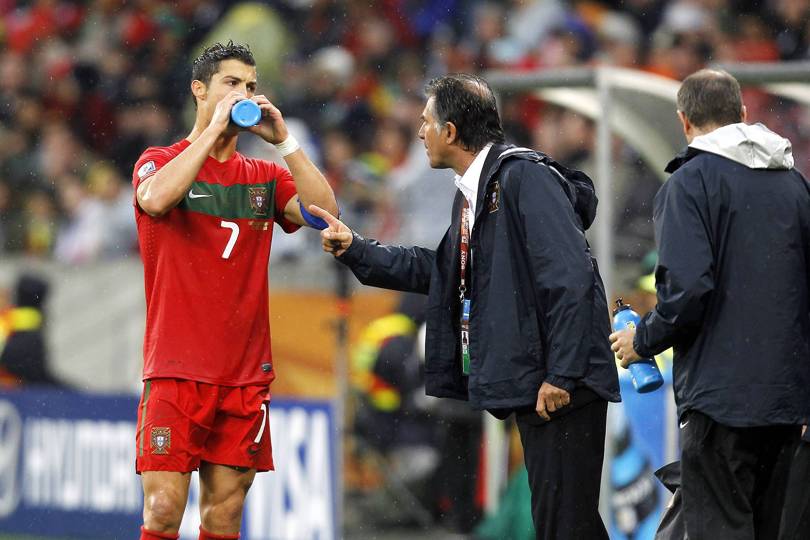 Iran have not lost a competitive game since the 2014 World Cup. They're 22 matches unbeaten, yet Queiroz knows Iran are not going to win the competition and sees the finals as another step towards progress. "We're consistent and we're going to the Asian Cup [in January] where we're expected to compete for the title," he says. "Now is a unique and rare opportunity for us to grow up, to learn as a team and as players, and get out of this World Cup with pride, joy and a powerful team ready to win the Asian Cup."
Queiroz has a tall order in Russia. His side are grouped with Spain, Portugal and Morocco. "My first reaction was, 'Wow, we're playing with some of the top teams in the world,'" he says. "But that shouldn't be a surprise when you're in the World Cup finals – you're not going to get drawn against Ethiopia, are you?
"Spain and Portugal are candidates to win it. Spain are back, their game is beautiful with control of space, time and the ball. They have developed more intensity under their new coach and they are more constant in every minute of the game. That makes Spain a complicated opponent because they don't only control space and rhythm; they also apply very high intensity.
"Morocco, who I'm glad we play first, are the best African team of the moment, except they're a European team because most of the players grew up in Europe. They have the genetics of European football, which is the best in the world. They have the schooling and education, the mentality for training and preparation. Morocco are very powerful, but we'll do our best to get in the second round for the first time in Iran's history and I won't listen to anyone who says we don't have a chance, even if we have to fight for the ball 60-70 per cent of the time in games."
Iran have faced the usual problems in preparation. "Unfortunately, Iran faces terrible difficulties to make agreements to play against other national teams," explains their coach. "My message for international football is very simple: let us play. Our players deserve that opportunity. Don't let sanctions create this stigma. Don't let this go against the spirit of the game. We have football players who love the game.
"Iran loves football, and people know we have problems and now look at Iran differently, more respectfully because they know the challenges we have. They know we don't have any players in the best leagues, that political problems and sanctions greatly affect Iran and its sports."
I point out he's now 65. "If you say that again, don't say it so loud as people might hear," he says. "I still have that winning animal inside my stomach. I wake up every morning, I run and I want to fight, to win, to be a role model, to make everyone better around me. I have qualified for three World Cups and want a fourth. I have much more appetite to do this. Training has never involved sacrifice, work or suffering. It has always been a pleasure."
But there have been tough times, surely? "It's not always easy to deal with players – my boys – medical people and officials. It's not the duty of the coach to make things easier for the [football] federation. Not highlighting areas where we could improve would mean resigning from my responsibilities; it would be like living in the shadow of collusion. I hate indifference. I am not an establishment manager who will suck up to people. My duty is to challenge and get the best conditions so my players can perform."
Quieroz says what he thinks. "I know that sometimes I'm not easy and that I'm persistent on the same issues, but we need football pitches of the quality where the players can pass quickly because when they do that they think more quickly. I've never, in all my career, seen players deliver so much after receiving so little as I have with these Iran boys.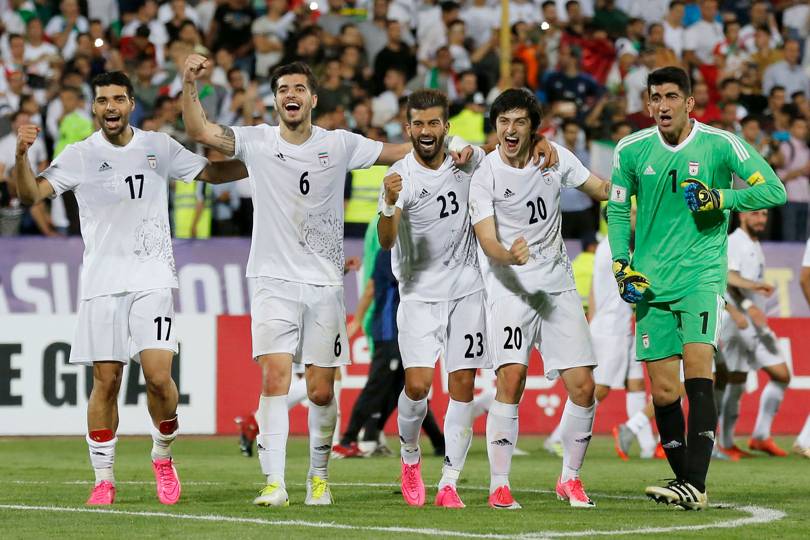 "Tell me one national team which goes to the World Cup without enough friendly games [Greece recently cancelled a friendly, Kosovo then also declined to step in], or by using a 60-metre training pitch?"
Sanctions have also bit hard. "We struggle to travel, to have training camps, to bring opponents, to buy equipment. Even buying shirts is a challenge, but these challenges helped me fall in love with Iran. These difficulties become a source of inspiration to the people, it makes them more united, to fight for their country. These boys deserve a smile from the rest of the world."
This week, sanctions also meant Nike pulled out of their deal to supply the Iran team with boots. Iran are furious at the timing.
Queiroz didn't expect to be in charge of Iran for seven years. "When I left the Portuguese national team, I signed an agreement with Iran until the 2014 World Cup finals in Brazil," he says. "First, we had to reach those finals. We did. I didn't expect to keep going, but I was then asked to do the same for the World Cup in Russia."
That has meant, naturally, spending a lot of time in a country shunned by large swathes of the international community. "Football has given me the privilege to go to many places in the world, to see the United States, Japan, Africa or Europe," he says. "And people ask me about Iran because they're curious. I tell them that I see exactly the same as in any other country I've been to – people who laugh and cry, who dance, who sing. You see mums carrying their kids to school in the morning. You see people complaining about the traffic. Football teaches you how much human beings have in common that have nothing to do with any politics or regimes."
He's happy working for those people. "My duty is to create happiness, fun and entertainment for the people. Iran is a country rich in tradition and thousands of years of history. It's just a pity that the perception of Iran around the world is not the right or real one, nor the one the Iranian people deserve."
Football is huge there – the national team regularly drew sell-out crowds of 78,000 in qualifying. "Iran is a football country," says Queiroz. "Football is the DNA of the people. Iran is not a fake football country, one which needs to create or imagine fantasy solutions to promote the game. But our players need support and the politics should be left out of the game."
It's a decade since Queiroz left Old Trafford to manage Portugal. He'd also left to manage Real Madrid in 2003. "Leaving United for a second time was tough," he said. "It's hard to decide between two lovers. But I have happy memories from my time at United. I didn't have much time to see Moscow in 2008 [when United lifted the Champions League trophy], but when you have that taste of victory, you never forget."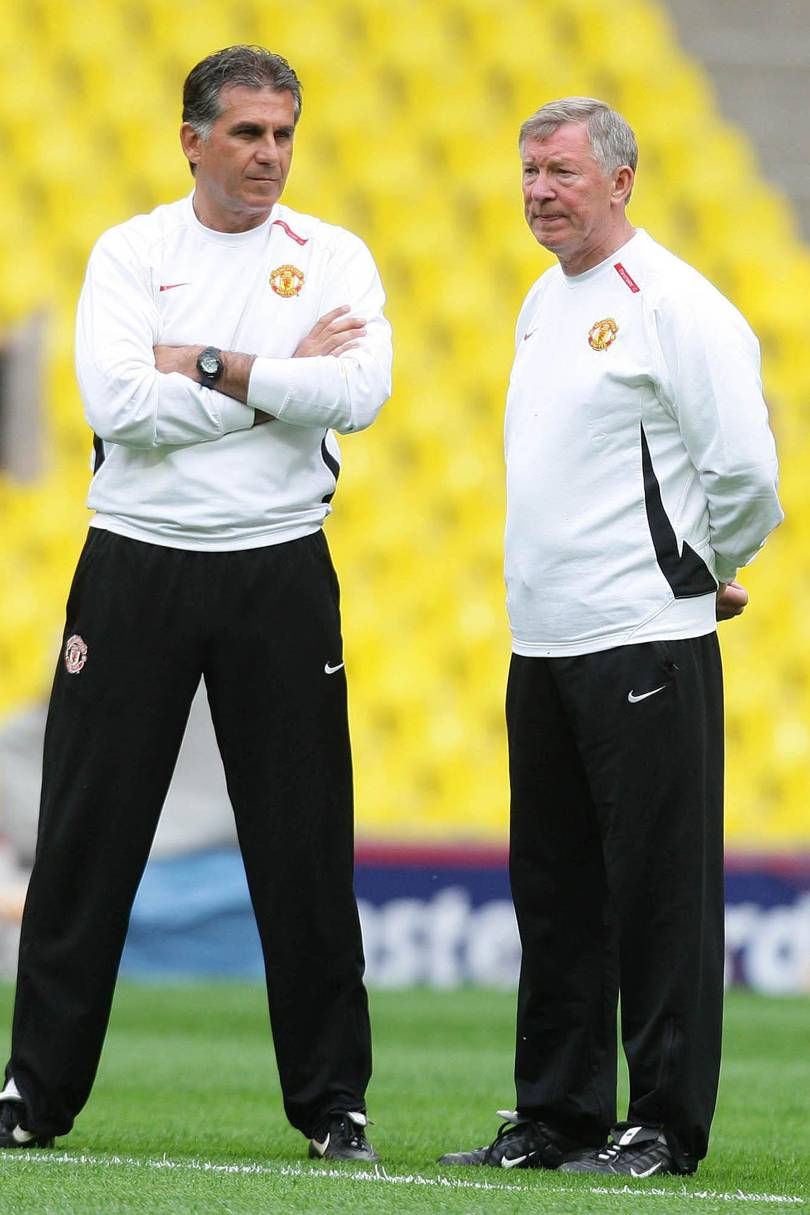 That was the end of his United journey which started in 2002 when Sir Alex Ferguson, on his first day, said, "I brought you here to be responsible for the training and the preparation. I want you to express yourself."
"Yes, but you're the manager," replied his No2, who didn't think he'd be responsible for training.
"If you have any doubts, my door is always open," Ferguson said.
"I was a little confused. I felt like he'd given me the keys to the Ferrari on my first day – and one with tyres! I went quickly to my office and prepared training. I hope the lads didn't notice that I hadn't prepared training that day."
United won the league in his first season there (2002-03), but while the players appreciated Queiroz's linguistic skills, they didn't always appreciate being called by their second names. The coaches' wives all fancied Queiroz. As did Real Madrid, who offered him the top job in charge of Zidane, Figo, Raúl, Roberto Carlos and Beckham at the Bernabeu.
"I was happy at United, but what would you do when Real Madrid come?" he explains. "First you decide [to take the job], then you think."
He never regretted it, though he didn't like the interference in team selection from above. He also was amused by David Beckham's relationship with Roberto Carlos. "David doesn't speak Spanish; Roberto doesn't speak English," he recalls. "Yet they'd speak for one hour a day. They were good friends. I still can't work out what they were doing."
United were happy to have Queiroz back for a second spell and Ferguson described him as "brilliant, just brilliant. Outstanding. An intelligent, meticulous man. He was the closest you could be to being the Manchester United manager without actually holding the title."
The appreciative feeling is mutual and Queiroz was stunned when his old boss was recently admitted to hospital. "Six days before, we'd been together and I'd been enjoying his company along with his wonderful wife," he says. "The most important thing is that I've been in contact and all the news is that he's moving in the right direction. I wish, hope and pray for a full recovery."
And his young players in Russia? "They have a right to enjoy Russia, to have fun," he says. "They've earned it."
--- ---
...

Related articles based on keyword density
How Carlos Queiroz turned Iran into Asia's best World Cup hope ...
theguardian.com 21/03/2018 Sports
The former Manchester United coach eased the Iranians through qualification but they now want tangible finals success, something that has always elude...View Details»

Coach Queiroz weighs up Iran's World Cup 'mission impossible' - Yahoo ...
news.yahoo.com 17/01/2014 Sports
AFP By Cyril Julien Tehran (AFP) - Iran coach Carlos Queiroz told AFP he hopes his side can overcome poor preparations to make an impact at the World ...View Details»

Carlos Queiroz: The Adopted Son of Iran...
persianfootball.com 25/06/2017 Sports
The Sportsman – TEHRAN, Carlos Queiroz has become a treasure in Iran, and after making history with the international team he wants a reoccurrence nex...View Details»

World Cup 2018: Why you should follow... Iran...
rte.ie 29/05/2018 Sports
By Mikey Stafford RTÉ Online Sport Editor As we countdown to Russia 2018, we take a look at all 32 teams and suggest a reason to back them. With 17 d...View Details»

Teymourian Helping Iran Break New Boundaries...
persianfootball.com 06/10/2013 News
by Martin Reza Babry on October - 6 - 2013 ESPN – TEHRAN, There was the ball bouncing in the penalty area, there was a blur streaking past surprised ...View Details»

---
EOF