Julian Assange's team 'making plans for imminent expulsion from Ecuadorian embassy'
Julian Assange's team 'making plans for imminent expulsion from Ecuadorian embassy'...
msn.com
28/07/2018 Military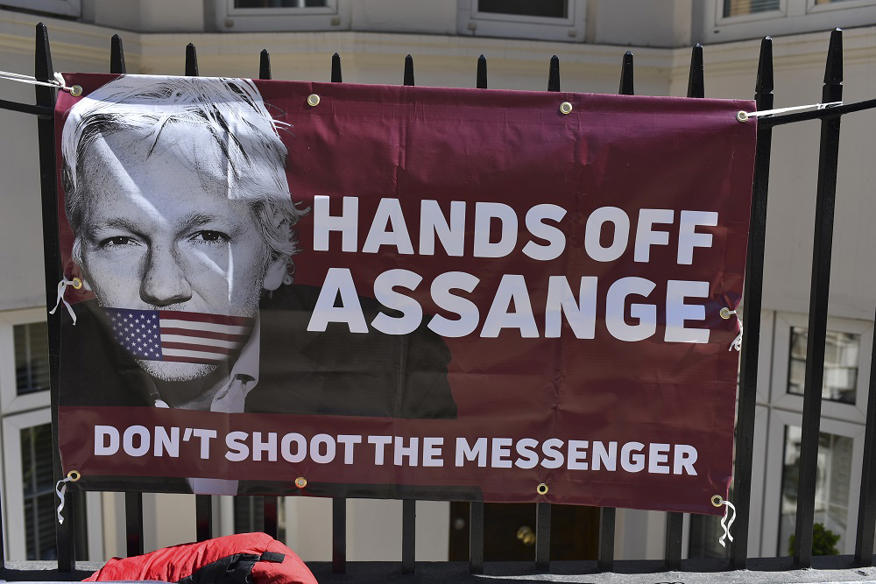 Keywords:#Australian, #Britain, #British, #Ecuador, #Julian_Assange, #Lenin, #London, #Madrid, #Msn.com, #Prime_Minister, #Sweden, #Times, #US, #United_States, #WikiLeaks
Julian Assange's six-year self-imposed imprisonment inside the Ecuadorean embassy in London appears to be drawing to a close, with the countries in talks and the Wikileaks founder reportedly pondering his next move.
Lenin Moreno, Ecuador's president, has confirmed a July 15 report in London's Sunday Times that Ecuador and Britain were in talks to try to end Mr Assange's stay at the embassy where he has been holed up since successfully seeking asylum in 2012.
Mr Moreno said on Friday any eviction of Mr Assange from the embassy had to be carried out correctly and through dialogue, but he displayed no sympathy for the Wikileaks founder's political agenda as a leaker of confidential documents.
"I have never been in favour of Mr Assange's activity," Mr Moreno said at an event in Madrid.
"I have never agreed with the interventions in people's private emails in order to obtain information, however valuable it may be, to bring out certain undesirable acts of governments or people, not in that way.
A demonstration took place in support of Julian Assange, outside the Ecuador's Embassy, in Central london on July 23, 2018

* * * "There are correct and legal ways to do it."
One of Mr Assange's team said plans were being drawn up in the event of him being evicted in "hours, days or weeks", the Times reported.
"I expect [Mr Assange] to lose his asylum status imminently," a source told newspaper. "This means he will be expelled from the embassy. When this will happen is impossible to say."
Australian-born Assange sought refuge in the embassy to avoid extradition to Sweden to face questioning about allegations of sex crimes which he has always denied.
Those allegations have since been dropped but Mr Assange would be arrested by British police, should he leave the embassy, for breaching bail conditions.
Mr Assange believes that would pave the way for extradition to the United States for the publication of a huge cache of US diplomatic and military secrets on the WikiLeaks website.
Mr Moreno made his comments in Madrid where he had met King Felipe and Prime Minister Pedro Sanchez after a three-day visit to Britain.
When asked if he had spoken to the British government about Mr Assange on his recent visit, Mr Moreno said the two countries were in permanent contact about the matter.
"The only person I have never spoken to is Mr Assange," he added.
"What we want is for his life not to be in danger," Mr Moreno said.
The diplomatic impasse over Mr Assange's stay in Ecuador's embassy is coming to a head, a source close to the Wikileaks founder said on Monday.
Ecuadorean and British government sources have played down suggestions of any imminent movement to break the stalemate.

---Julian Assange's team 'making plans for imminent expulsion from Ecuadorian embassy' ---
...

Related articles based on keyword density
WikiLeaks Publishes Guantanamo Bay files leak ...
en.wikipedia.org 24/04/2011 History
The Guantánamo Bay files leak (also known as The Guantánamo Files, or colloquially, Gitmo Files) began on 24 April 2011, when WikiLeaks, along with s...View Details»

ISIS: The Spoils of the "Great Loot" in the Middle East - FPIF...
fpif.org 02/07/2014 Politics
Adding yet more warfare to the current crisis in the Middle East will perpetuate exactly what the imperial powers set out to do: tear an entire region...View Details»

Introducing BDS Movement Against Occupation and Zionist Apartheid...
en.wikipedia.org 10/04/2016 Culture
Introducing BDS: Boycott, Divestment and Sanctions The Boycott, Divestment and Sanctions Movement (BDS Movement) is a global campaign attempting to i...View Details»

Assange Assassination 'I make no apologies': Pompeo says Trump adminis...
news.yahoo.com 29/09/2021 Military
By Zach Dorfman· National Security Correspondent Wed, September 29, 2021, 1:11 AM In his first public comments since a Yahoo News investigation reve...View Details»

Collateral Murder: US Airstrikes Against Civilians in Baghdad ...
en.wikipedia.org 12/07/2007 History
The July 12, 2007, Baghdad airstrikes were a series of air-to-ground attacks conducted by a team of two U.S. AH-64 Apache helicopters in Al-Amin al-Th...View Details»

---
EOF