French Cows Live to See Another Day Under Trump's Iran Sanctions
French Cows Live to See Another Day Under Trump's Iran Sanctions ...
bloomberg.com
12/08/2018 Import-Export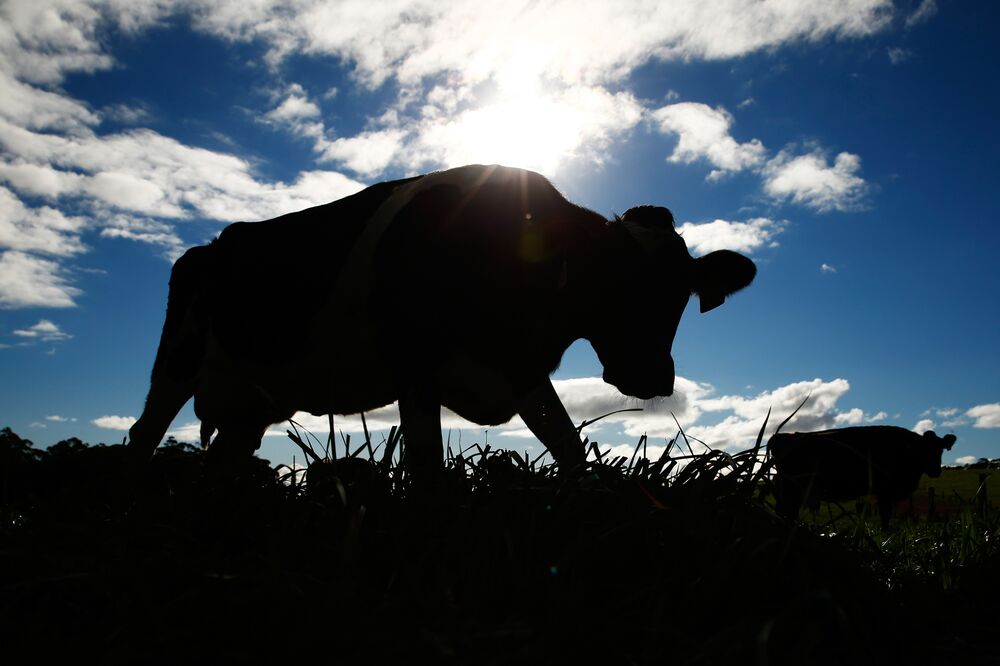 Keywords:#AFP, #Another_Day, #Bloomberg, #Bloomberg.com, #Cattle, #Daimler_AG, #Donald_Trump, #Europe, #European, #France, #French, #GMT, #Getty, #Getty_Images, #Iran, #Iran_Sanctions, #Iranian, #PSA, #Peugeot, #President, #Renault, #Sanctions, #Tehran, #Total, #Total_SA, #Trump, #U.S._sanctions_against_Iran
By Ania Nussbaum
August 11, 2018, 11:30 AM GMT+4:30
Cattle were destined for export to Tehran slaughterhouses
Project was frozen after U.S. imposed new trade restrictions
Thousands of cows are stranded in the French countryside after President Donald Trump imposed new sanctions against Iran.
The livestock now grazing in Normandy were supposed to be shipped to Tehran slaughterhouses starting in the next few months as part of an export project led by local farmers and an Iranian company. Instead, the plan was put on hold after banks declined to handle payment from Iran for the cattle.
While the herds' plight will have little impact on overall exports from Europe's largest agricultural producer, it illustrates the far-reaching effects U.S. sanctions against Iran will have on global trade. After an earlier set of measures were eased in 2016, Iran reemerged as a hot spot for growth. Trade with Europe surged to more than $10 billion. French exports doubled last year to 1.5 billion euros ($1.7 billion).
The latest measures specifically ban trade of gold, metals and automobiles, but not livestock, while limits on Iranian access to dollars and additional sanctions on financial institutions starting in November will affect all sectors. European companies including Peugeot parent PSA Group, rival carmakers Renault SA and Daimler AG, and oil producer Total SA have all announced a halt to their activities in Iran.
Nathalie Goulet
Photographer: Matthieu Alexandre/AFP via Getty Images
Symbolic Cows
"The cow market is symbolic," French Senator Nathalie Goulet, who was an early backer of the project, said by phone. "In the long run, it could mean a loss of market share for Normandy and for France if Iranians get their supply somewhere else."
Under the plan, French farmers were to eventually ship up to 20,000 calves annually to Iran. Agence-France Presse first reported that the program was suspended earlier this week. Agrial, a French cooperative with activities in the U.S., has withdrawn, Goulet said, adding that Iran's Seamorgh Co. was the customer. Seamorgh didn't immediately return an email seeking comment while a spokesman for Agrial declined to comment.
French farmers and the Normandy region were hoping the exports would generate more deals with Iran, such as exporting cattle feed and processed meat, said Anne-Marie Denis, president of the local agriculture lobby FDSEA, who oversaw the shipping of a first installment of 310 cows last year. At the time, payments went through, the head of the Normandy development agency, Alexandre Wahl, said by phone.
A French official said this week the country is seeking a U.S. waiver so that companies that are not hit by the sanctions can keep doing business. Such initiatives, echoed at the European level, have failed to prevent firms from pulling out of the country. For many, the prospect of losing a footing in the far-bigger U.S. market outweighs exchanges with Iran.
For Goulet, a system is needed to save export projects like the cows. A social media suggestion to use bitcoin payments is mostly in jest, she said, but "the point is that a solution needs to be found via an alternative banking system."
--- ---
...

Related articles based on keyword density
Against the odds, Louvre exhibition opens in Tehran in historic deal ...
theartnewspaper.com 06/03/2018 Arts
French museum became first cultural institution to secure ties with Islamic regime after sanctions lifted in 2016 Vincent Noce 5th March 2018 18:24 GM...View Details»

Iran Lures Investors Seeing Nuclear Deal Ending Sanctions-Bloomberg Ne...
businessweek.com 18/08/2014 Economy
By Jeremy Kahn August 17, 2014 On a May afternoon in Tehran, a Russian in a dark suit sits in the crowded lobby cafe of the Espinas Persian Gulf Inter...View Details»

U.S.-Iran Sanctions Give China Lead in World's Biggest Gas Field ...
fortune.com 12/08/2018 Economy
By Bloomberg August 11, 2018 China National Petroleum Corp. is expected to take the lead on a $5 billion project to develop Iran's share of the world...View Details»

White House Warns Europe Over Trying to Evade Iran Sanctions ...
time.com 29/01/2019 Politics
By Deb Riechmann & Matthew Lee / AP 1:57 AM EST WASHINGTON (AP) — The Trump administration is closely eyeing efforts in Europe to set up an alternati...View Details»

Iranian Oil Lands in Europe for First Time Since Sanctions Ended - Blo...
bloomberg.com 07/03/2016 Import-Export
Javier Blas March 6, 2016 — 11:39 PM IRST *** The Monte Toledo in the bay of Gibraltar, on March 6. Photographer: Luke MacGregor/Bloomberg Spanis...View Details»

---
EOF