Introducing The BMW X7: the Biggest Bimmer SUV Ever
Introducing The BMW X7: the Biggest Bimmer SUV Ever...
bmw.com
16/01/2019 Auto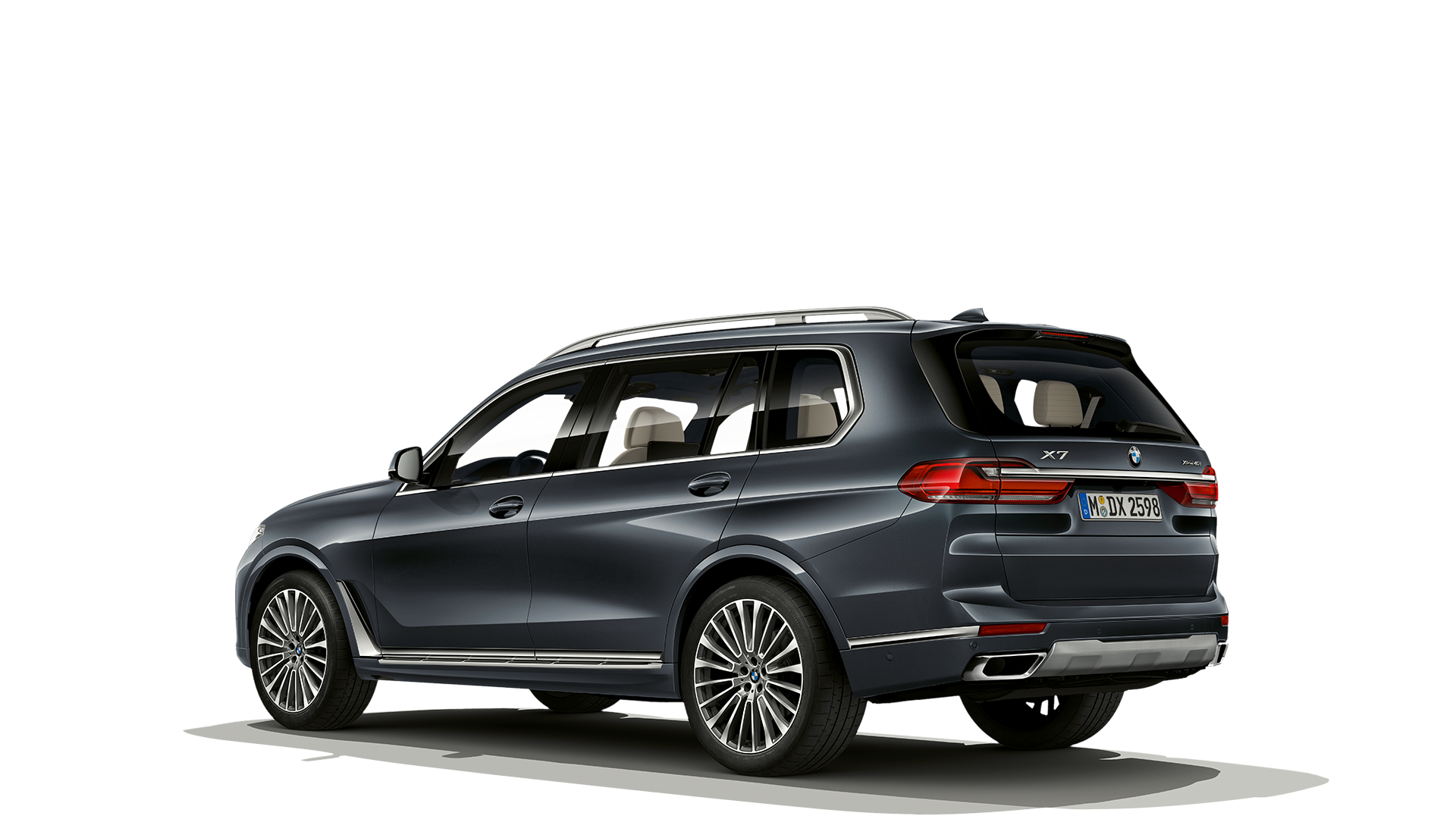 Keywords:#BMW, #Bmw.com, #Dana_Motor, #Design, #European, #German, #Germany, #Injection, #LED, #Las_Vegas, #Panorama, #Parseed, #Bimmer, #SUV
A statement of the luxury class: the new BMW X7 is the elegant fusion of presence and personality. Despite its majestic appearance, it gives an impression of lightness and agility thanks to the puristic design and athletic styling. At the same time, the considerable spaciousness of the interior offers a pioneering interplay of exclusivity, functionality and freedom – incomparable comfort all the way to the third row of seats. Charm is its essence. Elegance its character.
CO2 emissions 205–171* g/km (combined)
Fuel consumption 9.0–6.5* l/100 km (combined)
5 good reasons for the X7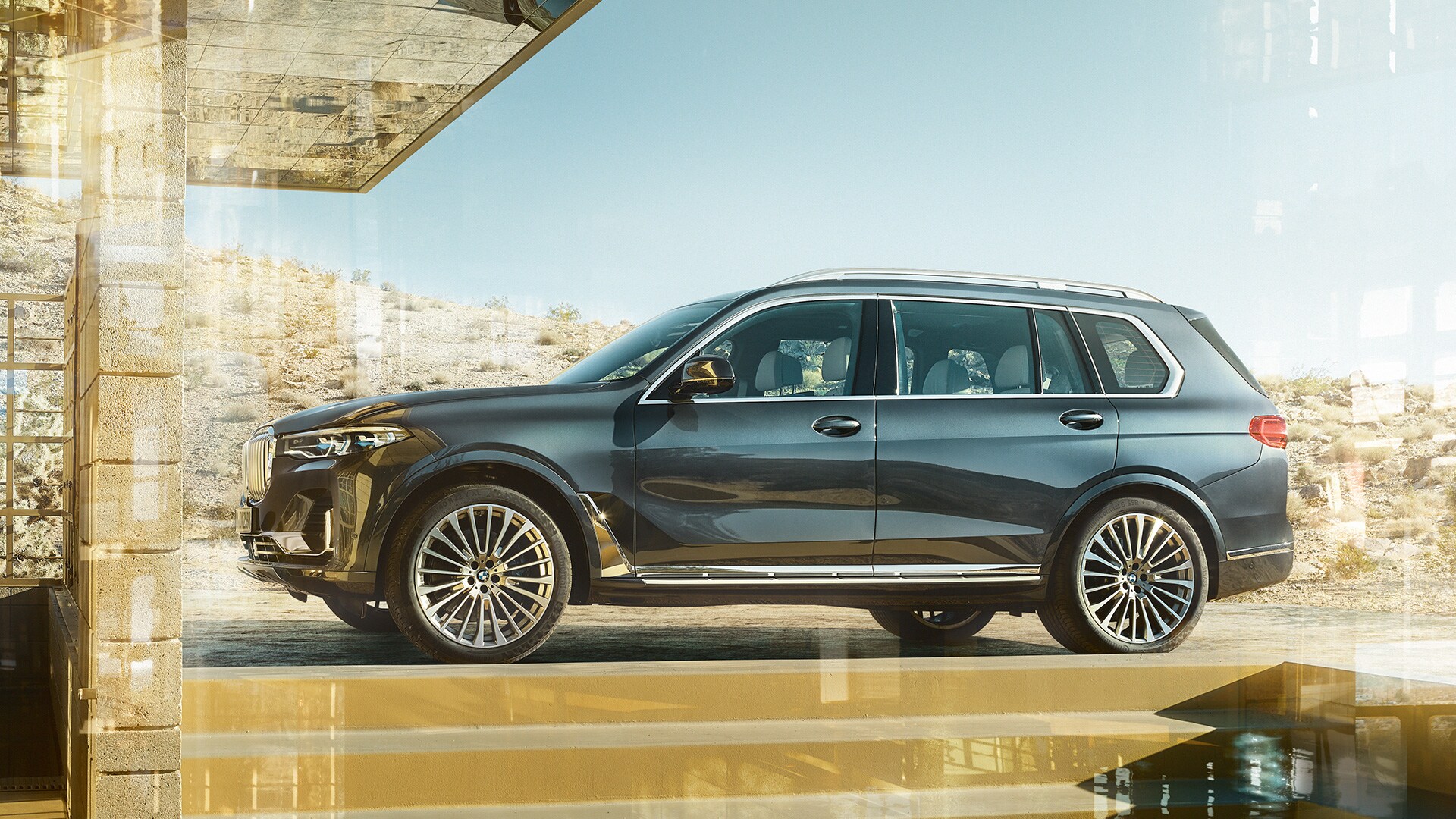 Maximum ride comfort and powerful dynamics
Unprecedented 22" light alloy wheels
Up to seven first-class seats for a uniquely comfortable ride
Panorama glass roof produces a sensation of unrestricted spaciousness
Simple and effortless opening via smartphone
Ready for your X7?
Experience the first-class elegance and outstanding presence of the BMW X7. Define a new era of sheer driving pleasure now.
The new BMW X7 not only adds a new top model to the X family, but also defines a progressive approach to luxury for the BMW brand.
Jozef Kabaň,
Head of Design BMW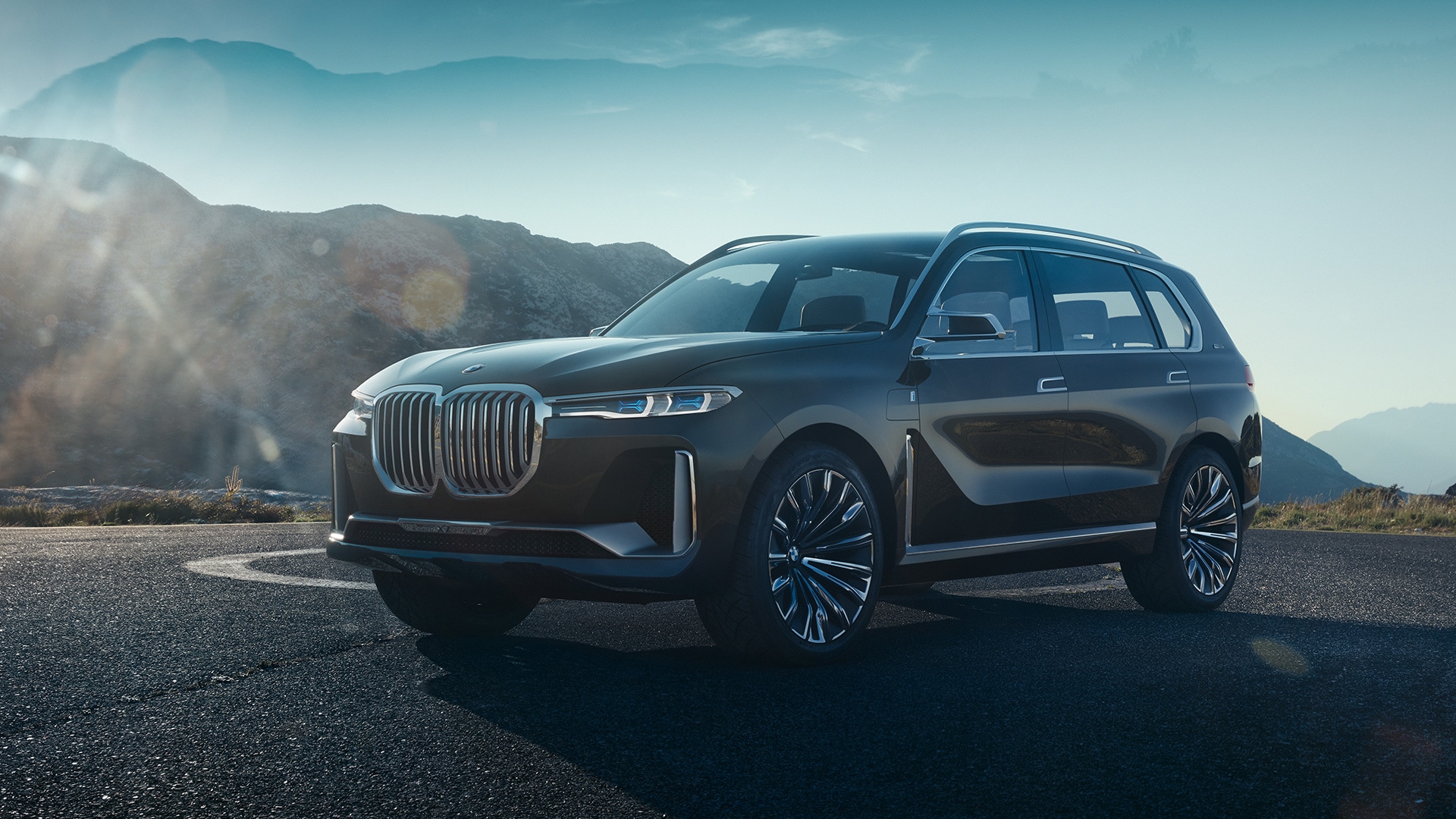 With the BMW Concept X7 iPerformance, BMW 2017 presented a preview of the new automotive luxury. An innovative vehicle of groundbreaking design and sublime presence. A new level of space and comfort. Created for the very big appearance.

* * *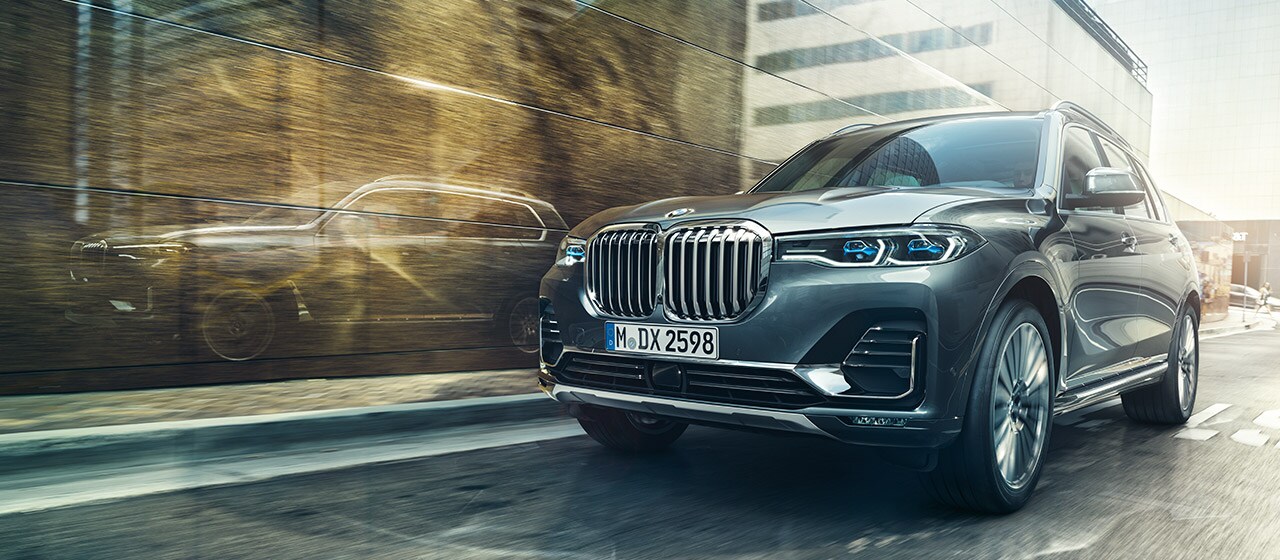 Please note that the following information is a label according to German law (Ordinance on energy consumption labelling for passenger cars).


The values of fuel consumptions, CO2 emissions and energy consumptions shown were determined according to the European Regulation (EC) 715/2007 in the version applicable at the time of type approval. The figures refer to a vehicle with basic configuration in Germany and the range shown considers optional equipment and the different size of wheels and tires available on the selected model.


The values of some vehicles are already based on the new WLTP regulation and are translated back into NEDC-equivalent values in order to ensure the comparison between the vehicles. [With respect to these vehicles, for vehicle related taxes or other duties based (at least inter alia) on CO2-emissions the CO2 values may differ to the values stated here.] The CO2 efficiency specifications are determined according to Directive 1999/94/EC and the European Regulation in its current version applicable. The values shown are based on the fuel consumption, CO2 values and energy consumptions according to the NEDC cycle for the classification.


For further information about the official fuel consumption and the specific CO2 emission of new passenger cars can be taken out of the "handbook of fuel consumption, the CO2 emission and power consumption of new passenger cars", which is available at all selling points and at
https://www.dat.de/angebote/verlagsprodukte/leitfaden-kraftstoffverbrauch.html
Detailed information on the technical data can be found on your BMW country page.


EXPANSIVE SPACE
There's plenty of room for all in this spacious SAV. Enjoy seating for seven with second-row bench seats as standard, or opt for the optional six-seater configuration with all-electric Captain's Chairs.


AIR SUSPENSION
Comfort extends beyond the cabin of the First-Ever BMW X7. Standard two-axle air suspension provides incredible driving comfort; the adjustable height allows for easier entry and loading.



COMFORT SEATING
There's no such thing as a second-class seat. The standard Heated Front Seats can be made even more comfortable with available Ventilated and Massage options. Passengers can also enjoy optional Heated Rear Seats.


A WORLD OF EASE.
Enjoy a curated collection of life-improving technology – from standard safety features to the cutting-edge developments of the latest onboard driver assistance systems.
INCREDIBLE INTERIOR.
Settle in to an atmosphere of elegance that exceeds every definition of excellence.


PANORAMIC GLASS ROOF AND SKY LOUNGE
A beautiful Panoramic Glass Roof creates an open, spacious feeling –and a dramatic effect when illuminated by the color-changing splendor of the optional Panoramic Sky Lounge LED Roof.


ULTRA-MODERN CONTROLS
Optional Glass Controls on the gear shifter, engine start button, and audio switches accentuate the standard haptic feedback buttons surrounding the iDrive controller.


BMW INDIVIDUAL
Enjoy comfort crafted to the highest standards – yours. Available BMW Individual enhancements include the finest leathers, exclusive colors, and gorgeous interior trims, all custom added to your specifications.
MAKE IT YOURS
It's time to experience the next level of comfort, luxury, and performance. Reserve your test drive in the BMW X7 xDrive40i or BMW X7 xDrive50i today.


Fuel Injection
X7 xDrive40i
3.0-liter TwinPower Turbo inline 6-cylinder, xDrive, intelligent all-wheel drive
Starting MSRP
$73,900


Any Questions? Contact Dana Motor Co./ Las Vegas for best New & Used Car deals.
http://danamotor.com/dmo/?page_id=2
--- ---
SEO article provided exclusively by Parseed, for Dana Motor Company:
http://1host2u.com/?ez=24820
Ping Back:
http://danamotor.com/dmo/?p=84
--- ---...

Related articles based on keyword density
Fiat 500X Urban Own the city: the SUV Crossover with elegant, iconic d...
fiat.com 23/01/2019 Auto
The SUV created to enjoy city life, today and tomorrow. Imagining cars Imagination drives progress. Fiat design has created its own time and has ant...View Details»

BMW i3 At a glance. ELECTRIC AND ELECTRIFYING ...
bmw.com 11/04/2015 Auto
Redefining urban mobility means thinking far beyond environmentally-conscious and agile driving. The result: with its visionary design, the BMW i3 des...View Details»

The New Masterpiece From BMW: 600 HP Motorsport Power-M Engine....
1host2u.com 02/05/2019 Auto
Technology News: BMW Group unveil their new masterpiece, a 600 Horsepower Power-M Engine. • The Power-M Division of the BMW M GmbH (previously: BMW M...View Details»

Discover Dodge Durango RT THE 7-SEAT CHARGER...
agtauto.com 20/01/2019 Auto
Get the American SUV feeling in the 2019 Dodge Durango R/T. Backed by a comprehensive warranty and ready for European roads. Dodge & Ram vehicles from...View Details»

ISUZU D-MAX: Story of a Reliable pick-up with truck DNA...
isuzu.co.jp 30/01/2019 Auto
Welcome to a whole new era in pick-up trucks. The ISUZU D-MAX - toughness, redefined. Encompassing aggressive styling and levels of safety - plus ISUZ...View Details»

---
EOF