BoJo in trouble? Iranian-born candidate attempts to create UK history by bringing down prime minister in snap poll
BoJo in trouble? Iranian-born candidate attempts to create UK history by bringing down prime minister in snap poll ...
rt.com
07/11/2019 Politics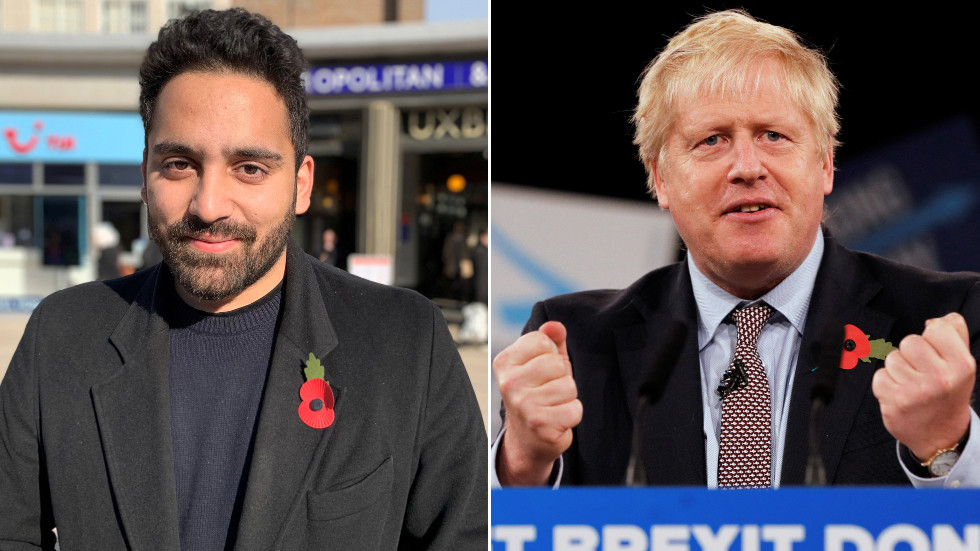 Keywords:#Ali_Milani, #BBC, #Bernie_Sanders, #Boris_Johnson, #EU, #European, #European_Union, #Iranian, #London, #Oxford, #Rt.com, #Tehran, #UK, #US
The UK political history books may well have to be ripped up as a 25 year-old Iranian-born candidate tries to topple Boris Johnson in his constituency in the upcoming election. Can the unthinkable happen?
Ali Milani is Johnson's Labour challenger in the west London seat of Uxbridge and South Ruislip. He was born in Tehran and moved to the UK at the age of 5 where he lived in social (public) housing with his family – his upbringing couldn't contrast more starkly from that of the 55 year-old Eton- and Oxford-educated Johnson.
Johnson is defending a 5,034 majority, but one that was more than halved at the 2017 general election. If Milani can secure a five percent swing in favor of Labour then he will unseat the UK prime minister, who would then become the first in UK political history to suffer the humiliation.
"We only need a 5 per cent swing in Uxbridge and South Ruislip to defeat Boris Johnson."
Labour's candidate there, Ali Milani, says: "There are very few times in very few elections where you can say a single seat can change the course of the country"#Newsnight | @ARMilani_pic.twitter.com/zl5jcL24jq
— BBC Newsnight (@BBCNewsnight) November 4, 2019
The bookmakers have Johnson as the odds-on likely winner but, at 4-1 second favorite, Milani is well positioned to give the PM a good run for his money.
There has been widespread media speculation that Johnson has been considering pulling out of competing against Milani in this London constituency, in favor of a more comfortable-looking seat with a bigger Tory majority – to make sure he is re-elected.
So what are the factors that could decide this contest?
Brexit
What is not known is how big a factor Brexit will play in this election. It's solidly dominated people's TV screens and the airwaves in general since the last election, but the five-week campaign does allow for other issues to come to the fore.
Uxbridge and South Ruislip voted in 2016 to leave the European Union but analysis of YouGov polling by Focaldata suggested support for Remain had increased there from 44 to 51 percent in August 2018.
The apparent shift may well benefit Milani, with his Labour party offering a second EU referendum, but it could also lead to more votes for the Liberal Democrats who are campaigning to cancel Brexit - splitting the vote to the benefit of Johnson.
Labour's mass membership
With over 500,000 members, Labour's ground forces out knocking on doors could be a real asset for Milani, who has posted a picture of 250+ activists gathered on one night to support his campaign. The Labour grassroots group, Momentum, using technology inspired by Bernie Sanders' US campaign, has created an app that provides key information on when and where events take place in an effort to mobilize their ground game.
Emotional at the incredible support tonight.
250+ people showing up on a cold, dark, Tuesday evening. The energy, hope and optimism is incredible.
We can win.
We can beat Boris.
We can transform this country.#UnseatBoris ...

Related articles based on keyword density
EU Sanctions three Iranian entities and eight individuals for Suppress...
eur-lex.europa.eu 13/04/2021 News
Document 32021R0584 Title and reference Council Implementing Regulation (EU) 2021/584 of 12 April 2021 implementing Regulation (EU) No 359/2011 concer...View Details»

Middle East - Security Council debates ending UN sanctions on Iran ...
france24.com 13/03/2015 News
Major world powers have begun talks about a UN Security Council resolution to lift UN sanctions on Iran if a nuclear agreement is struck with Tehran, ...View Details»

'Whatever it takes': Iran crackdown killed 1,500...
news.yahoo.com 24/12/2019 Politics
A Reuters special investigation has uncovered that the death toll from last month's protests in Iran is much, much higher than initial estimates from ...View Details»

Good Pirate, Bad Pirate! UK caught in crossfire of US-Iran brinkmanshi...
rt.com 21/07/2019 News
Tanker Wars again?! London has scored an own-goal by plunging right in the middle of the US game of nerves against Iran. The international crisis over...View Details»

Iran in the crosshairs as the Empire enters its mad dog days ...
rt.com 22/05/2018 Politics
Mike Pompeo's bellicose rhetoric against Tehran leaves no doubt that Washington has embraced the status of international renegade. Pompeo's speech, d...View Details»

---
EOF