Iran Virus News: Nation Seeks $5 Billion in IMF Aid
Iran Virus News: Nation Seeks $5 Billion in IMF Aid ...
bloomberg.com
12/03/2020 Economy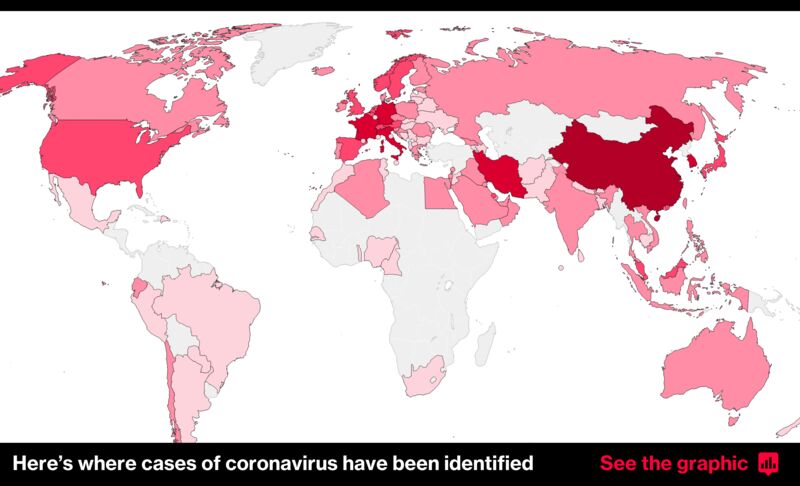 Keywords:#Abdolnaser, #Bloomberg, #Bloomberg.com, #Central_Bank, #Central_Bank_of_Iran, #China, #Coronavirus, #Europe, #Foreign_Minister, #GMT, #Golnar_Motevalli, #IMF, #Instagram, #International_Monetary_Fund, #Iran, #Islamic, #Islamic_Republic, #Italy, #Javad_Zarif, #Mohammad_Javad_Zarif, #Mohammad_Reza_Pahlavi, #News, #Pahlavi, #Reza_Pahlavi, #Washington
Coronavirus Surge Sends Iran to IMF for First Time in 60 Years
By Golnar Motevalli
March 12, 2020, 12:32 PM GMT+3:30 Updated on March 12, 2020, 3:45 PM GMT+3:30
More than 400 people across Iran have died of the disease
Iran urges the fund to give it immediate access to $5 billion
Iran is seeking financial aid from the International Monetary Fund for the first time since the 1960s as it tries to fight a major outbreak of the coronavirus.
Abdolnaser Hemmati, the head of the Central Bank of Iran, said in an Instagram post that he requested approximately $5 billion from the body's Rapid Financing Instrument. The fund has said it would make $50 billion available to help member countries deal with the epidemic.
Iran's Foreign Minister Mohammad Javad Zarif called on the Washington-based body to allow the Islamic Republic to access the facility "immediately" and "stand on the right side of history & act responsibly," according to a tweet. Iran is the third-worst hit country after China and Italy, with 429 people dead.
IMF's @KGeorgieva has stated that countries affected by #COVID19 will be supported via Rapid Financial Instrument. Our Central Bank requested access to this facility immediately.
IMF/IMF Board should adhere to Fund's mandate, stand on right side of history & act responsibly.
— Javad Zarif (@JZarif) March 12, 2020
Iran is grappling with coronavirus at a time when its economy is the target of renewed U.S. sanctions that have devastated oil exports and isolated it from global banking channels. Its ability to import medicines and food has been severely curtailed as a result of its exclusion from the financial system.
Asked how Iran would receive any IMF funds given the sanctions, Hemmati replied in response to written questions that the country has "non-sanctioned financial and banking channels in Europe and elsewhere which we can coordinate with the IMF, as soon as it is ready and approves."
The central bank has already said it would help small businesses parry the disease's impact by providing tax breaks and allowing defaults on bank loans for several months.
It's the first time the sanctions-battered Islamic Republic, which came to power in 1979, has sought financial help from the IMF, according to Hemmati. Iran's last financial arrangement with the fund was a two-year plan approved in October 1960 when it faced a balance of payments crisis under its last shah, Mohammad Reza Pahlavi, according to data on the fund's website and its 1962 annual report.
Repayment of such loans are usually made within three to five years, Hemmati said. The country has virtually no arrears pending to the IMF.
--- ---
...

Related articles based on keyword density
IRAN NUCLEAR TALKS STUMBLE, EXTENDED UNTIL JULY ...
hosted.ap.org 24/11/2014 News
BY MATTHEW LEE AND GEORGE JAHN ASSOCIATED PRESS VIENNA (AP) -- Still facing significant differences between the U.S. and Iran, negotiators gave up on...View Details»

Iran Plans Higher Fees for Riskier Oil Fields in New Accords Iran Plan...
bloomberg.com 25/02/2014 Economy
By Golnar Motevalli and Anthony DiPaola Feb 24, 2014 Iran will offer foreign partners incentives to find and pump more crude and natural gas and will...View Details»

Iranian Nuclear Energy Program History - Iranian Nuclear Energy Progra...
nuclearenergy.ir 19/11/2013 History
Iran's nuclear energy program was launched back in the 1950s, when Shah Mohammad Reza Pahlavi – an ally of the West - was in power. Western states jum...View Details»

'Nothing left' if Iran hit Saudi facility: FM Zarif ...
aljazeera.com 23/09/2019 Politics
War of words over Saudi oil attacks with the US continues as Iranian leaders arrive for the UN General Assembly. 23 Sep 2019 18:01 GMT Tensions in the...View Details»

Foreign Minister Zarif's risky gamble wins the Iran deal more time ...
edition.cnn.com 04/03/2019 Politics
By Trita Parsi Updated 2220 GMT (0620 HKT) March 3, 2019 (CNN)Almost a week after Iran's Foreign Minister Mohammad Javad Zarif submitted his resignat...View Details»

---
EOF