Venezuela shuts down banks amid panic, Bitcoin trading soars
Venezuela shuts down banks amid panic, Bitcoin trading soars ...
decrypt.co
18/03/2020 Economy
Keywords:#Argentina, #BTC, #Bitcoin, #Brazil, #Chile, #China, #Colombia, #Ecuador, #Latin_America, #News, #Nicolas_Maduro, #Paraguay, #Peru, #President, #US, #Uruguay, #Venezuela
Venezuela is under a nationwide quarantine to fight the spread of coronavirus, shutting down all banks. At the same time, Bitcoin trading on p2p exchanges is on the rise.
By Jose Antonio Lanz
In brief
Venezuela has enacted a nationwide quarantine to fight the coronavirus pandemic.
As a result, every bank in the country has now closed.
Meanwhile, Bitcoin trading volume on P2P exchanges has increased over the last two weeks.
Despite only having 33 cases of coronavirus throughout Venezuela, President Nicolas Maduro today placed the entire country under quarantine to prevent the spread of the deadly virus.
And in compliance with Maduro's decree, the entire national banking system has shut its doors for an indefinite period of time. Meanwhile, Bitcoin trading within Venezuela appears to be on the rise.
Antonio Morales Rodriguez, head of the SUDEBAN—the highest regulatory body for all banking activity in Venezuela—issued a letter addressed to the nation's banks earlier this week, urging them to close their doors with no clear date of return to normalcy:
"I am writing this letter ... to instruct you that, starting Monday, March 16, 2020, all activities involving direct attention to customers, users and the general public through agencies, branches, offices and administrative headquarters throughout the country will be indefinitely suspended," Rodriguez's letter states.
News of the bank closures, however, appears to have been mostly shrugged off by the Venezuelan public. Cash shortages, a dependence on the US dollar, and a wanting technological infrastructure have led Venezuelans to dispense with traditional banking services. For years, an informal economy in Venezuela has thrived, with most people sticking to cash (when available), barter, gold (in the southern regions of the country), and crypto (among a small but growing segment of the population).
Bitcoin trading increases during the crisis
In fact, Bitcoin trading volume on the peer-to-peer exchange LocalBitcoins is currently experiencing its biggest surge of the year. At the end of February, volume stood at around 491 BTC. By last week, that figure had increased to 540 BTC. That trumps the volume of Bitcoin traded in US dollars on the same platform, which closed the week at 479 BTC.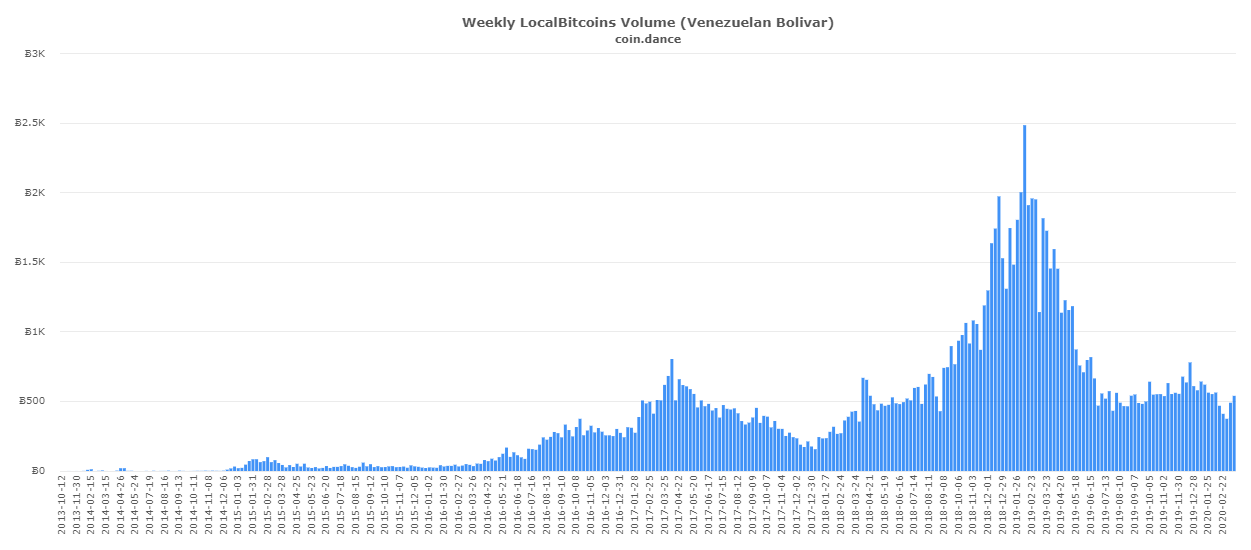 At the same time, throughout Latin America, other countries (with the exception of Brazil) are becoming increasingly cautious with regard to the new coronavirus. Countries such as Chile, Colombia, Ecuador, Peru, Uruguay, and Paraguay have closed their borders, and much of the population within these nations have been forced to stay in their homes under quarantine.
And, likewise, crypto trading volume in a few of these nations appears to be on the rise. In Colombia, for example, Bitcoin trading volume went from 289 BTC to 403 BTC in just one week in the midst of the pandemic, which are figures not seen in the country since mid-2019. In Argentina, traders broke the weekly barrier of 50 BTC—a milestone that has been reached fewer than 10 times in the last three years.
Meanwhile, in China—the country with the highest volume of p2p trading—Bitcoin reached a premium of more than 6% in OTC platforms for the first time earlier this week.
It all just goes to show: despite the panic, quarantines, and bank closures, Bitcoin stays open.
--- ---
...

Related articles based on keyword density
Operation Condor: An Era of State Terror Made in Washington, DC ...
telesurtv.net 23/06/1976 History
The dictatorships and their intelligence services were responsible for tens of thousands of killed and missing people in the period between 1975 and ...View Details»

35 Countries Where the U.S. Has Supported Fascists, Drug Lords and Ter...
plus.google.com 10/03/2014 History
By Nicolas J.S. Davies Alternative News Here's a handy A to Z guide to U.S.-backed international crime. 35 Countries Where the U.S. Has Supported Fas...View Details»

South American Leftists Rally To Bolivia's Side In Snowden Saga - Carb...
carbonated.tv 05/07/2013 News
South America's most outspoken leftist leaders will meet in Bolivia on Thursday to rally behind Bolivian President Evo Morales, whose plane was diver...View Details»

US Has Killed More Than 20 Million People in 37 "Victim Nations" Since...
popularresistance.org 09/11/2017 Military
By James A. Lucas Global Research, November 09, 2017 Popular Resistance 27 November 2015 First published in November 2015 After the catastrophic a...View Details»

Iran's Zarif signs Paris Agreement on climate change ...
presstv.ir 23/04/2016 Nature
*** Iranian Foreign Minister Mohammad Javad Zarif signs the Paris Agreement on climate change during a ceremony at the United Nations headquarters in ...View Details»

---
EOF