US Dollar Pulls Back from Three-Year-Highs: EUR/USD, GBP/USD, AUD/USD
US Dollar Pulls Back from Three-Year-Highs: EUR/USD, GBP/USD, AUD/USD...
dailyfx.com
26/03/2020 Economy
Keywords:#Euro, #January, #Strategist, #US, #USD

Mar 25, 2020 7:30 PM +00:00
James Stanley, Strategist
US Dollar, EUR/USD, GBP/USD, AUD/USD Price Analysis
The US Dollar gained 8.8% in a ten-day span as risk aversion enveloped global markets.
EUR/USD broke down to a fresh two-year-low, but AUD/USD set a fresh 17-year-low and GBP/USD put in a 35-year-low.
The US Dollar shied away from a big zone of resistance at 103.00 on DXY last week, and has since put in a 23.6% pullback. But – is the bullish trend yet over? Or is the USD just reloading for a run towards 19-year-highs?
US Dollar Shows Extreme Volatility as Risk Aversion Envelops Global Markets
We're now in the stretch run for the end of March and it's been a brutal month across global markets. While stocks have been hammered the world-around, there's been some massive moves under the surface as well, with Treasuries going on a wild ride and the chart of 'TLT,' representing US debt with 20+ years of maturity, taking on a tone more like a cryptocurrency rather than that of the stalwart in sovereign debt that it's always been.
This entrance of extreme volatility has shown through currency markets, as well, with the US Dollar catching an aggressive bid a couple of weeks ago that pushed DXY from a fresh yearly low up to a brand new three-year-high. This type of move or reversal would normally take months: But in this case, it took about ten days, two of which when markets were closed for the weekend. Last Thursday saw the Greenback climb-up to that fresh three-year-high and since then a pullback has started to show, with buyers stopping just short of the 103.00 figure that turned around the advance in early-2017.
So far, that pullback has been restrained by the 23.6% Fibonacci retracement of the recent bullish move.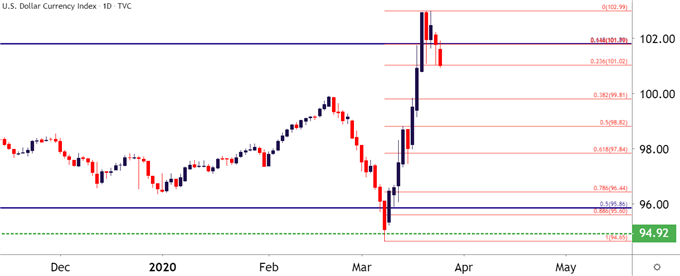 Chart prepared by James Stanley; USD on Tradingview

* * * The US Dollar is holding resistance at a confluent area on the chart, as both the 14.4% retracement of the recent breakout move syncs with the 38.2% retracement of a much longer-term move, taking the high from the year of 2011 and drawn down to the low of the Financial Collapse in March of 2008. Also of note on the resistance side and a price that hasn't yet come into play is the 103.00 area on DXY, and the current three-year-high at 102.99 shows that buyers had previously shied away from a re-test of this key zone. That area around the 103 level is what helped to turn around a bullish advance after the US Presidential election in 2016; with December of 2016 and January of 2017 showing four consecutive weeks of resistance before sellers finally able to take-control.
---The US Dollar put in a huge breakout over a ten-day-span. DXY has since found resistance and posed a 23.6% pullback, but are buyers reloading for more gains? ---
...

Related articles based on keyword density
TOP 10 - The Lowest (Cheapest) World Currencies in 2020 - List ...
fxssi.com 29/04/2020 Economy
Most people know about the strongest, most stable, and powerful world currencies, for example, British Pound Sterling, Swiss Franc (Swissie), US Dolla...View Details»

IOC, MRPL make second tranche payment to Iran of USD 330 mn...
indianexpress.com 09/06/2016 Economy
The balance USD 5.4 billion in past oil dues to Iran will be cleared in 2-3 months said the said source close to the information. By: PTI | New Delhi...View Details»

The Iranian Pride: Korean Kia or American Ford, That's the question?! ...
1host2u.com 01/06/2019 Auto
The Kia Pride is a subcompact car sold by the South Korean automobile manufacturer Kia Motors between March 1987 and January 2000, and again since Sep...View Details»

Indians, Slaves, and Mass Murder: The Hidden History ...
nybooks.com 23/11/2016 History
by Peter Nabokov | The New York Review of Books November 24, 2016 Issue The Other Slavery: The Uncovered Story of Indian Enslavement in America by A...View Details»

Spearheading Argentina into Bankruptcy: US Judicial System Upholds Wal...
globalresearch.ca 03/08/2014 Economy
By Peter Koenig Global Research, August 02, 2014 Argentina must not follow NY Court's dictated path to 'bankruptcy' Why would Argentina default on deb...View Details»

---
EOF