Trump Tells Navy to Destroy Any Iranian Gunboats Harassing U.S.
Trump Tells Navy to Destroy Any Iranian Gunboats Harassing U.S. ...
bloomberg.com
22/04/2020 Military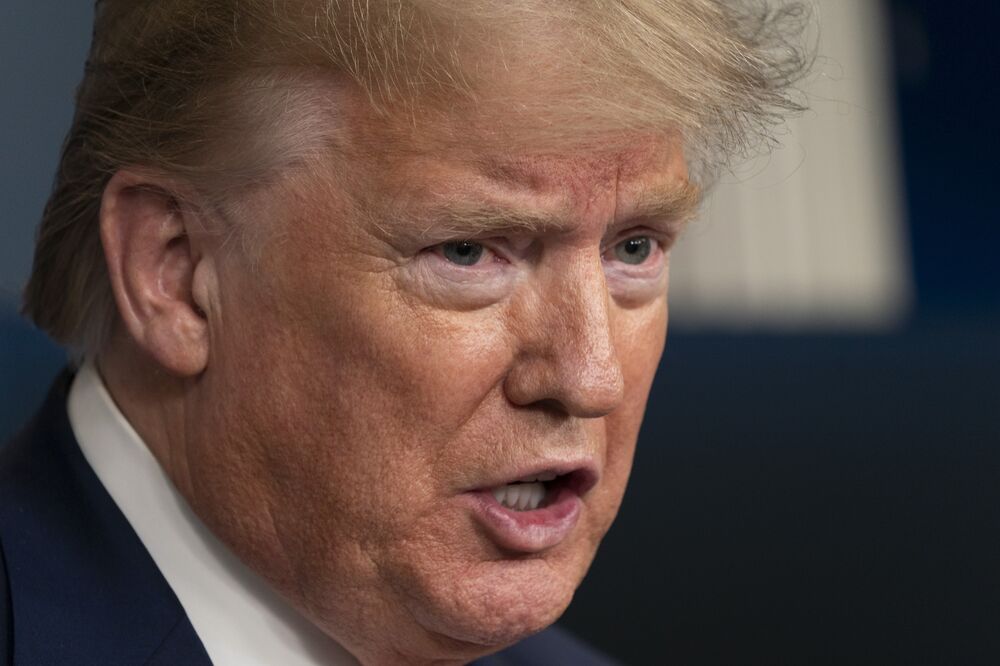 Keywords:#American, #Bloomberg, #Bloomberg.com, #Donald_Trump, #Hormuz, #Iran, #Iranian, #Iraq, #Islamic, #Islamic_Revolutionary_Guard_Corps, #Middle_East, #Obama, #Obama_administration, #Persian, #Persian_Gulf, #President, #Qassem_Soleimani, #Strait_of_Hormuz, #Tehran, #Trump, #United_States, #iPhone
President Donald Trump said he's ordered the U.S. Navy to destroy any Iranian gun boats that harass American ships at sea.
Trump issued the warning "to shoot down and destroy" the ships in a tweet sent from his iPhone Wednesday morning. It comes after 11 gunboats from Iran's Islamic Revolutionary Guard Corps crossed the bows and sterns of American ships at close range last week.
I have instructed the United States Navy to shoot down and destroy any and all Iranian gunboats if they harass our ships at sea.
— Donald J. Trump (@realDonaldTrump) April 22, 2020
U.S. Central Command called the Iranian maneuvers "dangerous and provocative actions" in a statement, and said at the time that that American commanders on the scene "retain the inherent right to act in self-defense."
The U.S. military vessels were conducting joint integration operations in the international waters of the Persian Gulf when the Iranian ships harassed them, Central Command said in the statement.
The Iranian ships came within a 50-yard point of approach with the USS Lewis B. Puller and within 10 yards of the bow of the Coast Guard cutter Maui, according to the statement. Iran has disrupted shipping routes in the Gulf and used asymmetrical warfare to undermine American interests across the Middle East, though rarely does it target U.S. ships directly.
Trump's comments could mark another flare up of tensions between the U.S. and Tehran.
Going back to the Obama administration, Revolutionary Guard members in small but agile speedboats have harassed U.S. ships, but the encounters usually have ended with warnings from the Americans to back off. In 2017, a U.S. Navy guided-missile naval destroyer fired warning shots at four Iranian rapid-attack craft in the Strait of Hormuz.
An Iranian surface-to-air missile system shot down a U.S. Navy surveillance drone last June while it was operating in international airspace over the Strait of Hormuz. Iran said the drone was over its territory. The attack escalated regional tensions.
Early this year, the U.S. killed Iranian general Qassem Soleimani. An Iranian counter attack on a U.S. base in Iraq didn't kill anyone, but left American soldiers with head injuries, which Trump downplayed the severity of.
--- ---
...

Related articles based on keyword density
Media Scam? Iran and America Join Hands in Waging "The Global War on T...
globalresearch.ca 01/07/2014 Politics
By Prof Michel Chossudovsky Global Research, June 21, 2014 Following the incursion of jihadist rebels of the Islamic State of Iraq and the Levant (IS...View Details»

ISIS: The Spoils of the "Great Loot" in the Middle East - FPIF...
fpif.org 02/07/2014 Politics
Adding yet more warfare to the current crisis in the Middle East will perpetuate exactly what the imperial powers set out to do: tear an entire region...View Details»

Iran's water crisis the product of decades of bad planning - The Washi...
washingtonpost.com 03/07/2014 Nature
By Jason Rezaian July 2 at 7:00 AM Follow @jrezaian TEHRAN — Iran is headed for a water shortage of epic proportions, and little is being done to re...View Details»

US and Iranian Hardliners Continue the Suffering ...
consortiumnews.com 17/03/2019 Politics
Ann Wright reports on a citizen peace delegation's recent trip to Iran, which included a meeting with the country's foreign minister. By Ann Wright We...View Details»

Iran Plans Higher Fees for Riskier Oil Fields in New Accords Iran Plan...
bloomberg.com 25/02/2014 Economy
By Golnar Motevalli and Anthony DiPaola Feb 24, 2014 Iran will offer foreign partners incentives to find and pump more crude and natural gas and will...View Details»

---
EOF