Pompeo Finds Pushback at UN in Bid to Extend Iran Arms Embargo
Pompeo Finds Pushback at UN in Bid to Extend Iran Arms Embargo ...
bloomberg.com
01/07/2020 Politics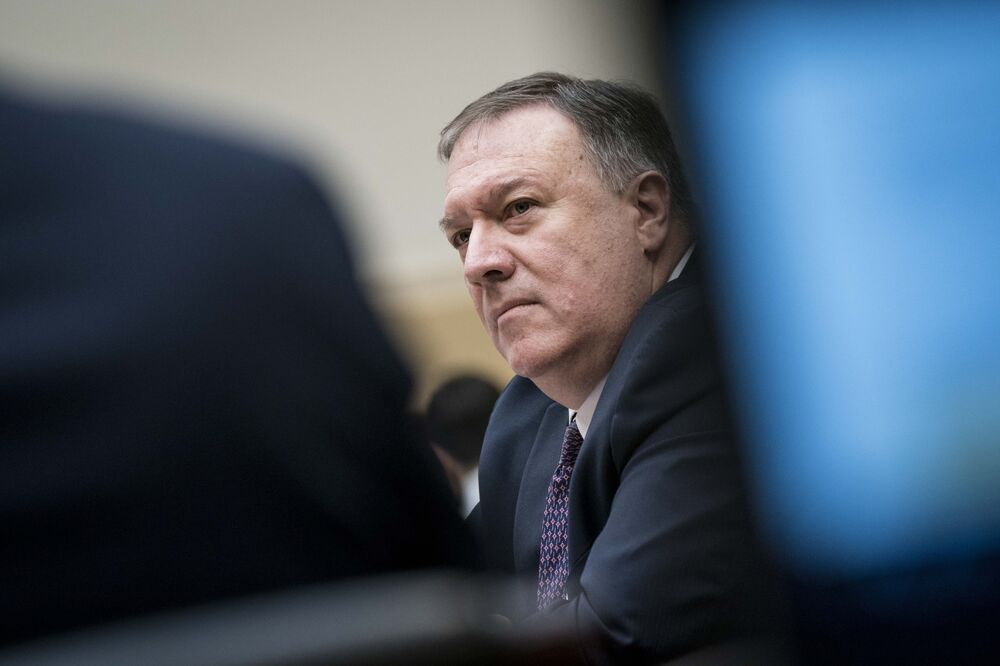 Keywords:#2015, #Afghanistan, #Antonio_Guterres, #Arms, #Bloomberg, #Bloomberg.com, #China, #Europe, #European, #France, #French, #GMT, #Germany, #Golnar_Motevalli, #Iran, #Islamic, #Islamic_Republic, #Islamic_Republic_of_Iran, #Javad_Zarif, #Mideast, #Mohammad_Javad_Zarif, #Nations, #Russia, #Russian, #Russian_Ambassador, #Saudi, #Secretary-General, #Security_Council, #Syria, #Tehran, #Trump, #UN_Security_Council, #United_Nations, #United_Nations_Security_Council, #United_States, #Venezuela
By David Wainer
and Golnar Motevalli
June 30, 2020, 8:12 PM GMT+4:30 Updated on June 30, 2020, 11:37 PM GMT+4:30
Germany and France reject U.S. threat for sanctions 'snapback'
Iran's Zarif denounces U.S. 'whims of an outlaw bully'
U.S. Secretary of State Michael Pompeo urged the United Nations Security Council to extend an expiring arms embargo on Iran as world powers from China to Europe pushed back against U.S. threats to reimpose UN sanctions on Tehran if the weapons ban lapses.
"This chamber has a choice: Stand for international peace and security, as the United Nations' founders intended, or let the arms embargo on the Islamic Republic of Iran expire, betraying the UN's mission and its finest ideals -- which we have all pledged to uphold," Pompeo told the Security Council in an online meeting on Tuesday.
With the ban on arms transactions with Iran set to expire in October, the U.S. is threatening to invoke a "snapback" provision in a 2015 nuclear accord to reimpose all UN sanctions against Tehran if the Security Council doesn't renew the weapons ban indefinitely. The U.S. withdrew from that accord in 2018.
China and Russia -- veto-wielding members of the council -- warned on Tuesday they won't support that effort and were joined by Europe in disputing a Trump administration assertion that it holds the right to reimpose UN sanctions even though the U.S. quit the accord in 2018.
"We urge the U.S. to stop its illegal unilateral sanctions," China's Ambassador to the UN, Zhang Jun, told the council. "China opposes the U.S. push for extending the arms embargo on Iran," he said. After quitting the nuclear deal, he said, the U.S. is "no longer a participant and has no right to trigger snapback at the Security Council."
The Security Council held its virtual gathering on Tuesday to discuss a report by Secretary-General Antonio Guterres, who concluded that the weapons used in a series of attacks against Saudi infrastructure in 2019 probably originated in Iran.
Speaking after Pompeo, Mohammad Javad Zarif, Iran's foreign minister, lambasted the U.S. for exerting a "malign" influence in the Mideast. He said Iran has exercised restraint even as the Trump administration failed to abide by UN resolutions.
"The international community in general -- and the UN Security Council in particular -- are facing an important decision: Do we maintain respect for the rule of law, or do we return to the law of the jungle by surrendering to the whims of an outlaw bully?" he said.
European Response
European nations condemned Iran for reducing its commitments to the nuclear deal -- the government in Tehran has been enriching uranium beyond previously-agreed limits -- but joined Russia and China in arguing that the Trump administration's decision to withdraw means the U.S. can no longer invoke the snapback provision.
The dispute amounts to a crisis at the UN just months ahead of U.S. elections. French Ambassador Nicolas de Rivière said his nation won't support "unilateral actions," saying a snapback would have "serious adverse consequences" for the Security Council.
Germany's ambassador, Christoph Heusgen, urged Iran not to run a "red light" just because the U.S. had already done so by leaving the deal.
Invoking U.S. protests against police violence, Russian Ambassador Vassily Nebenzia taunted that the U.S.'s "maximum pressure" campaign was "literally like putting a knee to Iran's neck."
Pompeo said the Islamic Republic could move quickly to buy Russian fighter jets and upgrade its submarine fleet if the arms embargo expires. He said Tehran also would be "free to become a rogue weapons dealer, supplying arms to fuel conflicts from Venezuela, to Syria, to the far reaches of Afghanistan."
"The United States' overwhelming preference is to work with this council to extend the arms embargo, to protect human life, to protect our national security, and to protect yours," Pompeo told the council, without directly invoking the threat of a sanctions snapback.
— With assistance by Nick Wadhams

--- ---
...

Related articles based on keyword density
Middle East - Security Council debates ending UN sanctions on Iran ...
france24.com 13/03/2015 News
Major world powers have begun talks about a UN Security Council resolution to lift UN sanctions on Iran if a nuclear agreement is struck with Tehran, ...View Details»

'Nothing left' if Iran hit Saudi facility: FM Zarif ...
aljazeera.com 23/09/2019 Politics
War of words over Saudi oil attacks with the US continues as Iranian leaders arrive for the UN General Assembly. 23 Sep 2019 18:01 GMT Tensions in the...View Details»

ISIS: The Spoils of the "Great Loot" in the Middle East - FPIF...
fpif.org 02/07/2014 Politics
Adding yet more warfare to the current crisis in the Middle East will perpetuate exactly what the imperial powers set out to do: tear an entire region...View Details»

United Nations Security Council Resolution 1929 ...
1host2u.com 09/06/2010 History
United Nations Security Council Resolution 1929, adopted on 9 June 2010, after recalling resolutions 1696 (2006), 1737 (2006), 1747 (2007), 1803 (2008...View Details»

IRAN NUCLEAR TALKS STUMBLE, EXTENDED UNTIL JULY ...
hosted.ap.org 24/11/2014 News
BY MATTHEW LEE AND GEORGE JAHN ASSOCIATED PRESS VIENNA (AP) -- Still facing significant differences between the U.S. and Iran, negotiators gave up on...View Details»

---
EOF