Dog Food or Cheese? Italian Offering to US Secretary of State Mike Pompeo
Dog Food or Cheese? Italian Offering to US Secretary of State Mike Pompeo...
reddit.com
20/10/2020 Politics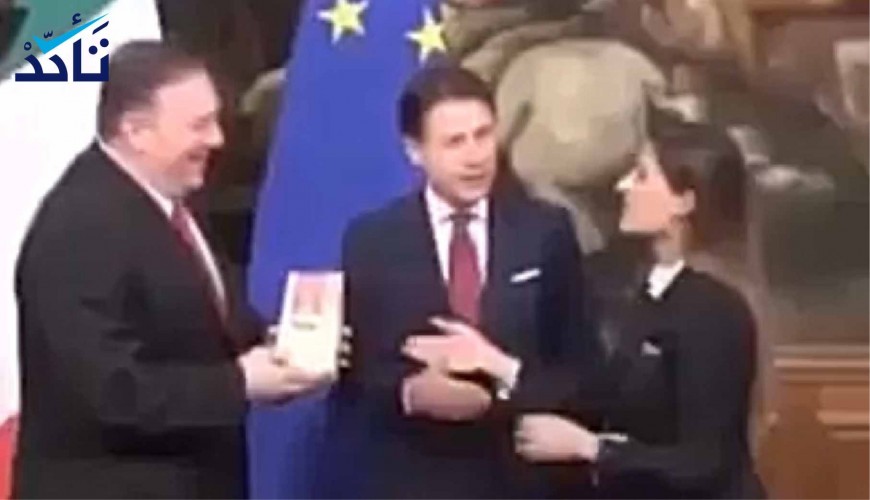 Keywords:#American, #Iraq, #Italian, #Italian_Prime_Minister, #Italy, #Kurdish, #Mike_Pompeo, #Persian, #Prime_Minister, #Proverb, #Reddit, #Reddit.com, #Rome, #Russia, #Russia_Today, #Syria, #Syrian, #Turkey, #Turkish, #US, #Washington
On Reddit, the video caption says:
An Italian journalist gives dog food to Mike Pompeo and tells him to eat it 3 times a day so that it may help make Americans more faithful and sincere
Another website has a different view:
https://www.verify-sy.com/en/details/1449/Did-Kurdish-Activist-Give-Dog-Food-to-U.S.-Secretary-of-State -
Social media pages and accounts have circulated a video of a woman giving a box to U.S. Secretary of State Mike Pompeo, claiming that "a Kurdish activist gave U.S. Secretary of State Mike Pompeo dog food, and told him he must eat it in order to become loyal like dogs, protesting the U.S. treachery of Kurds of Iraq and Syria."
Verify-Sy platform inspected the video and found that it is unrelated to the Kurdish-U.S. affairs, and the woman who appear in the video is Italian satirist journalist Alice Martinelli, not a Kurdish activist.
The video dates back to October 2, 2019, during a meeting between Pompeo and Italian Prime Minister Giuseppe Conte in Rome, before the recent Turkish military operation in northeast Syria.
According to Russia Today, Martinelli gave a piece of cheese of Parmigiano-Reggiano to the secretary, expressing Italy's concerns about Washington's policy that might threaten Italian food industry.
Of note, commander-in-chief of the Syrian Democratic Forces (SDF) Mazloum Abdi recently accused Washington of abandoning his forces, following the U.S. withdrawal from its positions near the Syria-Turkey border before the beginning of the Turkish military operation.
- Dog food or cheese, damage is done. American image has never been so much shattered in the eye of people mainly because of the current US president and his aides that took ignorance to a new level costing a whole continent a bad name: American Stupidity! Bon appetit.
Persian Proverb: No One Can Talk Evil Into Goodwill
--- ---...

Related articles based on keyword density
ISIS: The Spoils of the "Great Loot" in the Middle East - FPIF...
fpif.org 02/07/2014 Politics
Adding yet more warfare to the current crisis in the Middle East will perpetuate exactly what the imperial powers set out to do: tear an entire region...View Details»

The Crises in Syria, Lebanon and Egypt: The Plan to 'Divide and Conque...
globalresearch.ca 26/08/2013 News
Western media has accused the Syrian government of launching a chemical attack in an area east of Damascus that killed hundreds of civilians. It is t...View Details»

Media Scam? Iran and America Join Hands in Waging "The Global War on T...
globalresearch.ca 01/07/2014 Politics
By Prof Michel Chossudovsky Global Research, June 21, 2014 Following the incursion of jihadist rebels of the Islamic State of Iraq and the Levant (IS...View Details»

Terror Bombing in Brussels and Paris: Europe's "Islamist Legionnaires"...
globalresearch.ca 09/04/2016 History
By Prof. James Petras Global Research, April 08, 2016 *** Osama bin Laden with President Carter's National Security Advisor Zbigniew Brzezinzki The...View Details»

The West's sights are now clearly set on Iran ...
rt.com 19/03/2017 Politics
The British-US plan to weaken Iran via the proxy war on Syria has spectacularly backfired. Now they are more desperate than ever to bring Iran to its...View Details»

---
EOF