Bitcoin, Blackouts and Smog Are Exacerbating Iran's Virus Woes
Bitcoin, Blackouts and Smog Are Exacerbating Iran's Virus Woes ...
bloomberg.com
14/01/2021 News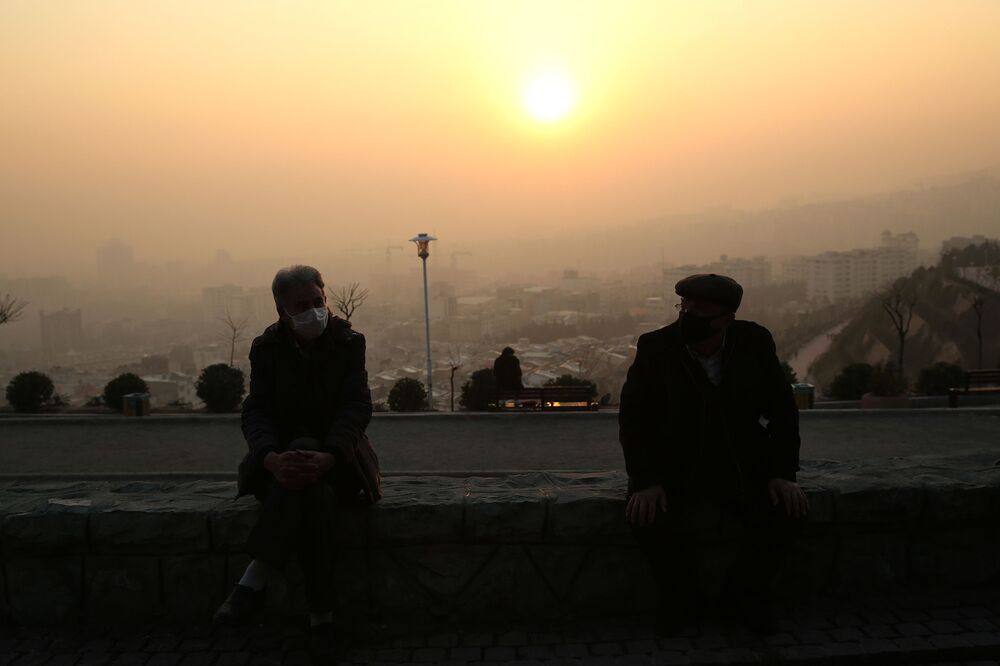 Keywords:#Bijan_Namdar_Zanganeh, #Bitcoin, #Bitcoin_Mining, #Bloomberg, #Bloomberg.com, #China, #Chinese, #Cities, #Energy_Ministry, #GMT, #Golnar_Motevalli, #Government, #Hamshahri, #Health, #ISNA, #Iran, #Iranian, #Islamic, #Islamic_Republic, #January, #Kerman, #Mahmoud_Vaezi, #Middle_East, #News, #News_Agency, #Oil_Minister, #Rafsanjan, #Shahla, #Students, #Tasnim, #Tehran, #US
By Golnar Motevalli
and Arsalan Shahla
January 13, 2021, 7:41 PM GMT+3:30
Government accused of using fuel oil in power generation
Bitcoin farms seen as compounding strain on electricity supply
Cities across Iran have been cloaked in thick layers of toxic smog and darkened by blackouts, as the alleged use of low-quality fuel and power-sucking cryptocurrency mining deepen the country's hardships.
Tehran's Hamshahri newspaper, the country's most-read daily, ran the headline, "20 Days Living in Smoke," on Wednesday over a photo of the capital covered in smog.
Power plants have been forced to switch to burning low-grade fuel oils to generate electricity because high levels of domestic consumption have led to natural-gas shortages, the semi-official Iranian Students' News Agency reported. Oil Minister Bijan Namdar Zanganeh denied earlier this week that any of Iran's power stations are using fuel oil to generate electricity.
Other plants have shut down, resulting in blackouts in various cities including the capital, Tehran. Officials there said on Wednesday that pollution levels had become "dangerous," ISNA reported.
Gas has become scarce because it's used to heat most Iranian homes, and temperatures have been especially cold this winter. Household use has also increased as people stay at home to avoid coronavirus infection, while travel in private vehicles has shot up as people shun mass transport.
Household gas consumption was up by 30% in late November from a month earlier, Mohammadreza Joulaei, director of supply at the National Iranian Gas Co., told state TV.
Bitcoin Mining Craze on Subsidized Power Pressures Iran's Grids
The outages have been compounded by the mining of Bitcoin and other cryptocurrencies, which uses banks of high-powered computers to verify the legitimacy of transactions and create units of digital coin, government officials have said.
U.S. sanctions that have isolated Iran from global financial institutions have fueled a surge in cryptocurrency mining in the Islamic Republic, which has some of the cheapest electricity in the world.
The strains on the electricity grid led the government to start cracking down on illegal mining operations, and about 6,000 mining machines were recently confiscated in Markazi province, the managing director of the Markazi Electricity Supply Co., told ISNA.
A spokesman for the country's electricity industry apologized for the shutdowns on state TV and said power supplies to Bitcoin miners and industry have been strictly limited to meet domestic needs.
The heavy pollution and power shortages are coming at a time when the country is battling Covid-19.
Health officials in the capital have warned that high levels of pollution will exacerbate the effects of the pandemic, which has already caused more deaths in Iran than any other country in the Middle East.
The head of Tehran's coronavirus task-force urged authorities to enforce a full shutdown of the city for several days to ease high levels of congestion, which he said is directly linked to increased hospitalizations of virus patients, the semi-official Tasnim news agency reported.
— With assistance by Patrick Sykes
https://www.aa.com.tr/en/asia-pacific/iranian-chinese-bitcoin-farm-shut-amid-power-outages/2109804
Iranian-Chinese bitcoin farm shut amid power outages

* * * Unprecedented surge in demand for electricity has led to frequent blackouts in country in recent weeks
Syed Zafar Mehdi | 14.01.2021
TEHRAN
Amid severe power outages across Iran in recent weeks, a major cryptocurrency mining plant jointly operated by an Iranian-Chinese investment firm in the country's southeast has been temporarily shut down.
Iran's state-owned electricity firm Tanavir made the announcement on Wednesday after a viral video showing thousands of bitcoin machines operating at the facility in Rafsanjan city of Kerman province.
According to state media, the bitcoin mining farm in Rafsanjan had alone been using 175 megawatt-hour (MWh) of electricity from the total 600 MWh allotted to all cryptocurrency factories in the country.
This came amid an unprecedented surge in demand for electricity that has led to frequent blackouts in the country in recent weeks. The electricity usage in peak hours reached 41,000 MWh in recent days.
Authorities say consumption of gas in households has increased in winter months, making electricity generation a challenge. Power plants have to use dirty fuel oil, instead of gas, to generate electricity.
While the Iran-China bitcoin farm, authorities claim, has been operating with the requisite legal license, there are thousands of "unauthorized" bitcoin extraction centers across the country.
Rajab Mashhadi, a spokesman for Iran's electricity industry union, said a total of 1,620 illegal cryptocurrency firms that consumed around 250 MWh of electricity have been inactivated.
Means to finance imports
The government in Iran had in August last year introduced amendments in regulations related to cryptocurrencies, aiming to use them for funding imports amid problems in using hard currency.
According to a proposal pitched by the central bank and the Energy Ministry, the legally mined bitcoins were supposed to be used only to finance imports from other countries.
The legislation permitted only a certain amount of subsidized energy to be used by each authorized miner, based on the guidelines issued by the Energy Ministry.
However, there have been widespread concerns over the "illegal" use of bitcoin mining, with thousands of cryptocurrency farms mushrooming across the country.
Mahmoud Vaezi, the chief of staff in the Iranian president's office, responding to the government's alleged role in illegal bitcoin mining, recently said there has been "pressure to regulate it in some way".
He said the bitcoin firms need to obtain legal permission from the government, which clearly defines the limitations and protocol for extraction processes.
While the use of bitcoin is seen as one of the ways to counter US sanctions, with one lawmaker recently suggesting that it can bring it more revenue than the export of oil under sanctions, there have been concerns over its burden on the country's electricity grid.
Bitcoin mining, which takes place in high-tech grids with many high-processing computer systems, puts enormous pressure on the demand for electricity, experts assert.
--- ---
...

Related articles based on keyword density
Iran Plans Higher Fees for Riskier Oil Fields in New Accords Iran Plan...
bloomberg.com 25/02/2014 Economy
By Golnar Motevalli and Anthony DiPaola Feb 24, 2014 Iran will offer foreign partners incentives to find and pump more crude and natural gas and will...View Details»

IRAN NUCLEAR TALKS STUMBLE, EXTENDED UNTIL JULY ...
hosted.ap.org 24/11/2014 News
BY MATTHEW LEE AND GEORGE JAHN ASSOCIATED PRESS VIENNA (AP) -- Still facing significant differences between the U.S. and Iran, negotiators gave up on...View Details»

Media Scam? Iran and America Join Hands in Waging "The Global War on T...
globalresearch.ca 01/07/2014 Politics
By Prof Michel Chossudovsky Global Research, June 21, 2014 Following the incursion of jihadist rebels of the Islamic State of Iraq and the Levant (IS...View Details»

Middle East - Security Council debates ending UN sanctions on Iran ...
france24.com 13/03/2015 News
Major world powers have begun talks about a UN Security Council resolution to lift UN sanctions on Iran if a nuclear agreement is struck with Tehran, ...View Details»

Iran Orders Armed Forces to Sell Off All Energy, Business Assets ...
bloomberg.com 07/02/2018 Economy
Golnar Motevalli and Arsalan Shahla February 6, 2018, 8:09 PM GMT+3:30 Updated on February 7, 2018, 12:30 AM GMT+3:30 Divestment by state entities...View Details»

---
EOF