Ex-Mossad chief indicates Israel was behind Iranian nuclear facility explosion and military scientist assassination
Ex-Mossad chief indicates Israel was behind Iranian nuclear facility explosion and military scientist assassination...
rt.com
12/06/2021 Military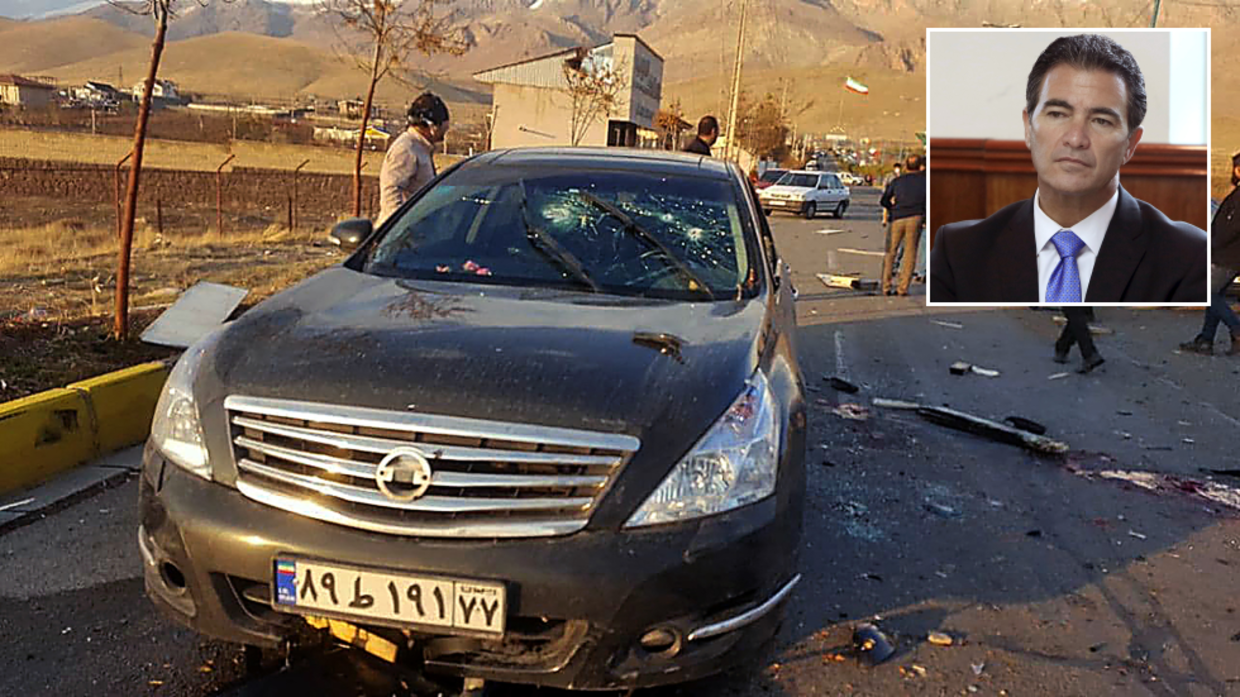 Keywords:#2020, #Abbasi, #American, #Ardeshir, #Darioush_Rezaeinejad, #David_Barnea, #European, #Foreign_Minister, #Heydar_Moslehi, #Imam, #Imam_Ali, #Iran, #Iranian, #Israel, #Israeli, #Javad_Zarif, #Le_Figaro, #Majid_Shahriari, #Masoud_Alimohammadi, #Meir_Dagan, #Mohsen_Fakhrizadeh, #Mossad, #Natanz, #Revolutionary_Guards, #Rt.com, #SAVAK, #Tamir, #Tehran, #Tehrani, #Times, #US, #United_States, #Washington, #Washington_Post, #Yossi_Cohen
Speaking after retiring last week, Yossi Cohen used an interview to imply that Israel was behind the explosion at an Iranian nuclear facility and the assassination of one of its nuclear scientists, and issued a warning to Tehran.
Last July, Iran's Natanz nuclear facility was targeted by an explosion that ripped through its advanced centrifuge assembly, with Tehran quickly accusing Israel of being behind the attack. A similar explosion was reported to have completely destroyed the power system inside another Iranian underground nuclear facility earlier this year.
In November 2020, Iran's nuclear program suffered another blow, when one of its top nuclear scientists, Mohsen Fakhrizadeh, was assassinated by an automated machine gun. Again, Mossad was accused of being responsible for the attack at the time, with Iranian Foreign Minister Javad Zarif stating there were "serious indications" Israel was behind it.
Discussing the two incidents, Cohen, who served as Mossad director from 2016 until last week, suggested that his agency had been behind the attacks, although he stopped short of a clear confession for either.
We say very clearly [to Iran]: we won't let you get nuclear weapons. What don't you understand?
Addressing the assassination of Fakhrizadeh, Cohen confessed that the Iranian scientist had been a target for intelligence gathering by Mossad "for many years," as Israel was "most troubled" by his work on Tehran's nuclear program. The interviewer followed these remarks by claiming that "Yossi Cohen cannot take responsibility for this action, but his personal signature is on the entire operation."
However, the ex-Mossad chief did brag to the interviewer that the Natanz facility didn't "look like it used to," after the explosion crippled its centrifuges. The news report was accompanied by the interviewer Ilan Dayan's detailed explanation of how the Israeli agency got the explosives into the facility, although his claims haven't been publicly confirmed by Tel Aviv and it's not clear where he acquired this information.
Alongside his comments on the attacks, Cohen seemingly issued an open invitation to any Iranian scientists who might wish to leave Tehran's nuclear program, stating that Israel sometimes offered a way out to those who were "willing to change career."
While Mossad is usually known for its discretion, Cohen took the opportunity to issue a warning to Iran and scientists working in its nuclear program that they would be targeted if they continued with their activities.
Using the interview to directly address the Iranian leadership, Cohen declared it had been "infiltrated," that Israel was watching its activities and that "the era of lies is over."
Cohen's replacement at Mossad, David Barnea, and the Israeli government have not responded to the TV interview or confirmed the agency's involvement in the attacks. Iran has not responded to the former Mossad chief's comments either.
---
aining team to leave Iran, Mossad became increasingly active in Iran, "training SAVAK personnel and carrying out a broad variety of joint operations with SAVAK."

A US intelligence official told The Washington Post that Israel orchestrated the defection of Iranian general Ali Reza Askari on February 7, 2007. This has been denied by Israeli spokesman Mark Regev. The Sunday Times reported that Askari had been a Mossad asset since 2003, and left only when his cover was about to be blown.

Iranian Intelligence Minister Heydar Moslehi has accused Mossad of assassination plots and killings of Iranian physicists in 2010. Reports have noted that such information has not yet been evidently proven. Iranian state TV broadcast a stated confession from Majid Jamali-Fashi, an Iranian man who claimed to have visited Israel to be trained by Mossad.

Le Figaro claimed that Mossad was possibly behind a blast at the Iranian Revolutionary Guard's Imam Ali military base, on October 12, 2011. The explosion at the base killed 18 and injured 10 others. Among the dead was also general Hassan Tehrani Moghaddam, who served as the commander of the Revolutionary Guards' missile program and was a crucial figure in building Iran's long-range missile program. The base is believed to store long-range missiles, including the Shahab-3, and also has hangars. It is one of Iran's most secure military bases.

Mossad has been accused of assassinating Masoud Alimohammadi, Ardeshir Hosseinpour, Majid Shahriari, Darioush Rezaeinejad and Mostafa Ahmadi-Roshan; scientists involved in the Iranian nuclear program. It is also suspected of being behind the attempted assassination of Iranian nuclear scientist Fereydoon Abbasi. Meir Dagan, who served as Director of Mossad from 2002 until 2009, while not taking credit for the assassinations, praised them in an interview with a journalist, saying "the removal of important brains" from the Iranian nuclear project had achieved so-called "white defections," frightening other Iranian nuclear scientists into requesting that they be transferred to civilian projects.

In early February 2012, Mossad director Tamir Pardo met with U.S. national security officials in Washington, D.C. to sound them out on possible American reactions in the event Israel attacked Iran over the objections of the United States.

In 2018 the Mossad broke into Iran's secret nuclear archive in Tehran and smuggled over 100,000 documents and computer files to Israel. The documents and files showed that the Iranian AMAD Project aimed to develop nuclear weapons. Israel shared the information with its allies, including European countries and the United States.
---...

Related articles based on keyword density
IRAN NUCLEAR TALKS STUMBLE, EXTENDED UNTIL JULY ...
hosted.ap.org 24/11/2014 News
BY MATTHEW LEE AND GEORGE JAHN ASSOCIATED PRESS VIENNA (AP) -- Still facing significant differences between the U.S. and Iran, negotiators gave up on...View Details»

Media Scam? Iran and America Join Hands in Waging "The Global War on T...
globalresearch.ca 01/07/2014 Politics
By Prof Michel Chossudovsky Global Research, June 21, 2014 Following the incursion of jihadist rebels of the Islamic State of Iraq and the Levant (IS...View Details»

Global "Elders" urge Iran to build on nuclear deal - The Washington Po...
washingtonpost.com 28/01/2014 Politics
TEHRAN, Iran — The former head of the United Nations urged Iran Monday to build on a historic deal reached with world powers in November and work towa...View Details»

Kerry: World powers agree to nuclear deal, but Iran 'walked away' ;) —...
rt.com 11/11/2013 Politics
US Secretary of State John Kerry countered claims France had torpedoed nuclear talks with Iran, saying the six world powers "signed off" on a deal, bu...View Details»

The Barriers to Iranian–American Rapprochement: Inside Iran and the US...
globalresearch.ca 23/01/2014 Politics
By Mahdi Darius Nazemroaya Global Research, January 23, 2014 Strategic Culture Foundation Relations between Iran and the United States appear to be t...View Details»

---
EOF