Straws, coffee cups & more outlawed as EU single-use plastics ban goes into force
Straws, coffee cups & more outlawed as EU single-use plastics ban goes into force ...
rt.com
04/07/2021 Nature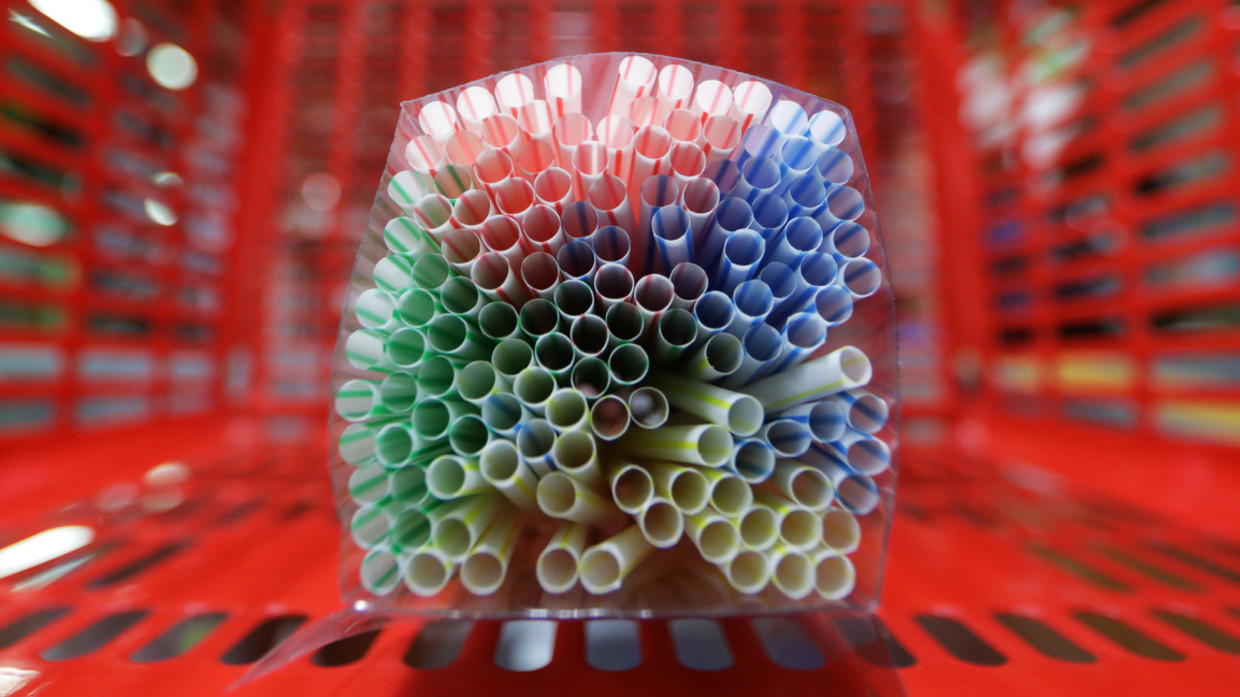 Keywords:#Brussels, #Covid-19, #EU, #Environment, #European, #Rt.com, #Saturday
Ten single-use plastic items blamed for littered European beaches are banned in the EU starting Saturday. Plastic straws, cutlery, cotton bud sticks, plates, stirrers, and balloon sticks are among the blacklisted products.
The sale of polystyrene drink and food containers has also been banned as part of the bloc's Single-Use Plastics Directive of 2019, which came into force on July 3.
All types of oxo-degradable plastic bags were outlawed too, despite being marketed as biodegradable items. Brussels says the microplastics that they dissolve into remain in the environment for too long.
Single-use plastics (SUPs) are to be replaced by their counterparts made from cellulose, bamboo, and other biodegradable materials.
Alongside fishing gear, SUPs, which are primarily produced from fossil fuel-based chemicals, represent 70% of all marine litter in the EU. And the bloc's data indicates that 85% of European beaches now have 20 or more items of litter for every 100 meters of coastline.
A host of other single-use plastic items have also faced restrictions under the EU's directive. Producers of plastic bags, bottles, wrappers, tobacco filters, wet wipes, and other single-use plastic products would have to pay for the clean-up necessitated by these products and awareness campaigns on the harm they do to the environment.
The European Environment Agency (EEA) earlier warned about the danger posed by medical-related plastics, as face masks and gloves became a daily necessity during the ongoing Covid-19 pandemic. But the current SUP ban doesn't affect these types of products.
Further restrictions on single-use plastics will be introduced in the EU in the coming years, as the bloc moves towards its goal of circular economy, in which all disposable plastics are reusable or recyclable by 2030.
--- ---
...

Related articles based on keyword density
​Energy ballet: Iran, Russia and 'Pipelineistan' ...
rt.com 20/08/2014 Economy
By Pepe Escobar: the roving correspondent for Asia Times/Hong Kong, an analyst for RT and TomDispatch, and a frequent contributor to websites and radi...View Details»

'US not economic gendarme of planet': France suggests EU may compensat...
rt.com 20/05/2018 Economy
France's economy minister has suggested that the EU may compensate European companies affected by US sanctions on Iran, stressing that the bloc shoul...View Details»

Iran sentences 'Mossad spy' to death over assassinations of nuclear s...
rt.com 25/10/2017 News
An alleged spy for Israel's Mossad intelligence service has been sentenced to death in Iran after he was found guilty of being involved in a string of...View Details»

EU 404? Not finding itself on Iran exemption list, Europe vows to def...
rt.com 04/11/2018 Politics
European countries have vowed to maintain "effective financial channels" and to keep trading with Tehran after the US announced that the EU is not am...View Details»

EU vows to trade with Iran, denounces US decision not to extend waiver...
rt.com 05/05/2019 News
A year after President Trump unilaterally withdrew from the Iran Nuclear Deal, its European signatories, who still honor the agreement, have expresse...View Details»

---
EOF