China mocks Biden's economic pact, condemns 'American rules'
China mocks Biden's economic pact, condemns 'American rules'...
rt.com
30/05/2022 Politics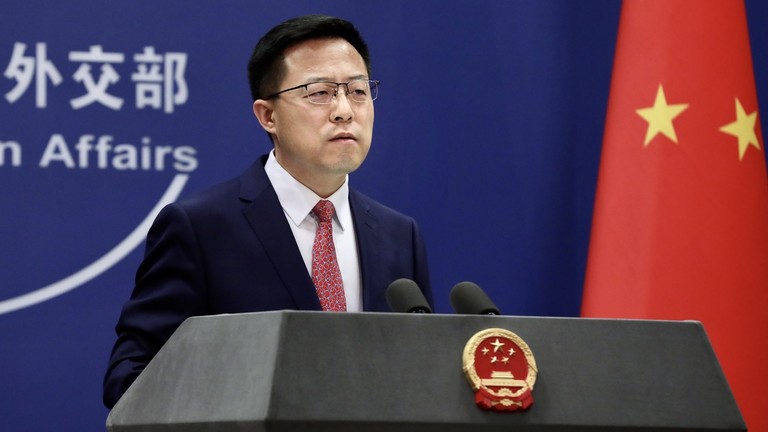 Keywords:#Afghanistan, #American, #American_Rules, #Antony_Blinken, #Beijing, #Brown_University, #China, #Chinese, #Export, #Foreign_Minister, #Health, #Human_Rights, #Iraq, #NATO, #Rt.com, #Syria, #Theory, #UNCLOS, #UNESCO, #US, #United_States, #University, #Wang, #Wang_Yi, #Washington, #World_Health_Organization, #World_War_II, #Zhao_Lijian
Beijing hits out at US for regularly breaking international laws and then accusing others of doing the same
Beijing has once again hit out at Washington, stating that the US has "no right to talk about rules" after it has repeatedly broken them itself on numerous occasions.


19th century Americentrism Mentality

* * * During a daily press briefing on Monday, Chinese foreign ministry spokesperson Zhao Lijian was asked to respond to the recent comments made by US Secretary of State Antony Blinken, who stated that China posed "the most serious and long-term challenge" to the international order.
Zhao responded by saying that Blinken's policy speech was "full of lies" and that it was, in fact, the US that posed the biggest challenge to the world. He noted that the "rules-based international order" proposed by the US actually meant one based on "American Rules," which serve to uphold Washington's interests and hegemony.
He added that although China's Foreign Minister Wang Yi already condemned Blinken's speech last week, it was important to list "some facts and figures" to help "understand the lies and hypocritical fallacy of the United States."
As an example, Zhao pointed to the fact that since the end of World War II, the US had tried to overthrow more than 50 foreign governments and had grossly interfered in democratic elections in at least 30 counties, citing William Bloom's 'Democracy: America's Deadliest Export.' He also noted that according to a report by Brown University, since 2001, wars and military operations launched by the US in the name of 'counter-terrorism' had claimed over 800,000 lives and generated over 20 million refugees from affected countries like Afghanistan, Iraq and Syria.
Zhao went on to state that the US is the biggest "destroyer of the international order" and that it only adheres to the concepts of "American Exceptionalism" and the "America-Centric Theory." He added that Washington's proclivity to break contracts and come in and out of international groups at will has essentially become the norm, noting that since the 1980s the US has withdrawn from 17 international organizations and agreements, including the UN Human Rights Council, World Health Organization, UNESCO and other treaties.
"The United States has openly disguised itself as a "referee" of international rules, using the so-called "flashlight" of the rules to shine on others, ignoring its own "darkness under the lights." When US politicians plausibly hold the UN Convention on the Law of the Sea to talk about things, I wonder if they know that the US is not even a party to the UNCLOS."
He stressed that the US had "no right to talk about rules at all" or accuse anyone of breaking international laws, since it is Washington that constantly breaks the rules and does it more than anyone else. Zhao added that the US only respects the rules when they serve its interests and hegemony, and completely disregards them if they don't.
"I would like to ask the US a few questions: When the US recklessly wages wars against sovereign nations and engages in 'colored revolutions,' what exactly are the rules?" asked Zhao. He also pointed to how the US "aggressively imposed illegal unilateral sanctions and ensnared the people of those countries," defaulted on $1 billion in dues to the UN and $1.4 billion to peacekeeping efforts, and attempted to create an "Indo-pacific version of NATO", which would devastate security in the region and undermine the international nuclear non-proliferation system.
Zhao concluded by stating US foreign policy is "the epitome of coercive diplomacy," which places domestic laws above international rules and indiscriminately imposes illegal unilateral sanctions and long-arm jurisdiction on sovereign countries.
https://www.aljazeera.com/economy/2022/5/31/bb-china-mocks-bidens-economic-pact-for-failing-to-lower-tariffs
---
Chinese Foreign Minister Wang Yi accuses Washington of attempting to 'politicise and weaponise economic affairs'.
Chinese Foreign Minister Wang Yi mocked President Joe Biden's wide-ranging economic framework for failing to lower tariffs, in some of the strongest criticism yet of the US plan to counter Beijing's influence in Asia.

"The so-called Indo-Pacific Economic Framework recently rolled out by the US claims to build a free, open, and inclusive new order, but how can any economic frame call itself free if it doesn't lower tariffs?" Wang said Monday during a visit to Fiji, according to a statement posted on the Foreign Ministry's website.
"How can it be called inclusive if it purposefully excludes China, the largest market in the region and in the world?"

It wasn't clear under what circumstances Wang made the comments. Fiji last week became the 14th country and the first Pacific Island nation to join Biden's IPEF.

China this week failed get ten Pacific Island nations on board with a sweeping trade and security deal during a summit attended by Wang in Fiji as part of his rare ten-day visit to the region.

Beijing had reportedly proposed a free-trade deal and a special envoy for Pacific Island nations, but the plan was shelved after some of the countries expressed concerns about specific elements in the proposal.
Wang said IPEF sought to "confine other countries" with the US's standards and rules.

"The US is attempting to politicize and weaponize economic affairs, and even treat the matter ideologically," Wang said. "Such a practice violates basic norms of economics. It is putting shackles on the free market."
Source: Bloomberg
---...

Related articles based on keyword density
IRAN NUCLEAR TALKS STUMBLE, EXTENDED UNTIL JULY ...
hosted.ap.org 24/11/2014 News
BY MATTHEW LEE AND GEORGE JAHN ASSOCIATED PRESS VIENNA (AP) -- Still facing significant differences between the U.S. and Iran, negotiators gave up on...View Details»

Media Scam? Iran and America Join Hands in Waging "The Global War on T...
globalresearch.ca 01/07/2014 Politics
By Prof Michel Chossudovsky Global Research, June 21, 2014 Following the incursion of jihadist rebels of the Islamic State of Iraq and the Levant (IS...View Details»

35 Countries Where the U.S. Has Supported Fascists, Drug Lords and Ter...
plus.google.com 10/03/2014 History
By Nicolas J.S. Davies Alternative News Here's a handy A to Z guide to U.S.-backed international crime. 35 Countries Where the U.S. Has Supported Fas...View Details»

US Has Killed More Than 20 Million People in 37 "Victim Nations" Since...
popularresistance.org 09/11/2017 Military
By James A. Lucas Global Research, November 09, 2017 Popular Resistance 27 November 2015 First published in November 2015 After the catastrophic a...View Details»

Pakistan, China, Iran and the remaking of regional security | Asia Tim...
atimes.com 19/04/2015 Military
By M.K. Bhadrakumar The regional security in South Asia and the adjacent regions to the west and north are on the cusp of a profound transformation. B...View Details»

---
EOF