Nupur Sharma: India's BJP suspends official over comments about Prophet Mohammed
Nupur Sharma: India's BJP suspends official over comments about Prophet Mohammed...
edition.cnn.com
05/06/2022 Culture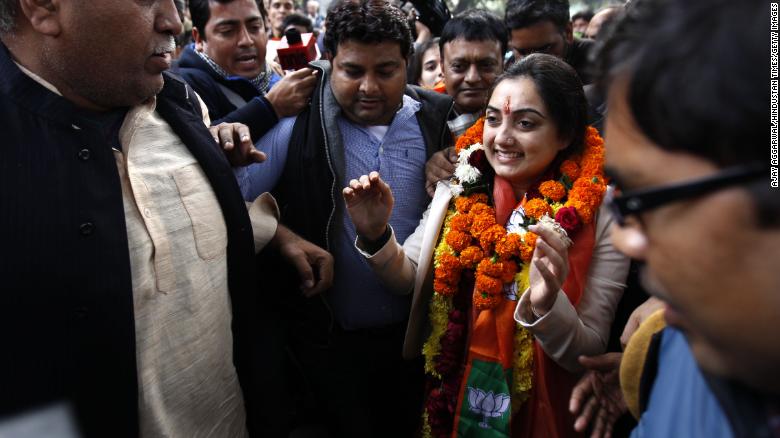 Keywords:#2015, #2020, #Delhi, #Edition.cnn.com, #Foreign_Affairs, #Government, #Grand_Mufti, #Hyderabad, #India, #Iran, #Islam, #Islamic, #Jindal, #Kuwait, #Legislative, #London, #Ministry_of_Foreign_Affairs, #Mufti, #Mumbai, #Muslim, #News, #Nupur_Sharma, #Oman, #Pakistan, #Prophet_Muhammad, #Qatar, #Reuters, #Shah, #Times, #Turkey, #Twitter, #University
(Reuters)India's ruling Bharatiya Janata Party (BJP) said on Sunday it had suspended its spokeswoman Nupur Sharma in response to comments she made during a TV debate about the Prophet Mohammed.
The BJP said in a statement on its website that the party respected all religions. "The BJP strongly denounces insult of any religious personalities of any religion."
Sharma said on Twitter she had said some things in response to comments made about a Hindu god but it was never her intention to hurt anyone's religious feelings.
"If my words have caused discomfort or hurt religious feelings of anyone whatsoever, I hereby unconditionally withdraw my statement," she said.
Another BJP spokesman Naveen Jindal was expelled from the party over comments he made about Islam on social media, the BJP office said.
Jindal said on Twitter he had questioned some comments made against Hindu gods. "I only questioned them but that does not mean I am against any religion."
The BJP statement also said: "The Bharatiya Janata Party is also strongly against any ideology which insults or demeans any sect or religion. The BJP does not promote such people or philosophy."
Sharma's comments prompted complaints from several Muslim countries, including Qatar and Kuwait.
Pakistan said it condemns in the "strongest possible terms" the highly derogatory remarks. "Pakistan once again calls on the international community to take immediate cognizance of the grievously aggravating situation of Islamophobia in India," it said.
The Ministry of Foreign Affairs of Qatar said it had summoned the Indian ambassador over the comments.
The State of Kuwait also summoned the Indian ambassador and said it had handed the ambassador a protest note in which Kuwait rejected and denounced the statements made by the BJP official.
Qatar's foreign ministry statement also said it welcomed the BJP's decision to suspend the official but said Qatar was expecting a public apology and immediate condemnation of these remarks by the Indian government.
So what did Nupur Sharma say?
https://en.wikipedia.org/wiki/Nupur_Sharma_ (politician)
Nupur Sharma is an Indian politician and the former national spokesperson of the Bharatiya Janata Party (BJP). She was seen as young, energetic and brash, with regular appearances on television debates. In June 2022, she was suspended from the party due to her comments about the Islamic prophet Muhammad and the age of his third wife, Aisha.
Biography
Nupur Sharma comes from an educated family, many of whose members are civil servants. Her mother is from Dehradun. Sharma was born in Delhi in 1985.
Sharma joined the Akhil Bharatiya Vidyarthi Parishad (ABVP), the student wing of the Sangh Parivar, as a student of the Delhi University. She won the presidentship of the students union in 2008. A notable incident during her stint was the leading of an ABVP mob to heckle SAR Geelani in a faculty seminar on 'Communalism, Fascism and Democracy: Rhetoric and Reality'. She appeared on a television show later that night and gave brash responses.
After receiving a masters in law degree in London School of Economics, Sharma became a lawyer. She also became a worker of the Bharatiya Janata Party (BJP), and is said to have worked with senior leaders like Arvind Pradhan, Arun Jaitley and Amit Shah. In 2015, at age 30, she was given the ticket for contesting against Arvind Kejriwal of the Aam Admi Party (AAP) in the 2015 Delhi Legislative Assembly election. She lost the contest by 31,000 votes.
Afterwards, she was appointed as an official spokesperson for the BJP's Delhi unit under Manoj Tiwari. In 2020, she was appointed as a national spokesperson of BJP under the presidentship of J. P. Nadda. According to a Delhi BJP leader, even when she was part of the Delhi unit, she was often sent out for TV debates on national issues because o her legal acumen, sound knowledge of national issues and bilingual skills.
Comments on Prophet Muhammad
On 27 May 2022, Sharma participated in a debate on the Gyanvapi Mosque dispute on the Times Now channel, during which she commented that the Prophet Muhammad married a six-year-old bride (Aisha) and had sex with her when her age was nine years The Alt News co-founder Mohammed Zubair shared a video clip of her remarks on social media. Sharma later alleged that it was a "heavily edited and selected video", which was denied by Pratik Sinha, the other co-founder of Alt News. Sinha stated that it was unedited and also included a longer clip which showed the context. Times Now deleted the video of the programme from its Youtube channel the next day.
Sharma stated that she had started receiving rape and death threats. She appeared to hold Zubair responsible for the threats. Alt News denied any responsibility for the reaction from the viewers after watching the video clip.
A police FIR has been registered against Sharma in Mumbai (Pydhonie Police Station) on the next day. She was accused of "hurting religious sentiments". A second FIR was registered in Thane (a suburb of Mumbai) on 30 May on the same grounds. Another FIR was registered by the AIMIM leader Asaduddin Owaisi in Hyderabad, for using "abusive, false and hurtful" words against the Prophet Muhammad and the Islam religion. Several other FIRs were registered at other locations in the country.
Sharma's comments were also widely shared internationally on social media. By 4 June, "insult to Prophet Mohammed" was trending among the top 10 hashtags in all the countries of Gulf Cooperation Council (GCC) and Turkey. The Grand Mufti of Oman called the remarks "insolent and obscene rudeness" by the official spokesperson of BJP and characterised it as war against every Muslim. He called for a boycott of all Indian products and confiscation of all Indian investments in Oman. The Government of Qatar summoned the Indian ambassador and asked for immediate condemnation and an apology for the remarks. The ambassador is reported to have replied that these were the views of "fringe elements" in India and in no way reflect the views of the Government of India. Kuwait and Iran have also summoned the Indian envoys and gave them protest notes.
--- ---...

Related articles based on keyword density
ISIS: The Spoils of the "Great Loot" in the Middle East - FPIF...
fpif.org 02/07/2014 Politics
Adding yet more warfare to the current crisis in the Middle East will perpetuate exactly what the imperial powers set out to do: tear an entire region...View Details»

Persian Inventions...
defence.pk 25/07/2014 History
SYSTEMS AND WAY OF LIFE • Protocol and Etiquette- rules of respect, cultured civilization, of order and harmony of everyday life. • Human Rights – 576...View Details»

Ninth Greater Sin: USURY IN QURAN AND SUNNAH ...
1host2u.com 04/10/2016 Culture
Ninth Greater Sin: Usury The ninth Greater sin is usury. That it is classified as a Greater Sin is clear in traditions recorded from the Holy Prophet ...View Details»

A Special Relationship The United States is teaming up with Al Qaeda, ...
harpers.org 14/12/2015 Military
By Andrew Cockburn One morning early in 1988, Ed McWilliams, a foreign-service officer posted to the American Embassy in Kabul, heard the thump of a m...View Details»

Take Action: Protests around the World Respond to Assault on Palestine...
globalresearch.ca 18/07/2014 News
Protests are being organized in cities around the world to respond to the ongoing assault on Palestine and the Palestinian people, including the murde...View Details»

---
EOF