Quiroz names national football squad
Quiroz names national football squad ...
en.mehrnews.com
14/03/2016 Sports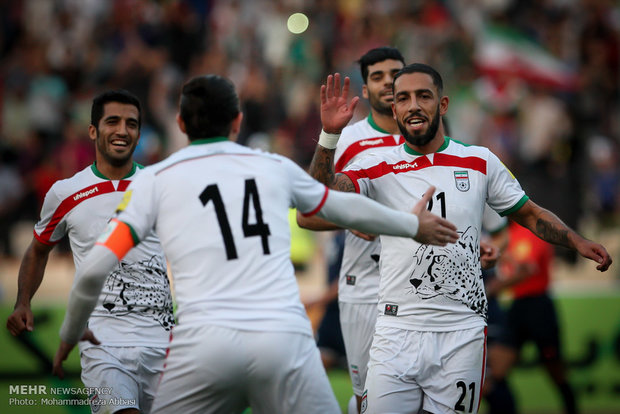 Keywords:#Ahmad_Nourollahi, #Ali_Ashouri, #Alireza_Beiranvand, #Alireza_Haghighi, #Alireza_Jahanbakhsh, #Anzali, #Ashkan_Dejagah, #Azadi, #Azadi_Hotel, #Carlos_Queiroz, #Darioush_Shojaian, #Dutch, #Ehsan_Pahlavan, #En.mehrnews.com, #Esteghlal, #Ezzatollah_Pourghaz, #Farshad_Ahmadzadeh, #Frankfurt, #Germany, #Greece, #India, #Iran, #Jalal_Hosseini, #Kamal_Kamyabinia, #Kan, #Karim_Ansarifard, #Khuzestan, #MNA, #Malavan, #Masoud_Shojaei, #Mehdi_Taremi, #Mehdi_Torabi, #Mehrdad, #Mehrdad_Mohammadi, #Milad_Mohammadi, #Mohammad_Ansari, #Mohammad_Hossein_Kan'ani, #Naft, #Oman, #Omid_Ebrahimi, #Pejman_Montazeri, #Persepolis, #Portugal, #Qatar, #Queiroz, #Ramin_Rezaian, #Rashid_Mazaheri, #Reza_Ghoochannejhad, #Russia, #Saeid_Ezzatollahi, #Saipa, #Sajjad_Shahbazzadeh, #Sardar_Azmoun, #Sepahan, #Seyed_Jalal_Hosseini, #Sousha_Makani, #Tabriz, #Tehran, #Vahid_Amiri, #Zobahan

News ID: 3579101 - Sat 12 March 2016 - 20:19
Sports
TEHRAN, Mar. 12 (MNA) – Iran's national football squad has 7 players from Persepolis and 3 players from Esteghlal FC.
Carlos Queiroz has called 19 players to the national camp for preparations for official matches against India and Oman. The camp will be established March 14-18.
Omid Ebrahimi, Mohsen Karimi, Sajjad Shahbazzadeh (Esteghlal FC), Ali Ashouri (Es. of Khuzestan), Sousha Makani, Ahmad Nourollahi, Kamal Kamyabinia, Mehdi Taremi, Ramin Rezaian, Farshad Ahmadzadeh, Mohammad Ansari (Persepolis), Mehrdad Mohammadi (FC Rahahan), Mehdi Torabi (FC Saipa), Darioush Shojaian (Gostaresh of Tabriz), Ezzatollah Pourghaz, Mohammad Hossein Kan'ani (FC Malavan of Anzali), Seyed Jalal Hosseini, Vahid Amiri, and Alireza Beiranvand (FC Naft of Tehran) should join the camp in Azadi Hotel by March 14.
The technical management also has a waiting list of 16 players which have a chance of being nominated for the final list of players:
Pejman Montazeri (Qatar's Al-Ahli), Masoud Shojaei (Qatar's Al-Ghorafa), Ashkan Dejagah (Qatar's Al-Arabi), Morteza Pouraliganji (Qatar's As-Sad), Alireza Jahanbakhsh (Dutch AZ Alkmaar), Reza Ghoochannejhad (Charlton Athletic, Football League Championship), Milad Mohammadi (Terek Grozny, Russia), Karim Ansarifard (Panionios FC, Greece), Sardar Azmoun, Saeid Ezzatollahi (Rostov, Russia), Ehsan Hajsafi (FSV Frankfurt, Germany), Mohammad Reza Akhbari (FC Tractorsazi), Mohammad Rashid Mazaheri, Ehsan Pahlavan (FC Zobahan), Wouriya Ghafouri (FC Sepahan), and Alireza Haghighi (Portugal's Maritimo) will have a chance to be placed in the final list of the national football squad.
--- ---
...

Related articles based on keyword density
Carlos Queiroz calls up 38 cheetahs for Armenia camp...
en.mehrnews.com 11/06/2016 Sports
News ID: 3681924 - Fri 10 June 2016 - 10:23 Sports TEHRAN, Jun. 10 (MNA) – The head coach of Iran's national football team, Carlos Queiroz, named 38...View Details»

Queiroz names squad for FIFA World Cup qualifier ...
en.mehrnews.com 28/08/2016 Sports
News ID: 3753840 - Sun 28 August 2016 - 09:15 Sports TEHRAN, Aug. 28 (MNA) – The manager of Iran's national football team called up 25 players for th...View Details»

Osasuna pair highlight Iran squad - Soccerway...
us.soccerway.com 31/12/2014 Sports
31 December 2014 Iran coach Carlos Queiroz named his 23-man squad for the Asian Cup in Australia, led by captain Javad Nekounam. *** Iran national tea...View Details»

Carlos Queiroz Announces Iran Squad for World Cup Qualifiers ...
tasnimnews.com 03/10/2016 Sports
TEHRAN (Tasnim) - Iranian national team head coach has named his 25-players for the 2018 World Cup qualifiers against Uzbekistan and South Korea. Ira...View Details»

28 invited for Team Melli's Austrian training camp ...
persianfootball.com 05/05/2014 Sports
by Martin Reza Babry on May - 5 - 2014 Persianfootball.com – TEHRAN, 28 players were named to participate in the Iranian national team's upcoming tra...View Details»

---
EOF