Nisar tells 'section of media' to refrain from portraying Iran as hostile country | Pakistan - Geo.tv
Nisar tells 'section of media' to refrain from portraying Iran as hostile country | Pakistan - Geo.tv...
geo.tv
03/04/2016 Politics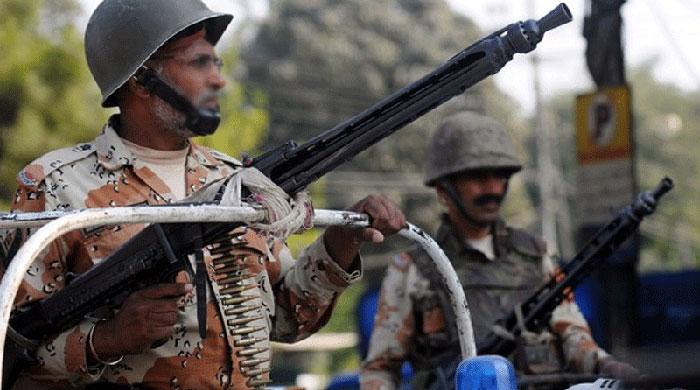 Keywords:#Chaudhry_Nisar_Ali_Khan, #Geo.tv, #India, #Iran, #Iran_President, #Iranian, #Islamabad, #Khan, #Pakistan, #President, #Punjab, #RAW, #Supreme_Court, #Tehran
ISLAMABAD: Interior Minister Chaudhry Nisar Ali Khan on Saturday urged "a section of media" to refrain from depicting Iran as a country hostile to Pakistan while discussing arrest of Indian spy.
"Iran has stood by Pakistan in difficult times. Iran President said Pakistan's security is Iran's security," said he while addressing a press conference a day after Iranian Ambassador met him.
"Even today things that didn't come under discussion during my meeting with the ambassador were reported in some newspapers," he said, adding that the ambassador was concerned about the way media was portraying Iran.
"I told him we have a free media, and they (media) don't even spare us," the interior minister said and urged the media to exercise caution in the interest of the country as some elements with vested interests want to undermines relations between the two brotherly countries.
He urged the media to avoid from "kite-flying" with regard to Iran and RAW agent's arrest and giving the impression that Tehran was playing a facilitator or neglecting RAW's activities. "It is a sensitive issue between the brotherly countries," he said.
Issue of RAW agent would be taken to logical end, but our problem is with India not with Iran," Nisar Ali Khan said.
Meeting with army chief
He said no secret meeting was held between the army chief, Punjab Chief Minister Shahbaz Shairf and him. "Interior minister and a chief minister do not need to hold secret meetings with army chief," he said.
"We often meet to discuss National Action Plan and other security issues. Sometimes these meetings take place in the Army House and sometimes in the PM House," he said.
Musharraf case
Responding to opposition criticism for Pervez Musharraf's departure, he said speaking truth in Pakistan has become difficult. "Everybody is fond of giving their own meanings to facts".
He said Gen Musharraf name was put on the Exist Control List on Supreme Court orders in April 2013 during caretaker setup.
The minister said the government appointed prosecutor, set up a special court and opposed court decision to let the former dictator off the hook but still it was being accused of non-seriousness. "What else do you call seriousness," he said.
"They have got lawyers to defend Ayyan Ali, but don't have one to appear in Musharraf case," he said without naming the Pakistan People's Party (PPP).
Islamabad Sit-in
The interior minister rejected the reports that two children lost their lives during a sit-in at Islamabad's D-Chow that began on Sunday.
He said the government would not spare anybody who made hate speeches during the protest, adding that it is not possible for any government in the world to stop a mob of thousands of people.
He conceded that there was a lack of coordination between the local administration and the provincial government of Punjab.
Nisar further said the government would put in place a mechanism to stop protests at D-Chowk and the Red Zone in the future.
--- ---
...

Related articles based on keyword density
Media Scam? Iran and America Join Hands in Waging "The Global War on T...
globalresearch.ca 01/07/2014 Politics
By Prof Michel Chossudovsky Global Research, June 21, 2014 Following the incursion of jihadist rebels of the Islamic State of Iraq and the Levant (IS...View Details»

India is also Iran's friend like Pakistan: Rouhani | Pakistan - Geo.tv...
geo.tv 28/03/2016 Politics
March 27, 2016 | By Muhammad Saleh Zaafir | Pakistan Iranian president says whenever Tehran, Islamabad come closer, rumours start swirling; tension wi...View Details»

ISIS: The Spoils of the "Great Loot" in the Middle East - FPIF...
fpif.org 02/07/2014 Politics
Adding yet more warfare to the current crisis in the Middle East will perpetuate exactly what the imperial powers set out to do: tear an entire region...View Details»

Persian Inventions...
defence.pk 25/07/2014 History
SYSTEMS AND WAY OF LIFE • Protocol and Etiquette- rules of respect, cultured civilization, of order and harmony of everyday life. • Human Rights – 576...View Details»

IRAN NUCLEAR TALKS STUMBLE, EXTENDED UNTIL JULY ...
hosted.ap.org 24/11/2014 News
BY MATTHEW LEE AND GEORGE JAHN ASSOCIATED PRESS VIENNA (AP) -- Still facing significant differences between the U.S. and Iran, negotiators gave up on...View Details»

---
EOF