Trilateral Strategic Coop. Committee established
Trilateral Strategic Coop. Committee established ...
en.mehrnews.com
06/04/2016 News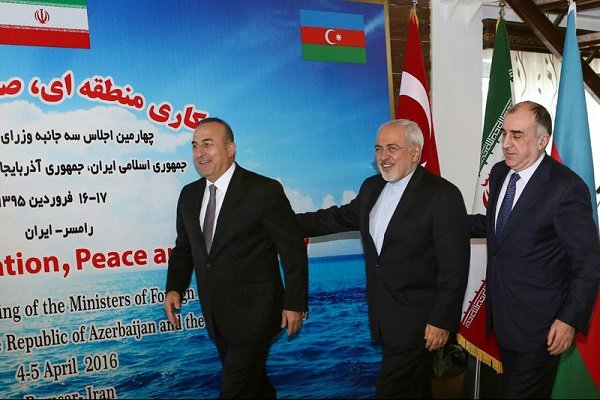 Keywords:#Armenia, #Azerbaijan, #Baku, #En.mehrnews.com, #Iran, #Islamic, #Istanbul, #JCPOA, #Javad_Zarif, #MNA, #Mazandaran, #Nagorno-Karabakh, #OIC, #Organization_of_Islamic_Cooperation, #Politics, #Ramsar, #Turkey

News ID: 3591521 - Tue 5 April 2016 - 20:42
Politics
RAMSAR, Apr. 05 (MNA) – Iran's Javad Zarif has told reporters Iran, Turkey, and Republic of Azerbaijan have established a deputy-FM level joint strategic cooperation committee.
Mr. Zarif was talking to reporters on Tuesday after the 4th trilateral meeting of Iran, Turkey, and Republic of Azerbaijan in Ramsar, in the northern lush province of Mazandaran. "All parties agreed on an agenda to be worked out for the next two years; critical fields of cooperation will be transportation, goods transit, energy, tourism, cultural issues, and a security agreement to provide security and peace for the region," he told the press.
"As evident in the final statement, all three sides emphasized upon common positions: respecting international law, immediate implementation of international deals such as JCPOA, and consolidation of unity in the upcoming meeting of Organization of Islamic Cooperation (OIC) in Istanbul," Zarif added. "The meeting also called for peaceful settlement of regional conflicts through ceasefire especially Nagorno-Karabakh which culminated in fire exchange between Republic of Azerbaijan and Armenia; the meeting voiced grave concerns over the conflict which would jeopardize the security of the whole region."
"A joint strategic committee was established to address and supervise implementation of past agreements; the next session of the foreign ministers of Iran, Turkey, and Republic of Azerbaijan will be held in Baku," Zarif told reporters.
--- ---
...

Related articles based on keyword density
Iran, Turkey agree not to seal fuel tanks of transit trucks ...
en.mehrnews.com 10/12/2014 Auto
Iran, Turkey agree not to seal fuel tanks of transit trucks URMIA, Dec. 10 (MNA) – Deputy of transportation office of West Azerbaijan province announc...View Details»

President Rouhani en route to Istanbul ...
en.mehrnews.com 13/04/2016 News
News ID: 3597289 - Tue 12 April 2016 - 22:54 Politics TEHRAN, Apr. 12 (MNA) – An official from Iran's president's office announced that President Rouh...View Details»

Zarif meets with heads of states, ministers in Munich ...
en.mehrnews.com 13/02/2016 Politics
News ID: 3050658 - Sat 13 February 2016 - 10:04 Politics MUNICH, Feb. 13 (MNA) – Iranian FM , having a tight schedule of bilateral meetings during hi...View Details»

Iranian delegation boycotts OIC closing meeting ...
en.mehrnews.com 16/04/2016 Politics
News ID: 3599303 - Fri 15 April 2016 - 18:35 Politics TEHRAN, Apr. 15 (MNA) – In protest to 4 anti-Iranian articles in the final statement of the 13t...View Details»

Street in Tehran named after Nelson Mandela ...
en.mehrnews.com 10/12/2014 Culture
Street in Tehran named after Nelson Mandela TEHRAN, Dec. 10 (MNA) – Africa Street in northern Tehran has been renamed after Nelson Mandela during a ce...View Details»

---
EOF