Paleolithic relics uncovered in Qeshm Island
Paleolithic relics uncovered in Qeshm Island ...
en.mehrnews.com
22/09/2016 History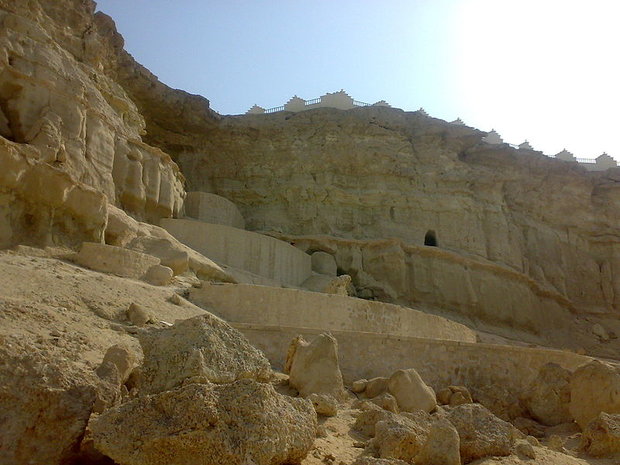 Keywords:#Cultural_Heritage, #Culture, #En.mehrnews.com, #Islamic, #Khorbas, #MNA, #News, #Paleolithic, #Parthian, #Qeshm, #Qeshm_Island, #Sassanid, #Sirvan

News ID: 3775017 - Wed 21 September 2016 - 12:34
Culture
QESHM, Sep. 21 (MNA) – Excavation work on demarcation of historical cave of Khorbas in Qeshm Island has come across relics of mid-Paleolithic, stone work architecture, and late Islamic-era pottery.
Sirvan Mohammadi Qasrian the head of the expedition told local office of the Cultural Heritage Research Center on Wednesday that the project sought to minimize the wreck of man-made changes on the ancient site; "unregulated constructions, agricultural activities, and road-building are active threats to the site; during the project, 19 excavations delved deep into the site which came across pottery works, stone building architecture, etc., belonging to late Islamic period," he added.
"The site locates 10km southwest of the island; the rich ancient relics have spread in an area of 10 hectares (27 acres) as the richest of all sites in the Island; the oldest relics are hand-carved tools probably by workers of mid-Paleolithic era; along these works, Parthian-Sassanid pottery and a cemetery were uncovered. In the cave, stone buildings of late-Islamic period are also easily discernible," Qasrian told the Research Center.
--- ---
...

Related articles based on keyword density
Darreh Shahr home to 16 ancient forts ...
en.mehrnews.com 28/12/2014 History
Darreh Shahr home to 16 ancient forts DARREH SHAHR, Dec. 28 (MNA) – Darreh Shahr in Ilam Province is home to 16 historical forts, Director General of ...View Details»

Parthian-era tunnel turns page in Mikal history ...
en.mehrnews.com 26/10/2016 History
News ID: 3806003 - Tue 25 October 2016 - 21:59 Culture RASHT, Oct. 25 (MNA) – A hand-dug tunnel in Mikal village near Siahkal, Guilan province, provi...View Details»

GLOBAL TOP 1000 WEBSITES 2016 – Ratak IT...
ratak.ir 16/03/2017 News
Ratak introduces global Top Websites of 2016 Data for table Top201702 1 1host2u.ir 1host2u.ir,Abarkooh,Armenia,Bahram 2,Bahram 3,Britain,Caesar,Carus,...View Details»

Relics of ancient six-millennia-old village uncovered...
en.mehrnews.com 10/04/2016 History
News ID: 3594243 - Sat 9 April 2016 - 19:34 Culture SANANDAJ, Apr. 09 (MNA) – Archaeologists in western province of Kurdistan have uncovered remains...View Details»

Street in Tehran named after Nelson Mandela ...
en.mehrnews.com 10/12/2014 Culture
Street in Tehran named after Nelson Mandela TEHRAN, Dec. 10 (MNA) – Africa Street in northern Tehran has been renamed after Nelson Mandela during a ce...View Details»

---
EOF