'Don't be a magician - be magic!' Leonard Cohen dies at 82
'Don't be a magician - be magic!' Leonard Cohen dies at 82...
euronews.com
12/11/2016 People
Keywords:#1934, #1968, #American, #Andy_Warhol, #Australia, #BBC, #Bible, #Buddhism, #Canada, #Canadian, #Colorado, #Columbia, #Columbia_University, #Congress, #Earth, #Euronews, #Euronews.com, #Europe, #European, #French, #Greek, #Heaven, #Hebrew, #Hitler, #Iodine, #Isaac, #Israel, #January, #Jewish, #Joan_Baez, #Leonard_Cohen, #Life, #Los_Angeles, #Mediterranean, #Miami, #Montreal, #Montreux, #New_York, #Nightingale, #Northrop, #Orange, #People, #Poland, #Polish, #Portugal, #Prime_Minister, #Rabbi, #Russian, #September, #Solomon, #Toronto, #UK, #US, #United_States, #University, #Walt_Whitman, #Warhol, #Western
Songwriter, performer and poet Leonard Cohen has passed away at the age of 82.
Canadian Prime Minister Justin Trudeau said: "It is with deep sorrow that I learned today of the death of the legendary Leonard Cohen. He will be fondly remembered for his gruff vocals, his self-deprecating humour and the haunting lyrics that made his songs the perennial favourite of so many generations."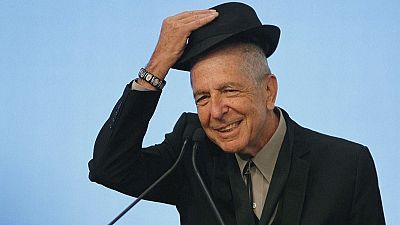 "Dance me to the end of love." -LEONARD COHEN

* * * ▶️https://t.co/inmH5tObp5
*Leonard Norman Cohen (1934 – 2016)
R.I.P & "Bon Voyage, Monsieur" pic.twitter.com/bl27nzKOMF
— Art my Fire (@ArtLify) 11 November 2016
Born in 1934 in Westmount, Quebec into a middle-class Jewish family, Cohen soon developed an admiration for the poetry of Spanish poet Federico Garcia Lorca and a fondness for American country music.
He moved to New York in 1966 at the age of 31 to break into the music business. His first album 'Songs of Leonard Cohen' was released in 1967.
Cohen was inducted into the Rock and Roll Hall of Fame in 2008 and received a Grammy Lifetime Achievement Award in 2010.
In 2007 American composer Philip Glass put Cohen's collection of poems 'Book of Longing' to music.
Glass spoke of the ease with which Cohen's words can be put to music: "He is both a songwriter and a poet so he brings a special combination and it makes his works very comfortable to set to music."
Looks like freedom but it feels like death
It's something in between, I guess
It's closing time . RIP Leonard Cohen. pic.twitter.com/C61FNULS4p
— Xabi Alonso (@XabiAlonso) 11 November 2016
Many were distracted by Cohen's nasal voice and deep-bass, conversational vocals, but his admirers saw his work as suffused with irony and self-deprecating humour, often touching on his relationship with fame and his reputation as a womaniser.
That was something Cohen mocked, saying: "My reputation as a ladies' man was a joke that caused me to laugh bitterly through the 10,000 nights I spent alone.''
https://en.wikipedia.org/wiki/Leonard_Cohen
Leonard Norman Cohen, CC GOQ (September 21, 1934 – November 7, 2016) was a Canadian singer, songwriter, poet and novelist. His work explored religion, politics, isolation, sexuality, and personal relationships. Cohen was inducted into both the Canadian Music Hall of Fame and the Canadian Songwriters Hall of Fame as well as the Rock and Roll Hall of Fame. He was a Companion of the Order of Canada, the nation's highest civilian honour. In 2011, Cohen received one of the Prince of Asturias Awards for literature and the ninth Glenn Gould Prize.
Cohen's first album was Songs of Leonard Cohen (1967) followed by Songs from a Room (1969) (featuring the often-recorded "Bird on the Wire") and Songs of Love and Hate (1971). His 1977 record Death of a Ladies' Man was co-written and produced by Phil Spector, which was a move away from Cohen's previous minimalist sound. In 1979 Cohen returned with the more traditional Recent Songs, which blended his acoustic style with jazz and Oriental and Mediterranean influences. "Hallelujah" was first released on Cohen's studio album Various Positions in 1984. I'm Your Man in 1988 marked Cohen's turn to synthesized productions and remains his most popular album. In 1992 Cohen released its follow-up, The Future, which had dark lyrics and references to political and social unrest.
Cohen returned to music in 2001 with the release of Ten New Songs, which was a major hit in Canada and Europe. His eleventh album, Dear Heather, followed in 2004. After a successful string of tours between 2008 and 2010, Cohen released three albums in the final four years of his life: Old Ideas (2012), Popular Problems (2014) and You Want It Darker (2016), the last of which was released three weeks before his death.
Early life
Cohen was born on September 21, 1934 in Westmount, Quebec, an English-speaking area of Montreal, into a middle-class Jewish family. His mother, Marsha (Masha) Klonitsky, was the daughter of a Talmudic writer, Rabbi Solomon Klonitsky-Kline, of Lithuanian Jewish ancestry. His paternal grandfather, whose family had emigrated from Poland, was Lyon Cohen, founding president of the Canadian Jewish Congress. His father, Nathan Cohen, who owned a substantial clothing store, died when Cohen was nine years old. On the topic of being a Kohen, Cohen has said that "I had a very Messianic childhood." He told Richard Goldstein in 1967, "I was told I was a descendant of Aaron, the high priest."
Cohen attended Roslyn Elementary School and Herzliah High School, where his literary mentor Irving Layton was a teacher, and, from 1948, Westmount High School, where he was involved with the student council and studied music and poetry. He became especially interested in the poetry of Federico García Lorca. As a teenager, he learned to play the guitar and formed a country–folk group called The Buckskin Boys. Although he initially played a regular acoustic guitar, he soon switched to playing a classical guitar after meeting a young Spanish flamenco guitar player who taught him "a few chords and some flamenco." He said that much of his love of music came from his mother, who he said had a lovely voice:
She was Russian and sang songs around the house. And I know that those changes, those melodies, touched me very much. She would sing with us when I took my guitar to a restaurant with some friends; my mother would come, and we'd often sing all night.
Cohen frequented Saint Laurent Boulevard, where he went for fun, and ate at places such as the Main Deli Steak House. According to journalist David Sax, the Main Deli was where Cohen and one of his cousins would go to "watch the gangsters, pimps, and wrestlers dance around the night." Cohen also enjoyed visiting the previously raucous bars of Old Montreal as well as Saint Joseph's Oratory, which had the closest restaurant near Westmount where he and his friend Mort Rosengarten could go for coffee and a smoke. After moving out of Westmount, Cohen purchased a place in the previously working-class neighbourhood of Montreal's Little Portugal on Saint-Laurent Boulevard where he read his poetry at various surrounding clubs. It is also during his time there in the small neighbourhood that he wrote the lyrics to what would become some of his most famous songs.
Poetry and novels
For six decades, Leonard Cohen revealed his soul to the world through poetry and song—his deep and timeless humanity touching our very core. Simply brilliant. His music and words will resonate forever.
Rock & Roll Hall of Fame, 2008
In 1951 Cohen enrolled at McGill University, where he became president of the McGill Debating Union and won the Chester MacNaghten Literary Competition for the poems "Sparrows" and "Thoughts of a Landsman." Cohen published his first poems in March 1954 in the magazine CIV/n. The issue also included poems by Cohen's poet–professors (who were also on the editorial board), Irving Layton and Louis Dudek. Cohen graduated from McGill the following year with a B.A. degree. His literary influences during this time included William Butler Yeats, Irving Layton (who taught political science at McGill and became both Cohen's mentor and friend), Walt Whitman, Federico García Lorca, and Henry Miller. His first published book of poetry, Let Us Compare Mythologies (1956), was published by Dudek as the first book in the McGill Poetry Series the year after Cohen's graduation. The book contained poems written largely when Cohen was between the ages of 15 and 20, and Cohen dedicated the book to his late father. The well-known Canadian literary critic Northrop Frye wrote a review of the book in which he gave Cohen "restrained praise".
After completing his undergraduate degree, Cohen spent a term in McGill's law school and then a year (1956–57) at the School of General Studies at Columbia University. Cohen described his graduate school experience as "passion without flesh, love without climax." Consequently, Cohen left New York and returned to Montreal in 1957, working various odd jobs and focusing on the writing of fiction and poetry, including the poems for his next book, The Spice-Box of Earth (1961), which was the first book that Cohen published through the Canadian publishing company McClelland & Stewart. His father's will provided him with a modest trust income, sufficient to allow him to pursue his literary ambitions for the time, and The Spice-Box of Earth was successful in helping to expand the audience for Cohen's poetry, helping him reach out to the poetry scene in Canada, outside the confines of McGill University. The book also helped Cohen gain critical recognition as an important new voice in Canadian poetry. One of Cohen's biographers, Ira Nadel, stated that "reaction to the finished book was enthusiastic and admiring.... The critic Robert Weaver found it powerful and declared that Cohen was 'probably the best young poet in English Canada right now.'"
Cohen continued to write poetry and fiction throughout much of the 1960s and preferred to live in quasi-reclusive circumstances after he bought a house on Hydra, a Greek island in the Saronic Gulf. While living and writing on Hydra, Cohen published the poetry collection Flowers for Hitler (1964), and the novels The Favourite Game (1963) and Beautiful Losers (1966). His novel The Favourite Game was an autobiographical bildungsroman about a young man who discovers his identity through writing. Beautiful Losers received a good deal of attention from the Canadian press and stirred up controversy because of a number of sexually graphic passages. In 1966 Cohen also published Parasites of Heaven, a book of poems. Both Beautiful Losers and Parasites of Heaven received mixed reviews and sold few copies.
Subsequently, Cohen published less, with major gaps, concentrating more on recording songs. In 1978 he published his first book of poetry in many years, Death of a Lady's Man (not to be confused with the album he released the previous year with the similar title, Death of a Ladies' Man). It was not until 1984 that Cohen published his next book of poems, Book of Mercy, which won him the Canadian Authors Association Literary Award for Poetry. The book contains 50 prose-poems, influenced by the Hebrew Bible and Zen writings. Cohen himself referred to the pieces as "prayers". In 1993 Cohen published Stranger Music: Selected Poems and Songs, and in 2006, after 10 years of delays, additions, and rewritings, Book of Longing. The Book of Longing is dedicated to the poet Irving Layton. Also, during the late 1990s and 2000s, many of Cohen's new poems and lyrics were first published on the fan website The Leonard Cohen Files, including the original version of the poem "A Thousand Kisses Deep" (which Cohen later adapted for a song).
Cohen's writing process, as he told an interviewer in 1998, was "like a bear stumbling into a beehive or a honey cache: I'm stumbling right into it and getting stuck, and it's delicious and it's horrible and I'm in it and it's not very graceful and it's very awkward and it's very painful and yet there's something inevitable about it."
In 2011 Cohen was awarded the Prince of Asturias Award for literature.
Recording career
1960s and 1970s
In 1967, disappointed with his lack of financial success as a writer, Cohen moved to the United States to pursue a career as a folk music singer–songwriter. During the 1960s, he was a fringe figure in Andy Warhol's "Factory" crowd. Warhol speculated that Cohen had spent time listening to Nico in clubs and that this had influenced his musical style. His song "Suzanne" became a hit for Judy Collins (who subsequently covered a number of Cohen's other songs, as well), and was for many years his most covered song. Collins recalls that when she first met him, he said he couldn't sing or play the guitar, nor did he think "Suzanne" was even a song:
And then he played me "Suzanne... I said, "Leonard, you must come with me to this big fundraiser I'm doing"...Jimi Hendrix was on it. He'd never sung before then. He got out on stage and started singing. Everybody was going crazy—they loved it. And he stopped about halfway through and walked off the stage. Everybody went nuts...They demanded that he come back. And I demanded; I said, "I'll go out with you." So we went out, and we sang it. And of course, that was the beginning.
People think Leonard is dark, but actually his sense of humor and his edge on the world is extremely light.
Judy Collins
She first introduced him to television audiences during one of her shows in 1976, where they performed duets of his songs. Still new to bringing his poetry to music, he once forgot the words to "Suzanne" while singing to a different audience. Collins told Bill Moyers, during a television interview, that she felt Cohen's Jewish background was an important influence on his words and music.
In recent years, other singers such as Joan Baez have sung it during their tours. Cohen has stated that he was duped into giving up the rights for the song, but was glad it happened, as it would be wrong to write a song that was so well-loved and to get rich for it also. After performing at a few folk festivals, he came to the attention of Columbia Records representative John H. Hammond, who signed Cohen to a record deal.
Cohen's first album was Songs of Leonard Cohen (1967). He appeared on BBC TV in 1968 where he sang a duet from the album with Julie Felix.
Although Hammond was originally supposed to produce the record, he was ill and was replaced by the producer John Simon. Simon and Cohen clashed over instrumentation and mixing; Cohen wanted the album to have a sparse sound, while Simon felt the songs could benefit from arrangements that included strings and horns. According to biographer Ira Nadel, although Cohen was able to make changes to the mix, some of Simon's additions "couldn't be removed from the four-track master tape." Nevertheless, the album became a cult favourite in the U.S., as well as in the UK, where it spent over a year on the album charts. Several of the songs on that first album were covered by other popular folk artists, including James Taylor and Judy Collins.
Cohen followed up that first album with Songs from a Room (1969) (featuring the often-recorded "Bird on the Wire") and Songs of Love and Hate (1971). In 1970 Cohen toured for the first time, with dates in the United States, Canada, and Europe, and appeared at the Isle of Wight Festival. He toured again in Europe and Israel in 1972 with some of the same band-mates, including Charlie Daniels and his producer, Bob Johnston; the band was nicknamed The Army. Both tours were represented on the Live Songs LP. Leonard Cohen Live at the Isle of Wight 1970 was released in 2009. The 1972 tour was also filmed by Tony Palmer under the title Bird on a Wire, which was shown re-cut under Cohen's guidance in 1974 but released to the public only in 2010, reconstructed according to Palmer's original version.
In 1971 the film director Robert Altman featured the songs "The Stranger Song," "Winter Lady," and "Sisters of Mercy" (all from Cohen"s debut album Songs of Leonard Cohen) on the soundtrack for his Western film McCabe & Mrs. Miller.
In 1973 Columbia Records released "Leonard Cohen: Live Songs," produced by Bob Johnson, which gathered performances on side one, of "Passing Through," "You Know Who I Am," "Bird on a Wire," "Nancy," and on side two, of "Story of Isaac," "Please Don't Pass Me By," and "Queen Victoria."
Beginning around 1974, Cohen's collaboration with pianist and arranger John Lissauer created a live sound praised by the critics. They toured together in 1974 in Europe and in U.S. and Canada in late 1974 and early 1975, in support of Cohen's record New Skin for the Old Ceremony, which was produced and arranged by Lissauer. In late 1975 Cohen and Lissauer performed a short series of shows in the U.S. and Canada with a new band, in support of Cohen's Best Of release. The tour included new songs from an album in progress, co-written by Cohen and Lissauer and entitled Songs for Rebecca. However, none of the recordings from these live tours with Lissauer were ever officially released, and the album was abandoned in 1976.
In 1976 Cohen, without Lissauer, embarked on a new major European tour with a new band and changes in his sound and arrangements, again, in support of his The Best of Leonard Cohen release (in Europe retitled as Greatest Hits). Laura Branigan was one of his backup singers during the tour, and the set-list included the unreleased songs "Everybody's Child" (a.k.a. "Blessed Is the Memory") and "Storeroom" (both released as bonus tracks to 2007 reissue of Songs of Leonard Cohen), and the new song "Do I Have to Dance All Night?" (which was released as a single with the song "The Butcher" in a single available in Europe only). From April to July, Cohen gave 55 shows, including his first appearance at the famous Montreux Jazz Festival.
After the European tour of 1976, Cohen again attempted a new change in his style and arrangements; his new 1977 record, Death of a Ladies' Man (one year later, in 1978, Cohen also released a volume of poetry with the coyly revised title, Death of a Lady's Man), was co-written and produced by Phil Spector, known as the inventor of the "Wall of Sound" technique, which backs up pop music with many layers of instrumentation, an approach very different from Cohen's usually minimalist instrumentation. The recording of the album was fraught with difficulty—Spector reportedly mixed the album in secret studio sessions, and Cohen said Spector once threatened him with a crossbow. Cohen thought the end result "grotesque," but also "semi-virtuous." The record was released by Spector's label, Warner, and was returned to Columbia's Cohen catalogue in the late 1980s. Cohen did not take part in the album's promotion, but in his tours of 1979, 1980, and 1985, he performed two songs from the album, "Memories" and "Iodine." However, Cohen chose not to include any of the album's songs on his later compilations More Best of Leonard Cohen and The Essential Leonard Cohen.
Leonard acknowledges that the whole act of living contains immense amounts of sorrow and hopelessness and despair; and also passion, high hopes, deep love, and eternal love.
Jennifer Warnes, describing Cohen's lyrics
In 1979 Cohen returned with the more traditional Recent Songs, which blended his acoustic style with jazz and Oriental and Mediterranean influences. Beginning with this record, Cohen began to co-produce his albums. Produced by Cohen and Henry Lewy (Joni Mitchell's sound engineer), Recent Songs included performances by Passenger, an Austin-based jazz–fusion band that met Cohen through Mitchell. The band helped Cohen create a new sound by featuring instruments like the oud, the Gypsy violin, and the mandolin. The album was supported by Cohen's major tour with the new band, and Jennifer Warnes and Sharon Robinson on the backing vocals, in Europe in late 1979, and again in Australia, Israel, and Europe in 1980. In 2000, Columbia released an album of live recordings of songs from the 1979 tour, entitled Field Commander Cohen: Tour of 1979.
During the 1970s, Cohen toured twice with Jennifer Warnes as a backup singer (1972 and 1979). Warnes would become a fixture on Cohen's future albums, receiving full co-vocals credit on Cohen's 1985 album Various Positions (although the record was released under Cohen's name, the inside credits say "Vocals by Leonard Cohen and Jennifer Warnes"). In 1987 she recorded an album of Cohen songs, Famous Blue Raincoat. Cohen said that she sang backup for his 1980 tour, even though her career at the time was in much better shape than his. "So this is real friend," he said. "Someone who in the face of great derision, has always supported me."
In the early 1980s, Cohen co-wrote the rock musical film Night Magic with Lewis Furey, starring Carole Laure and Nick Mancuso (voice-over by Furey); the LP was released in 1985. Lissauer produced Cohen's next record Various Positions, which was released in December 1984 (and in January and February 1985 in various European countries). The LP included "Dance Me to the End of Love," which was promoted by Cohen's first video clip, directed by French photographer Dominique Issermann, and the frequently covered "Hallelujah." Cohen supported the release of the album with his biggest tour to date, in Europe and Australia, and with his first tour in Canada and the United States since 1975, although Columbia declined to release the album in the United States, where it was pressed in small number of copies by the independent Passport Records. Anjani Thomas, who would become Cohen's partner, and a regular member of Cohen's recording team, joined his touring band. The band performed at the Montreux Jazz Festival, and the Roskilde Festival. They also gave a series of highly emotional and politically controversial concerts in Poland, which was under martial law and performed the song "The Partisan," regarded as the hymn of the Polish Solidarity movement. During the 1980s, almost all of Cohen's songs were performed in the Polish language by Maciej Zembaty.
In 1986 Cohen appeared in the episode "French Twist" of the TV series Miami Vice. In 1987 Jennifer Warnes's tribute album Famous Blue Raincoat helped restore Cohen's career in the U.S. The following year he released I'm Your Man. The album, self-produced by Cohen, was promoted by black-and-white video shot by Dominique Issermann at the beach of Normandy. Cohen supported the record with series of television interviews and an extensive tour of Europe, Canada, and the U.S. Many shows were broadcast on European and U.S. television and radio stations, while Cohen performed for the first time in his career on PBS's Austin City Limits show; he also performed at the Roskilde Festival again, among other dates. The tour gave the basic structure to typical Cohen's three-hours two-acts concert, which he used in his tours in 1993, 2008–10, and 2012. The selection of performances from the late 1980s was released in 1994 on Cohen Live.
1990s
The use of the album track "Everybody Knows" from I'm Your Man and "If It Be Your Will" in the 1990 film Pump Up the Volume helped expose Cohen's music to a younger audience. He first introduced the song during his world tour in 1988. The song "Everybody Knows" also featured prominently in fellow Canadian Atom Egoyan's 1994 film, Exotica. In 1992, Cohen released The Future, which urges (often in terms of biblical prophecy) perseverance, reformation, and hope in the face of grim prospects. Three tracks from the album – "Waiting for the Miracle", "The Future" and "Anthem" – were featured in the movie Natural Born Killers, which also promoted Cohen's work to a new generation of US listeners.
As with I'm Your Man, the lyrics on the The Future were dark, and made references to political and social unrest. The title track is reportedly a response to the L.A. unrest of 1992. Cohen promoted the album with two music videos, for "Closing Time" and "The Future", and supported the release with the major tour through Europe, United States and Canada, with the same band as in his 1988 tour, including a second appearance on PBS's Austin City Limits. Some of the Scandinavian shows were broadcast live on the radio. The selection of performances, mostly recorded on the Canadian leg of the tour, was released on 1994 Cohen Live album.
In 1993, Cohen also published his book of selected poems and songs, Stranger Music: Selected Poems and Songs, on which he had worked since 1989. It includes a number of new poems from the late 1980s and early 1990s and major revision of his 1978 book Death of a Lady's Man.
In 1994, Cohen retreated to the Mt. Baldy Zen Center near Los Angeles, beginning what became five years of seclusion at the center. In 1996, Cohen was ordained as a Rinzai Zen Buddhist monk and took the Dharma name Jikan, meaning "silence". He served as personal assistant to Kyozan Joshu Sasaki Roshi.
In 1997, Cohen oversaw the selection and release of More Best of Leonard Cohen album, which included a previously unreleased track, "Never Any Good", and an experimental piece "The Great Event". The first was left over from Cohen's unfinished mid-1990s album, which was announced to include songs like "In My Secret Life" (already recited as song-in-progress in 1988) and "A Thousand Kisses Deep", both later re-worked with Sharon Robinson for the 2001 album Ten New Songs. The album won him four Canadian Juno Awards in 2002: Best Artist, Best Songwriter, Best Pop Album, and Best Video ("In My Secret Life"). And the following year he was given Canada's highest civilian honor, the Companion of the Order of Canada.
Although around 2000 there was a public impression that Cohen would not resume recording or publishing; he returned to Los Angeles in May 1999. He began to contribute regularly to The Leonard Cohen Files fan website, emailing new poems and drawings from Book of Longing and early versions of new songs, like "A Thousand Kisses Deep" in September 1998 and Anjani Thomas's story sent on May 6, 1999, the day they were recording "Villanelle for our Time" (released on 2004's Dear Heather album). The section of The Leonard Cohen Files with Cohen's online writings has been titled "The Blackening Pages".
2000s
Post-monastery records
After two years of production, Cohen returned to music in 2001 with the release of Ten New Songs, featuring a heavy influence from producer and co-composer Sharon Robinson. The album, recorded at Cohen's and Robinson's home studios – Still Life Studios, includes the song "Alexandra Leaving", a transformation of the poem "The God Abandons Antony", by the Greek poet Constantine P. Cavafy. The album was a major hit for Cohen in Canada and Europe, and he supported it with the hit single "In My Secret Life" and accompanying video shot by Floria Sigismondi.
In October 2004, Cohen released Dear Heather, largely a musical collaboration with jazz chanteuse (and current romantic partner) Anjani Thomas, although Sharon Robinson returned to collaborate on three tracks (including a duet). As light as the previous album was dark, Dear Heather reflects Cohen's own change of mood – he has said in a number of interviews that his depression has lifted in recent years, which he attributed to Zen Buddhism. In an interview following his induction into the Canadian Songwriters' Hall of Fame, Cohen explained that the album was intended to be a kind of notebook or scrapbook of themes, and that a more formal record had been planned for release shortly afterwards, but that this was put on ice by his legal battles with his ex-manager.
Blue Alert, an album of songs co-written by Anjani and Cohen, was released on May 23, 2006 to positive reviews. Sung by Anjani, who according to one reviewer "...sounds like Cohen reincarnated as woman... though Cohen doesn't sing a note on the album, his voice permeates it like smoke." The album includes a recent musical setting of Cohen's "As the mist leaves no scar", a poem originally published in The Spice-Box of Earth in 1961 and adapted by Phil Spector as "True Love Leaves No Traces" on Death of a Ladies' Man album. Blue Alert also included Anjani's own version of "Nightingale", performed by her and Cohen on his Dear Heather, as well the country song "Never Got to Love You", apparently made after an early demo version of Cohen's own 1992 song "Closing Time". During the 2010 tour, Cohen was closing his live shows with the performance of "Closing Time" which included the recitation of verses from "Never Got to Love You". The title song, "Blue Alert", and "Half the Perfect World" were covered by Madeleine Peyroux on her 2006 album Half the Perfect World.
Before embarking on his 2008–2010 world tour, and without finishing the new album which had been in work since 2006, Cohen contributed a few tracks to other artists' albums – a new version of his own "Tower of Song" was performed by him, Anjani Thomas and U2 in the 2006 tribute film Leonard Cohen I'm Your Man (the video and track were included on the film's soundtrack and released as the B-side of U2's single "Window in the Skies", reaching No 1 in the Canadian Singles Chart). In 2007 he recited "The Sound of Silence" on album Tribute to Paul Simon: Take Me to the Mardi Gras and "The Jungle Line" by Joni Mitchell, accompanied by Herbie Hancock on piano, on Hancock's Grammy-winning album River: The Joni Letters, while in 2008, he recited the poem "Since You've Asked" on the album Born to the Breed: A Tribute to Judy Collins.
Lawsuits and financial troubles
Sylvie Simmons explains in her 2012 biography on Cohen that Kelley Lynch, Cohen's longtime manager, "took care of Leonard's business affairs … not simply his manager but a close friend, almost part of the family." Simmons notes that in late 2004, Cohen's daughter Lorca began to suspect Lynch of financial impropriety, and when Cohen checked his bank accounts, he noticed that he had unknowingly paid a credit card bill of Lynch's for $75,000 and also found that most of the money in his accounts was gone (including money from his retirement accounts and charitable trust funds). Cohen discovered that this had begun as early as 1996 when Lynch started selling Cohen's music publishing rights despite the fact that Cohen had no financial incentive to do so at the time.
In October 2005, Cohen sued Kelley Lynch, alleging that she had misappropriated over US $5 million from Cohen's retirement fund leaving only $150,000. Cohen was sued in turn by other former business associates. These events placed him in the public spotlight, including a cover feature on him with the headline "Devastated!" in Canada's Maclean's magazine. In March 2006, Cohen won a civil suit and was awarded US$9 million by a Los Angeles County superior court. Lynch, however, ignored the suit and did not respond to a subpoena issued for her financial records. As a result, it was widely reported that Cohen might never be able to collect the awarded amount.
In 2007, US. District Judge Lewis T. Babcock dismissed a claim by Cohen for more than US$4.5 million against Colorado investment firm Agile Group, and in 2008 he dismissed a defamation suit that Agile Group filed against Cohen. Cohen has been under new management since April 2005.
In March 2012, Sylvie Simmons notes that Kelley Lynch was arrested in Los Angeles for "violating a permanent protective order that forbade her from contacting Leonard, which she had ignored repeatedly. On April 13, the jury found her guilty on all charges. On April 18 she was sentenced to eighteen months in prison and five years probation." Cohen told that court, "It gives me no pleasure to see my onetime friend shackled to a chair in a court of law, her considerable gifts bent to the services of darkness, deceit, and revenge. It is my prayer that Ms. Lynch will take refuge in the wisdom of her religion, that a spirit of understanding will convert her heart from hatred to remorse, from anger to kindness, from the deadly intoxication of revenge to the lowly practices of self-reform."
In May 2016, United States District Judge Stephen Victor Wilson ordered the dismissal of Kelley Lynch's "RICO" suit against Leonard Cohen and his lawyers Robert Kory and Michelle Rice of Kory & Rice, LLP as "legally and/or factually patently frivolous."
Book of Longing
Cohen's book of poetry and drawings, Book of Longing, was published in May 2006; in March a Toronto-based retailer offered signed copies to the first 1,500 orders placed online. All 1,500 sold within hours. The book quickly topped bestseller lists in Canada. On May 13, 2006, Cohen made his first public appearance in thirteen years, at an in-store event at a bookstore in Toronto. Approximately 3,000 people turned up for the event, causing the streets surrounding the bookstore to be closed. He sang two of his earliest and best-known songs: "So Long, Marianne" and "Hey, That's No Way To Say Goodbye", accompanied by the Barenaked Ladies and Ron Sexsmith. Also appearing with him was Anjani, the two promoting her new CD along with his book.
In 2006, Philip Glass composed music to Cohen's 2006 book of poetry Book of Longing. Following the series of live performances which included Glass on keyboards, Cohen's recorded spoken text, four voices (soprano, mezzo-soprano, tenor, and bass-baritone), and other instruments, and as well the screenings of Cohen's artworks and drawings, Glass' label Orange Mountain Music released a double CD with the recording of the work, entitled Book of Longing. A Song Cycle based on the Poetry and Artwork of Leonard Cohen.
Cohen died on November 7, 2016 at the age of 82 at his home in Los Angeles. His death was not announced until November 10.
His funeral was held on November 10, 2016 in Montreal, at a cemetery on Mount Royal, his congregation Shaar Hashomayim confirmed. As was his wish, Cohen was laid to rest with a Jewish rite in a family plot.
A memorial is planned to take place in Los Angeles at a future date. Cohen was survived by his two children and two grandchildren.
His son Adam stated, "My father passed away peacefully at his home in Los Angeles with the knowledge that he had completed what he felt was one of his greatest records . He was writing up until his last moments with his unique brand of humour."
Tributes were paid by numerous stars and political figures. Citizens and officials in Montreal, Canada, where he spent his early life, are considering honoring him by naming a street and other locations, including a library, after him.
---Canadian songwriter, performer and poet Leonard Cohen has passed away at the age of 82. ---
...

Related articles based on keyword density
Persian Inventions...
defence.pk 25/07/2014 History
SYSTEMS AND WAY OF LIFE • Protocol and Etiquette- rules of respect, cultured civilization, of order and harmony of everyday life. • Human Rights – 576...View Details»

Introducing BDS Movement Against Occupation and Zionist Apartheid...
en.wikipedia.org 10/04/2016 Culture
Introducing BDS: Boycott, Divestment and Sanctions The Boycott, Divestment and Sanctions Movement (BDS Movement) is a global campaign attempting to i...View Details»

Take Action: Protests around the World Respond to Assault on Palestine...
globalresearch.ca 18/07/2014 News
Protests are being organized in cities around the world to respond to the ongoing assault on Palestine and the Palestinian people, including the murde...View Details»

Media Scam? Iran and America Join Hands in Waging "The Global War on T...
globalresearch.ca 01/07/2014 Politics
By Prof Michel Chossudovsky Global Research, June 21, 2014 Following the incursion of jihadist rebels of the Islamic State of Iraq and the Levant (IS...View Details»

Canada officially cuts diplomatic ties with Iran...
fa.wikipedia.org 07/09/2012 History
On September 7, 2012 (during APEC Russia 2012 summit), Canadian Minister of Foreign Affairs John Baird announced that Canada was breaking diplomatic r...View Details»

---
EOF