Rajkummar Rao Starrer Newton Inspired By The Iranian Film Secret Ballot? ...
india.com
23/09/2017 Fun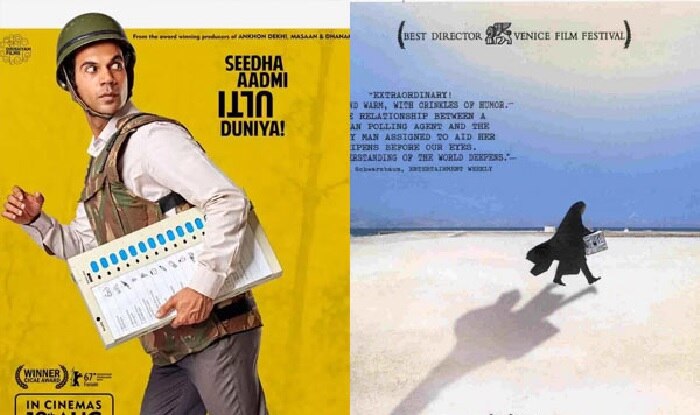 Keywords:#Bollywood, #Hollywood, #India, #India.com, #Iranian, #Newton, #Oscar, #Persian, #YouTube
By India.com Entertainment Desk
Is Newton A Copy of Secret Ballot?
Newton has been chosen as India's official selection for Oscars 2018. Needless to say, the entire Bollywood fraternity is rejoicing with this development. However, a day after this news hit the stands, there's a buzz doing the rounds that the film has been inspired from by a 2001 Iranian movie titled Secret Ballot (whose original title in Persian is Ra'ye makhfi) , which was well received at many international film festivals. Helmed by Babak Payami, the film is based on a similar theme as that of Newton. It focuses on the life of a ballot officer who visits a barren and desolate place to plead the voters out there to cast their votes and take part in the elections. In Newton, Rajkummar Rao too plays the role of an election officer who goes to the Maoist infested land in Chattisgarh to educate the clueless locals about the way the system works and to urge them to vote.
With many calling it an Indian version of the Iranian film, people fear that it could play spoilsport and hamper the film in the final selection. When NDTV approached the film's director, Amit Masurkar, he stated that he was aware of the existence of an Iranian film with a similar plot line. He said, "I remember after I wrote the script just before I was going to shoot, a friend told me about Secret Ballot. Since the film was on YouTube I watched bits and pieces but that was very different I felt. A lady polling officer goes door to door. Also, there is some kind of romantic track which is not in Newton. I knew someday people will draw similarities but what can one do? When you write a story there is a possibility that someone else must have written a similar story somewhere in the world."
Well, that's indeed true. However, the reason why we're worried is that the Oscar jury is known to discard a film if they find it to be inspired by another movie without mentioning or giving proper credit to it in the beginning. A similar thing had happened when Sanjay Leela Bhansali's Black was selected and there was a lot of commotion of the film being inspired by a Hollywood movie. Well, what awaits the Rajkummar Rao starrer film, only time will tell. Until then all we can do is wait and watch.
--- ---
...

Related articles based on keyword density
Iranian cinema comes into focus at TIFF Cinematheque - The Globe and M...
theglobeandmail.com 07/03/2015 Fun
*** Close-Up is a film about the power of film to erase the differences between life and art. (Janus) KATE TAYLOR The Globe and Mail Published Friday,...View Details»

GLOBAL TOP 1000 WEBSITES 2016 – Ratak IT...
ratak.ir 16/03/2017 News
Ratak introduces global Top Websites of 2016 Data for table Top201702 1 1host2u.ir 1host2u.ir,Abarkooh,Armenia,Bahram 2,Bahram 3,Britain,Caesar,Carus,...View Details»

The Wine of Life and Fate: The Rubaiyat's FitzGerald version and its i...
bignewsnetwork.com 28/12/2014 Arts
The Wine of Life and Fate: The Rubaiyat's FitzGerald version and its influence Big News Network (IANS) Saturday 27th December, 2014 Call it fate but l...View Details»

Navroz Special: 6 fascinating facts about the festival | Latest News &...
india.com 18/08/2014 Culture
Navroz or Nowruz is celebrated as the Iranian and Persian New Year; it is the first day of spring or equinox. The day is calculated as the sun crosses...View Details»

Iran's water crisis the product of decades of bad planning - The Washi...
washingtonpost.com 03/07/2014 Nature
By Jason Rezaian July 2 at 7:00 AM Follow @jrezaian TEHRAN — Iran is headed for a water shortage of epic proportions, and little is being done to re...View Details»

---
EOF