Bitcoin: China Has Launched a Digital Yuan. And it Will Change Everything
Bitcoin: China Has Launched a Digital Yuan. And it Will Change Everything ...
seekingalpha.com
12/04/2021 Economy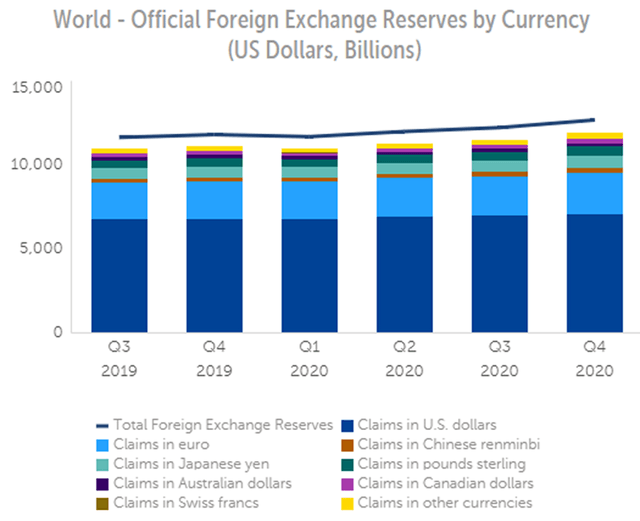 Keywords:#2015, #American, #Australia, #Bank_of_China, #Beijing, #Beijing_Olympics, #Bitcoin, #Boston, #British, #Chengdu, #China, #Chinese, #Digital_Currency, #Dutch, #EU, #Electronic, #European, #European_Parliament, #Facebook, #Fukushima, #Google, #Harvard, #Harvard_University, #India, #International_Monetary_Fund, #Iran, #Japan, #Japanese, #Korea, #MIT, #Marines, #Marshall_Plan, #Netherlands, #New_York, #New_York_University, #Nikkei, #North_Korea, #Northern_Hemisphere, #Obama, #Obama_administration, #Olympic, #Olympic_Games, #Olympics, #Parliament, #People, #People's_Bank_of_China, #Politics, #SWIFT, #Seekingalpha.com, #Shenzhen, #South_Korea, #Stanford, #Stanford_University, #State_Department, #Stern, #Switzerland, #UK, #US, #USA, #USD, #United_States, #University, #Uyghur, #WWII, #Wall_Street, #Wall_Street_Journal, #Washington, #WeChat, #Western, #Xi, #Xi_Jinping, #Yahoo, #Yuan
Buh-Bye, Bitcoin: The PRC (China) Has Launched A Digital Yuan. And It Will Change Everything
By J.G. Collins Managing Director, Macro Contributor Since 2015
Before establishing The Stuyvesant Square Consultancy, J.G. Collins spent some 30 years building a career in executive and consulting financial roles, with a particular emphasis in business taxation. His experience spans work for Fortune 100 companies, one of the former "Big Eight" international accounting firms, and client service for large middle-market public accounting firms. He has advised domestic and foreign clients in the tax-efficient structuring of legal entities, effective tax rate planning, mergers and acquisitions, corporate reorganizations, treasury operations, financial instruments, international taxation, tax accounting under GAAP, state and local taxation, and sales and miscellaneous taxes. He has managed countless federal and state tax audits to successful resolutions for clients. His experience spans a diverse array of industries, including private equity, motion pictures and music entertainment, fashion, real estate, publishing, technology development, retail, and oil and gas. Mr. Collins conceived and branded the specialty industry entertainment practice of one of the nation's leading accounting firms and oversaw the business tax marketing program for business enterprises of another large regional firm. Mr. Collins' marketing collateral and published articles have been extraordinarily well received because of his ability to present intricate and complex aspects of tax, business, policy, and politics in clear, concise, easily understandable prose devoid of jargon and irrelevant detail. An astute, data-driven observer of business, politics and economics, Mr. Collins has advised political candidates and public officials on campaign, political and policy matters for more than two decades, and has twice been a delegate to his political party's national quadrennial convention to nominate the American president. His expertise as a champion debater and orator in his student days, along with his savvy marketing expertise, has allowed Mr. Collins to coach private and public sector executives and candidates on public speaking, speech writing, message development and successful business presentations. Campaign collateral he developed for political campaigns has been used in university courses as an "excellent example of persuasive campaign advertising". Mr. Collins holds degrees in Economics and Accounting from the Stern School of Business, New York University. His elective coursework included a number of political science courses, including International Politics, International Organizations, European Politics and other more basic political science courses.
Summary
The e-RMB uses technology that allows "controllable anonymity," meaning buyer and seller can be anonymous, but government authorities can readily track suspicious transactions.
Payments are made via phone numbers, without SWIFT, and require only electricity to be present in disaster or underdeveloped areas, thus turbocharging CCP China's ability to project soft power abroad.
The 2022 Beijing Olympic Games provides CCP China with a global platform to highlight the e-RMB, giving it a tremendous first-mover advantage in CBDCs.
e-RMB threatens the the entire global financial payment system and, particularly, the "exorbitant privilege," economic and geopolitical, of the USD being the world's reserve currency.
NEW YORK (April 10) - Less than three weeks ago, I warned in these pages that Bitcoin buyers were "buying obsolescence" and that the fall – when investors recognized that – would be hard. One of reasons I foresaw was that a better digital currency could displace the Bitcoin (BTC-USD). Little did I realize my prognostication would begin to be realized so quickly. Earlier this week, the Wall Street Journal reported the People's Bank of China, communist (CCP) China's central bank, unveiled a digital renminbi and encouraged its use by Chinese citizens. It is the first digital currency launched by a large economy and is a direct competitor with Bitcoin and other digital currencies. It had been run via small pilot programs in a few pilot cities including Shenzhen, Suzhou, and Chengdu with civil servants getting half their pay in the form of the digital yuan before its formal launch. (This article, from February, provides considerable insight as to the mechanics of the then yet-to-be launch digital yuan would work in the economy.)
Xi Jinping, the CCP China leader, who has targeted 2050 for the year CCP China would surpass the United States as the world's preeminent global superpower and to displace the USA from that post, has said that he desires to "set the rules" for central bank digital currencies (CBDC) globally. The launch of the digital yuan now allows CCP China to gain considerable market share over other CBDCs that might be launched in reaction, such as the Fed/MIT US program when it is used in the 2022 Beijing Olympics.
The global risk presented by a digital yuan may be at least part of the reason the US and its allies are considering a boycott of the 2022 games, after the principal reason, the finding by the Dutch Parliament and the U.S. State Department's determination, that CCP China is engaged in alleged genocide against the Uyghurs, as well as CCP China's refusal - since 2019 - to allow EU diplomats to visit Uyghur leaders. (There is a growing movement in the EU, including among members of the European Parliament, to boycott the Beijing Olympics over the multiple human rights abuses in CCP China.)
Among other things, the digital yuan is reported to use near field communication technology, or NFC, that would allow customers at the Olympics to pay vendors by tapping an NFC-enabled payment device with their telephone, much like Apple Pay. Now, imagine the global attendees of the Olympics to have that technology, tied to a digital yuan account, and taking it home around the world, especially if the digital yuan could be translated to the Olympic guest's own country's currency instantaneously by the payee's device in his or her own country. It will be as if yuan were a global currency, a no-fee American Express debit card, accepted everywhere without transaction or exchange fees to customer or merchant. All this presents a significant geostrategic and political threat to Western-style democracies because of its risk to the USD's "exorbitant privilege" as the world's reserve currency. As the Wall Street Journal reported last week,
That an authoritarian state and U.S. rival has taken the lead to introduce a national digital currency is propelling what was once a wonky topic for cryptocurrency theorists into a point of anxiety in Washington.
The article went on to say,
China's digital strides draw attention to how the U.S. needs to modernize its own financial infrastructure, according to Kevin Warsh, a former Fed governor now at Stanford University's Hoover Institution. 'If we wait 5 or 10 years, we may well end up with some very bad policy choices,' he said.
Chair Powell said in testimony that developing a Fed-backed central bank digital currency, or CBDC, is a "very high priority project. "But CCP China is likely well ahead of the USA. As the Nikkei reported,
The digital-yuan app would have a function Alipay (a Chinese company payment platform) lacks: Users can transfer money between accounts by tapping phones, much like having physical cash change hands. The currency will be legal tender, so it can be exchanged without needing a bank as an intermediary.
This may help make China's economic system more resilient. Cash is used much less often in China than elsewhere thanks to the widespread adoption of services like Alipay and Tencent Holdings' WeChat Pay, meaning that the economy could be all but paralyzed if a disaster disrupts mobile phone service. By enabling transfers with no need for an internet connection, the digital-yuan app would ensure that commerce can continue as long as power is available.
Why a Digital Yuan Matters
A bit of history
The USD has been the world's reserve currency since roughly the end of WWII when it replaced the British pound sterling (GBP). As one of the few developed Northern Hemisphere economies that had not absorbed war damage to its plant and equipment infrastructure, and with a political system that was not in fear of the post-war tumult of communism and socialism that had swept or threatened much of the post-war world, the USA was the world's financial hegemon; the "safe haven" for a return to a thriving, capitalist, global, economy.
That standing was further enhanced as America became the financier of the post-war European and Asian economic recovery under the Marshall Plan, which cycled USD to recovering war-ravaged countries so that they could, in turn, return them to US companies to rebuild infrastructure, factories, and homes and to buy foodstuffs, medical supplies, cars, etc.
In the three-quarters of a century since the end of the war, America's large, regulated, and mostly transparent markets, together with oil markets being mostly priced in USD, have continued to make the USD the principal majority reserve holding of most foreign central banks' foreign currencies.
SOURCE: International Monetary Fund

* * * But the standing of the USD as the currency of global trade has been at issue, with the EUR taking an increasing volume of USD trade and even edging out the USD last October for the first time since 2013. While CCP China has taken a relatively miniscule role in the global payment system, it is nevertheless growing.
The single most significant aspect of the digital yuan will be that it will allow CCP China to circumvent US and our allies' sanctions. Again, quoting the WSJ article,
In a 2019 war game at Harvard University, veteran U.S. policy makers scrambled to craft a response to a nuclear-missile development by North Korea secretly funded with digital yuan. Because of the currency's power to undercut sanctions, the participants, including several who are now in the Biden administration, deemed it more threatening than the warhead. Nicholas Burns, a longtime American diplomat and favorite to be ambassador in Beijing, told the group, "The Chinese have created a problem for us by taking away our sanctions leverage." (Emphasis mine)
But there is also a CCP China advantage in being able to project so-called "soft power" to strategically important nations and, likely, even to individuals in those nations.
Imagine, for example, if some nation rich in rare-earth elements, the critical element of 21st century defense and communications technology, were to suffer a catastrophic earthquake or famine - or if the US and its allies were to impose sanctions for some political reason, like human rights violations. Assuming electricity is not affected or was restored quickly, CCP China could theoretically deliver financial aid far quicker than could the United States, our allies, and our affiliated non-governmental organizations by sending digital currency to a device directly via its phone number.
In the world of disaster geopolitics, the "first with the most" in aid offerings earn enormous political capital and influence in the country that suffered disaster.
(For example, in "Operation Tomadachi" [Operation Friend] the U.S. Navy landed relief helicopters in Fukushima within hours of the 2011 Fukushima earthquake, and then seaborne landing craft at Japanese beaches that were chock-full of portable kitchens, hospitals, toilets, flat-pack shelters, and other supplies. I'm told that, after this, American sailors' and Marines' money was no good in most Honshu bars for more than a year.)
Now imagine that CCP China, not the USA, is the "first with the most" in countries that are on the fence as to their political alliances because its digital yuan (formally called "DCEP", for "Digital Currency Electronic Payment"; or, in China, as "e-RMb" or "Digital RMB) can be sent almost instantaneously to the foreign government relief agencies but also to individuals of that country. Payments across borders can be sent to a cell phone much easier and efficiently than they can to SWIFT or other interbank payment systems, which require a banking infrastructure to deliver funds.
The DCEP, as with any central bank digital currency, undermines SWIFT as well as bank debit and credit cards.
Some, who see the USA's global hegemon foreign policy as American interventionism and arrogance, have actually cheered the development because the United States and our allies in the EU have been able to maintain significant geostrategic advantage by imposing "financial blockades" on states like Iran and North Korea, which have been designated state sponsors of terrorism by the State Department, via the SWIFT system. (SWIFT data centers are located in the USA, The Netherlands, and Switzerland. While Switzerland is not an EU member, it maintains a bilateral treaty with the EU. Moreover, SWIFT is organized under Belgian law, so required to enforce sanctions imposed pursuant to Belgian and/or EU law.)
Consequences to the U.S.
Were the USA to lose its preeminent position as the world's reserve currency, or even if that position were to be substantially reduced, we would not be able to overstate the effects on the US economy.
In March, 2009, shortly after Obama administration Treasury Secretary Tim Geithner took office, an off-hand comment that he would be "quite open" to a new reserve system based on a basket of major currencies caused the USD to crater vis a vis other currencies before Geithner walked his comment back with the assist of a more considerate moderator.
As we have seen occasional bond market revolts, where parts of a Treasury auction go unsold until the yield is increased by a higher interest rate (i.e., bids are well below the Treasury ask), a decline in the demand for USD assets - including USD held by foreign central banks as reserves - will cause longer-term U.S. interest rates to increase, absent some form of yield curve control by the Fed (or, preferably, a more responsible fiscal policy. Friday, the spread between the 2-year and the 10-year Treasury printed at 1.51; the highest since July 2015, as shown here.) And it is not beyond the reason to think that continued spending might make yield curve control impossible.
Summary:
The race is on for a dominant CBDC, and CCP China has taken an enormous lead; that lead will be turbocharged by global attendance at the Beijing Olympics. Of particular concern is attendance by developing nations where huge swaths of the population are unbanked, but another is visitors who see the technology at work.
The convenience, stability, and central-bank backing of CBDCs, as well as the "controllable anonymity" (meaning buyer and seller can remain anonymous to each other, but the government can determine the principals in suspicious transactions) that is built into the e-RMB will likely be adopted by other CBDCs and will ultimately make CBDCs the only "legal" digital currencies that will be operative.
That is, I believe countries will eventually criminalize the possession or use of Bitcoin and other digital currencies, as I explained three weeks ago, given that it can be exchanged anonymously or pseudonymously. Criminal justice administrators around the world already have a reasonable predicate to ban its use given its use in multiple serious criminal activities and in tax evasion. I believe the crackdown will come sooner than later - within a few months (90 days?) of there being an e-USD. When that happens, the bid for BTC will fall well below the ask and the price will collapse, as the only buyers will be those willing to hold and use a contraband currency. Beyond all that, though, and as I had warned previously, the e-RMB, (and the e-USD, an e-GBP, an e-JPN, and an e-EUR will have identical (and probably better) capabilities and will be as readily available for commercial transactions as cash. As I wrote last month,
Another risk factor is that while Bitcoin was first-to-market and the most well-known, its value depends on its first-to-market brand name. Another, newer, better, cryptocurrency could displace it just as MySpace was replaced by Facebook (NASDAQ:FB) and Google (NASDAQ:GOOG) (NASDAQ:GOOGL) displaced Yahoo.
Well, "another, newer, better cryptocurrency" is upon us and far sooner than I foresaw.
Nevertheless, I believe the USA and our allies, seeing the rise of an authoritarian CCP regime setting the rules and being the standard of CBDCs and finding it untenable, will cooperate to move a e-USD from a "priority" to "urgent action item."
The prototype technology from the Boston Fed/MIT USD based CBDC will almost assuredly be shared with the EU, Japan, Australia, South Korea, India, and the UK in order to "box out" CCP China to ensure democratic nations - not a totalitarian regime - control the world's payments systems. I believe that could happen within a year to 18 months as the awareness and urgency are realized.
When the situation settles, and CCP China and the USA and its allies battle it out for control of the supreme digital payment platform, Bitcoin holders will be left holding the bag: the same "tulips" their predecessor Dutch speculators held 500, with nobody willing to buy. Investments based on the "greater fool" theory are speculative when the last greater fool says, "No!"
___________________________
NOTE: Our commentaries most often tend to be event-driven. They are mostly written from a public policy, economic, or political/geopolitical perspective. Some are written from a management consulting perspective for companies that we believe to be under-performing and include strategies that we would recommend were the companies our clients. Others discuss new management strategies we believe will fail. This approach lends special value to contrarian investors to uncover potential opportunities in companies that are otherwise in a downturn. (Opinions here with respect to whether to buy, sell, or hold such companies, however, assume the company will not change its current practices).

--- ---
...

Related articles based on keyword density
US Has Killed More Than 20 Million People in 37 "Victim Nations" Since...
popularresistance.org 09/11/2017 Military
By James A. Lucas Global Research, November 09, 2017 Popular Resistance 27 November 2015 First published in November 2015 After the catastrophic a...View Details»

35 Countries Where the U.S. Has Supported Fascists, Drug Lords and Ter...
plus.google.com 10/03/2014 History
By Nicolas J.S. Davies Alternative News Here's a handy A to Z guide to U.S.-backed international crime. 35 Countries Where the U.S. Has Supported Fas...View Details»

Tillerson looks to global effort on Iran as model for North Korea ...
edition.cnn.com 15/03/2017 Politics
By Elise Labott and Nicole Gaouette, CNN Updated 0946 GMT (1746 HKT) March 15, 2017 Washington (CNN)Secretary of State Rex Tillerson begins his first ...View Details»

Introducing BDS Movement Against Occupation and Zionist Apartheid...
en.wikipedia.org 10/04/2016 Culture
Introducing BDS: Boycott, Divestment and Sanctions The Boycott, Divestment and Sanctions Movement (BDS Movement) is a global campaign attempting to i...View Details»

US and UK War Crimes: Agent Orange ...
parseed.ir 21/02/2015 Military
*** American and British Armies' War Crimes: Agent Orange Agent Orange — or Herbicide Orange (HO) — is one of the herbicides and defoliants used by ...View Details»

---
EOF