Chalous Gas Field : Russia's Biggest Move Yet To Take Control Of The European Gas Market
Chalous Gas Field : Russia's Biggest Move Yet To Take Control Of The European Gas Market...
oilprice.com
22/11/2021 Economy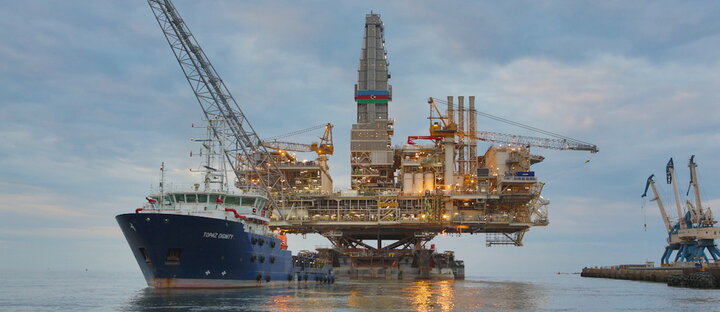 Keywords:#2020, #Austria, #Caspian, #Caspian_Sea, #Chalous, #Chalous_Field, #Chalous_Gas_Discovery, #Chalous_Gas_Field, #China, #Chinese, #Discovery, #Europe, #European, #Gas_Field, #Gazprom, #Germany, #IRGC, #Iran, #Iranian, #Islamic, #Islamic_Republic, #Italy, #KEPCO, #Khazar, #Oilprice.com, #Russia, #Russian, #Simon_Watkins, #South_Pars, #US, #USSR
By Simon Watkins - Nov 15, 2021, 7:00 PM CST
Russia has managed to secure the largest share in Iran's huge Chalous Gas Discovery, a move that could have huge economic and geopolitical consequences
A senior Russian official believes this was the final act in securing control over the European energy market
While Iran appears to have lost out economically on this deal, it will provide the Islamic Republic geopolitical support and the IRGC a nice slush fund
A deal finalized last week to develop Iran's multi-trillion dollar new gas discovery, the Chalous Field, will see Russian companies hold the major share in it, followed by Chinese companies, and only then Iranian ones, sources close to the deal exclusively told OilPrice.com. This is despite Chalous's position unequivocally within the Iranian sector of the Caspian Sea, over which the Islamic Republic has complete sovereignty. Billions of dollars in additional capital investment are scheduled to come from financial institutions in Germany, Austria, and Italy, as the indications are that the size of Chalous's gas reserves are even greater now than initially thought. According to one of the senior Russian officials involved in negotiating the deal: "This is the final act of securing control over the European energy market."
In context, the wider Caspian basins area, including both onshore and offshore fields, is conservatively estimated to have around 48 billion barrels of oil and 292 trillion cubic feet of natural gas in proven and probable reserves. As exclusively covered and analyzed by OilPrice.com in 2019, Russia was instrumental in manipulating a change in the legal status of the Caspian basins area that meant that Iran's share of the total revenues from the entire Caspian site was slashed from 50-50 split with the USSR that it had enjoyed as from the original agreement made in 1921 (on 'fishing rights') and amended in 1924 to include 'any and all resources recovered' to just 11.875 percent. Before the Chalous discovery, this meant that Iran would lose at least US$3.2 trillion in revenues from the lost value of energy products across the shared assets of the Caspian Sea resource going forward. Given the latest internal-use only estimates from Iran and Russia, this figure will now be a lot higher.
Previously, the estimates of Iran and Russia were that Chalous contained around 3.5 trillion cubic meters (Tcm) of gas in place. This equated to around one-quarter of the 14.2 Tcm of gas reserves contained in Iran's supergiant South Pars natural gas field that already accounts for around 40 percent of Iran's total estimated 33.8 Tcm of gas reserves and about 80 percent of its gas production.
As it now stands, though, revealed exclusively to OilPrice.com, following further studies by Russia, the Chalous discovery is now seen as essentially a twin-field site, nine kilometers apart, with 'Greater' Chalous having 5.9 trillion cubic meters (Tcm) of gas in place, and 'Lesser' Chalous having 1.2 Tcm of gas, giving a combined figure of 7.1 Tcm of gas. Therefore, the new Chalous figures would give Iran a total natural gas reserves figure of 40.9 Tcm, whilst Russia – for a long time, the holder of the largest gas reserves in the world – officially has just under 48 Tcm. That Russian figure, though, has not been revised to account for usage, wastage, and gas field degradation for many years, and, according to Russian gas sources, is around 38.99 Tcm as of the end of 2020. Consequently, the Chalous find makes Iran the biggest gas reserves holder in the world.
These new estimates, on top of recent developments in the European gas market, have led to a change in the plan that had been agreed on between Iran and Russia and had remained in play up until around a month ago. The plan had been for Iran's side of the development to be led by the Khazar Exploration and Production Company (KEPCO), with the additional principal participation of then-to-be finalized Russian companies. Following both the upgrading of the gas reserves estimates in Chalous and spiraling gas prices across Europe in the previous weeks, the new stake split in the combined Chalous twin-sites is as follows: Russia's Gazprom and Transneft will together hold a 40 percent share, China's CNPC and CNOOC together a 28 percent share, and KEPCO a 25 percent share only. "Gazprom will have overall responsibility for managing the Chalous development, Transneft will do the transportation and related operations, CNPC is doing a lot of the financing and providing the necessary banking facilities, and CNOOC will be doing the infrastructure parts and engineering," said one of the sources.
Chalous Gas Field
--- ---...

Related articles based on keyword density
IRAN NUCLEAR TALKS STUMBLE, EXTENDED UNTIL JULY ...
hosted.ap.org 24/11/2014 News
BY MATTHEW LEE AND GEORGE JAHN ASSOCIATED PRESS VIENNA (AP) -- Still facing significant differences between the U.S. and Iran, negotiators gave up on...View Details»

Persian Inventions...
defence.pk 25/07/2014 History
SYSTEMS AND WAY OF LIFE • Protocol and Etiquette- rules of respect, cultured civilization, of order and harmony of everyday life. • Human Rights – 576...View Details»

Multipolar World Order: The Big Picture in the Qatar-Saudi Fracture ...
strategic-culture.org 15/06/2017 Politics
By Federico Pieraccini Global Research, June 13, 2017 Strategic Culture Foundation In a climate of outright confrontation, even the Gulf monarchies h...View Details»

Middle East - Security Council debates ending UN sanctions on Iran ...
france24.com 13/03/2015 News
Major world powers have begun talks about a UN Security Council resolution to lift UN sanctions on Iran if a nuclear agreement is struck with Tehran, ...View Details»

Iran diary: bracing for all-out economic war ...
atimes.com 28/05/2018 Economy
While the dogs of war bark, the Ancient – and New – Silk Road goes on forever and a civilization with a long and proud history gets on with life By P...View Details»

---
EOF