Iran rights advocate spy sentence unlawful: defence team...

yahoo.com15/08/2018 People
Tehran (AFP) - Lawyers for Iran's award-winning human rights advocate Nasrin Sotoudeh said Wednesday that her five-year sentence on spying charges was...»»»

---
Hassan Rouhani proposes referendum to heal Iran's divisions ...

theguardian.com12/02/2018 Politics
Iranian president issues call for unity in speech to mark 39th anniversary of Islamic revolution *** Hassan Rouhani speaking at Azadi Square in Tehran...»»»

---
Exiled Iranian prince throws support behind protests ...

ctvnews.ca11/01/2018 Politics
Bradley Klapper, The Associated Press Published Wednesday, January 10, 2018 2:15AM EST WASHINGTON - Reza Pahlavi concentrates intently on the little c...»»»

---
Iran lawmaker says some 3,700 arrested amid protests, unrest ...

spokesman.com10/01/2018 Military
By Jon Gambrell Associated Press DUBAI, United Arab Emirates – Iranian security forces arrested some 3,700 people during widespread protests and unre...»»»

---
Iranians Are Outraged Over Shoddy Construction in Earthquake Zone ...

nytimes.com16/11/2017 Politics
By THOMAS ERDBRINKNOV. 15, 2017 ESLAMABAD, Iran — The opening of the new wing of the Imam Khomeini hospital last year was a big deal in this provinci...»»»

---
Iran plans manned space mission ...

straitstimes.com16/09/2017 Politics
Uproar in West over recent satellite launch spurs Teheran to revive ambitions TEHRAN • Iran's on-off space programme has received a boost after a rece...»»»

---
Ebrahim Yazdi, Iranian foreign minister turned dissident, dies at 85 ...

washingtonpost.com27/08/2017 People
By Dara Elasfar August 29 at 8:48 PM Ebrahim Yazdi, an Iranian political activist and American-trained cancer researcher who became one of Ayatollah ...»»»

---
Resurrection of Persia ...

dailytimes.com.pk06/06/2017 Politics
Iran is excelling in three fronts: Religiously, politically and economically. And it is not a faraway when Iran will become the true successor of Pers...»»»

---
Iran Courts Tajikistan ...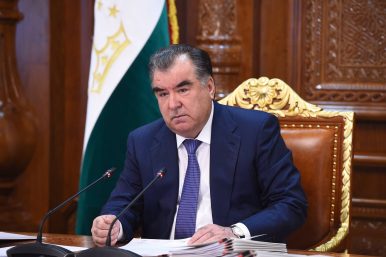 thediplomat.com01/06/2017 Politics
What does Tehran's focus on building relations with Dushanbe mean for Central Asia? By Luciano Arvin May 31, 2017 Over the years, many Tajiks have bec...»»»

---
Rouhani Wins Re-election in Iran by a Wide Margin ...

nytimes.com20/05/2017 News
By THOMAS ERDBRINKMAY 20, 2017 *** President Hassan Rouhani of Iran on May 13. With most of the votes from Friday's election counted, the Interior M...»»»

---