Zarif, Araghchi to join Vienna Syrian talks
Zarif, Araghchi to join Vienna Syrian talks...
en.mehrnews.com
14/11/2015 Politics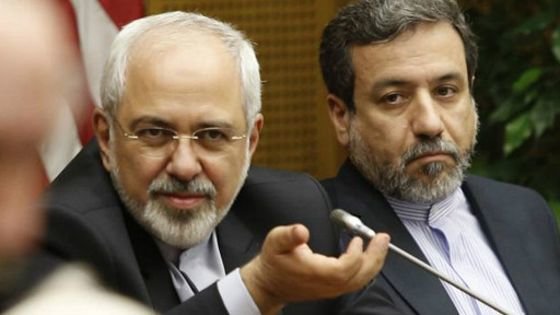 Keywords:#2015, #Abbas_Araghchi, #Arabia, #Arak, #Austrian, #En.mehrnews.com, #Foreign_Minister, #Helga_Schmid, #Iran, #Iran_Syria_Policy_and_Operations_Group, #Iranian, #JCPOA, #Javad_Zarif, #MNA, #Mohammad_Javad_Zarif, #News, #Politics, #Russia, #Saturday, #Saudi, #Saudi_Arabia, #Syria, #Syrian, #Syrian_Civil_War, #Syrian_Row, #Syrian_civil_war, #Tehran, #Turkey, #US, #Vienna, #Western
News ID: 2966347 - Sat 14 November 2015 - 12:05
Politics
TEHRAN, Nov. 14 (MNA) – Iranian Foreign Minister Mohammad Javad Zarif and his Deputy Minister Seyed Abbas Araghchi will leave Tehran for Vienna later on Saturday.
Zarif is scheduled to participate in the third round of Syrian talks on Saturday at the venue of Imperial Hotel in Vienna.
Araghchi, who heads the JCPOA Follow-up Commission, will meet Helga Schmid in Vienna on the redesigning of Iran's heavy water reactor in Arak.
The first round of Vienna talks on Syrian crisis was held in the presence of Saudi Arabia, the US, Russia and Turkey.
The second round, however, was attended by the Iran's Foreign Mohammad Javad Zarif on invitation of Western sides.
Held on October 30 in Austrian capital, the meeting was wrapped up with participants agreed upon a scheduled framework as the 9-clause statement.
--- Syrian civil war , Syrian Civil War , Syrian Row , Iran Syria Policy and Operations Group ---...

Related articles based on keyword density
Media Scam? Iran and America Join Hands in Waging "The Global War on T...
globalresearch.ca 01/07/2014 Politics
By Prof Michel Chossudovsky Global Research, June 21, 2014 Following the incursion of jihadist rebels of the Islamic State of Iraq and the Levant (IS...View Details»

ISIS: The Spoils of the "Great Loot" in the Middle East - FPIF...
fpif.org 02/07/2014 Politics
Adding yet more warfare to the current crisis in the Middle East will perpetuate exactly what the imperial powers set out to do: tear an entire region...View Details»

Zarif, Kerry discuss Iran sanctions removal in Vienna ...
en.mehrnews.com 15/11/2015 News
News ID: 2967148 - Sun 15 November 2015 - 09:36 Politics VIENNA, Nov. 15 (MNA) – Iranian FM Zarif after Sat. meeting with his American counterpart sa...View Details»

IRAN NUCLEAR TALKS STUMBLE, EXTENDED UNTIL JULY ...
hosted.ap.org 24/11/2014 News
BY MATTHEW LEE AND GEORGE JAHN ASSOCIATED PRESS VIENNA (AP) -- Still facing significant differences between the U.S. and Iran, negotiators gave up on...View Details»

U.S. Actually Agrees With Iran and Syria, Says Turkey Is Helping ISIS ...
newsweek.com 20/03/2018 Military
By Tom O'Connor On 3/19/18 at 6:30 PM The U.S. found itself on Monday roughly aligned with Syria and Iran—two nations it regularly condemns—over thei...View Details»

---
EOF