Zarif, Kerry discuss Iran sanctions removal in Vienna
Zarif, Kerry discuss Iran sanctions removal in Vienna ...
en.mehrnews.com
15/11/2015 News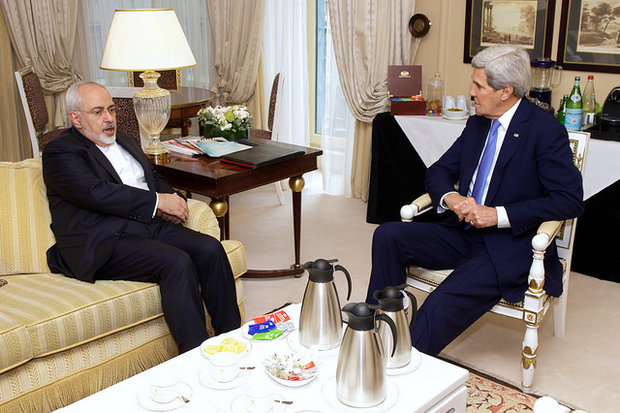 Keywords:#2015, #Abbas_Araghchi, #American, #Arak, #Austrian, #Ayatollah, #Ayatollah_Khamenei, #EU, #En.mehrnews.com, #Foreign_Minister, #Foreign_Policy_Chief, #Geneva, #Helga_Schmid, #Iran, #Iranian, #Islamic, #Islamic_Revolution, #JCPOA, #Javad_Zarif, #John_Kerry, #Khamenei, #MNA, #Mohammad_Javad_Zarif, #News, #Politics, #Revolution, #Saturday, #Syria, #US, #United_States, #Vienna

News ID: 2967148 - Sun 15 November 2015 - 09:36
Politics
VIENNA, Nov. 15 (MNA) – Iranian FM Zarif after Sat. meeting with his American counterpart said they had discussed the manner of lifting sanctions and the implementation of US commitments in Vienna.
After the three-hour long meeting in the Austrian capital on Saturday, Iranian Foreign Minister Mohammad Javad Zarif added that the meeting was needed so that Iran could make sure of the implementation of the United States' commitments under the JCPOA and based on the guidelines of the Leader of the Islamic Revolution Ayatollah Khamenei.
Noting the serious and expert talks with the American side, Zarif expressed hope that the two sides would be able to execute the last remaining commitments from mid- to late December and before the implementation day.
Zarif further said that the meeting which took place after the ministerial talks on Syria concluded, also focused on the execution of an official document to redesign the Arak heavy-water nuclear reactor, adding "almost all foreign ministers except one or two have signed the document, and the remaining ministers will sign it in a few days and finalize the document."
The US Secretary of State John Kerry also maintained that the American side is to fully abide by its commitments based on the orders of its president, and will provide explanations where necessary.
Kerry added that US has asked its representatives to remove any concerns of American companies about doing business with Iran so that they could enter Iranian market with ease.
Iranian Deputy Foreign Minister Abbas Araghchi also met with EU Deputy Foreign Policy Chief Helga Schmid in Vienna. Following the meeting, he maintained that the signing of the official document to redesign the reactor is currently being done by Iran and the six states and "will be completed by Monday."
Meanwhile, the consultative meeting of EU and US representatives with Iran on drafting the text of instructions and statements related to the manner of removing sanctions under the JCPOA was held in Geneva. At the meeting, the Iranian delegation highlighted the need for setting executive instructions for lifting sanctions by the deadline, and presented certain proposals to be included in the text of the instructions.
------
...

Related articles based on keyword density
IRAN NUCLEAR TALKS STUMBLE, EXTENDED UNTIL JULY ...
hosted.ap.org 24/11/2014 News
BY MATTHEW LEE AND GEORGE JAHN ASSOCIATED PRESS VIENNA (AP) -- Still facing significant differences between the U.S. and Iran, negotiators gave up on...View Details»

Zarif, Araghchi to join Vienna Syrian talks...
en.mehrnews.com 14/11/2015 Politics
News ID: 2966347 - Sat 14 November 2015 - 12:05 Politics TEHRAN, Nov. 14 (MNA) – Iranian Foreign Minister Mohammad Javad Zarif and his Deputy Minist...View Details»

Media Scam? Iran and America Join Hands in Waging "The Global War on T...
globalresearch.ca 01/07/2014 Politics
By Prof Michel Chossudovsky Global Research, June 21, 2014 Following the incursion of jihadist rebels of the Islamic State of Iraq and the Levant (IS...View Details»

Zarif, Kerry launch N-talks in Geneva ...
en.mehrnews.com 30/05/2015 News
News ID: 2764103 - Sat 30 May 2015 - 16:27 Politics GENEVA, May 30 (MNA) – Iranian Foreign Minister Zarif and his American counterpart Kerry began ke...View Details»

Iran, Powers Drafting Deal, Zarif Criticizes Powers for Excessive Dema...
english.farsnews.com 22/06/2014 People
TEHRAN (FNA)- Iran and the six world powers have started drafting the final nuclear deal despite a lack of agreement on major issues, Iranian Foreign ...View Details»

---
EOF