Queiroz names squad for FIFA World Cup qualifier
Queiroz names squad for FIFA World Cup qualifier ...
en.mehrnews.com
28/08/2016 Sports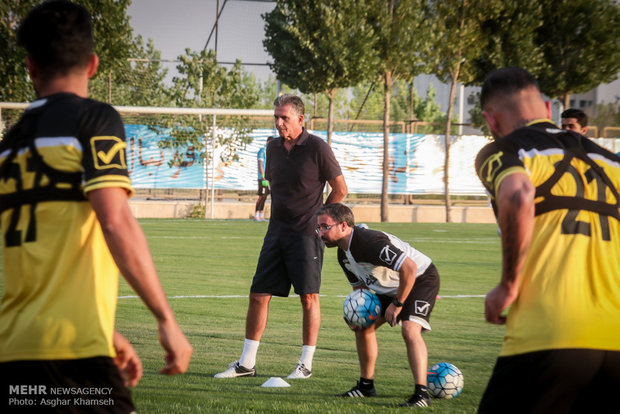 Keywords:#Alireza_Beiranvand, #Alireza_Haghighi, #Alireza_Jahanbakhsh, #Arab, #Ashkan_Dejagah, #Azadi, #Carlos_Queiroz, #China, #Darioush_Shojaeian, #Ehsan_Hajisafi, #En.mehrnews.com, #FIFA, #Iran, #Iranian, #Italy, #Jalal_Hosseini, #Karim_Ansarifard, #Korea, #Kuala, #Kuala_Lumpur, #MNA, #Masoud_Shojaei, #Mehdi_Taromi, #Mehdi_Torabi, #Milad_Mohammadi, #Mohammad_Ansari, #Mohammadreza_Akhbari, #Morteza_Pourali_Ganji, #News, #Omid_Ebrahimi, #Pejman_Montazeri, #Persian, #Persian_Cheetahs, #Portuguese, #Pouria_Ghafouri, #Qatar, #Queiroz, #Ramin_Rezaeian, #Russia, #Saeid_Aghaei, #Sardar_Azmoun, #Seyed_Jalal_Hosseini, #South_Korea, #Sports, #Syria, #Tehran, #Uzbekistan, #Vahid_Amiri, #World_Cup

News ID: 3753840 - Sun 28 August 2016 - 09:15
Sports
TEHRAN, Aug. 28 (MNA) – The manager of Iran's national football team called up 25 players for the match against Qatar at Preliminary Round 3 of the 2018 FIFA World Cup Russia Asian Qualifiers.
Earlier in April, the Iranian squad was seeded against South Korea, Uzbekistan, Syria, Qatar and China in group A of the 2018 FIFA World Cup Russia Asian Qualifiers Final Round following the official draw which took place in Kuala Lumpur.
In the first encounter to take place on Thursday September 01, the Persian Cheetahs are scheduled to take on Qatari rivals in Tehran's Azadi Sports Complex.
Accordingly, Carlos Queiroz, Portuguese manager of Iran's national football team, released a roster of players for the match against the Arab team.
Alireza Haghighi, Alireza Beiranvand, Mohammadreza Akhbari, Seyed Jalal Hosseini, Pejman Montazeri, Morteza Pourali Ganji, Ehsan Hajisafi, Ramin Rezaeian, Pouria Ghafouri, Saeid Aghaei, Omid Ebrahimi, Mohammad Ansari, Andranik Teimourian, Darioush Shojaeian, Ashkan Dejagah, Mehdi Torabi, Vahid Amiri, Mehdi Taromi, Karim Ansarifard and Masoud Shojaei have been invited by Carlos Queiroz for the forthcoming qualifier match.
Meanwhile, Sardar Azmoun, Saeid Ezatolahi, Alireza Jahanbakhsh as well as Milad Mohammadi, who are all playing for foreign clubs will join Iran's national football outfit before Thursday.
A total of 25 Iranian players have recently returned from a preparatory trip to Italy while they are still getting ready for the qualifier encounter to take place in Tehran.
--- ---
...

Related articles based on keyword density
Carlos Queiroz calls up 38 cheetahs for Armenia camp...
en.mehrnews.com 11/06/2016 Sports
News ID: 3681924 - Fri 10 June 2016 - 10:23 Sports TEHRAN, Jun. 10 (MNA) – The head coach of Iran's national football team, Carlos Queiroz, named 38...View Details»

Quiroz names national football squad ...
en.mehrnews.com 14/03/2016 Sports
News ID: 3579101 - Sat 12 March 2016 - 20:19 Sports TEHRAN, Mar. 12 (MNA) – Iran's national football squad has 7 players from Persepolis and 3 player...View Details»

Carlos Queiroz Announces Iran Squad for World Cup Qualifiers ...
tasnimnews.com 03/10/2016 Sports
TEHRAN (Tasnim) - Iranian national team head coach has named his 25-players for the 2018 World Cup qualifiers against Uzbekistan and South Korea. Ira...View Details»

Persian Cheetahs defeat Macedonia 3-1 in friendly match ...
en.mehrnews.com 04/06/2016 Sports
News ID: 3675794 - Fri 3 June 2016 - 21:34 Sports TEHRAN, Jun. 03 (MNA) – With Sardar Azmoun's hat-trick, Iran national football team won Macedonia 3...View Details»

Iran's volleyball snares historic Olympic berth after 52 years ...
en.mehrnews.com 05/06/2016 Sports
News ID: 3676230 - Sat 4 June 2016 - 16:02 Sports TEHRAN, Jun. 04 (MNA) – Iran national volleyball team beat Poland at the 2016 Olympic men's volleyb...View Details»

---
EOF